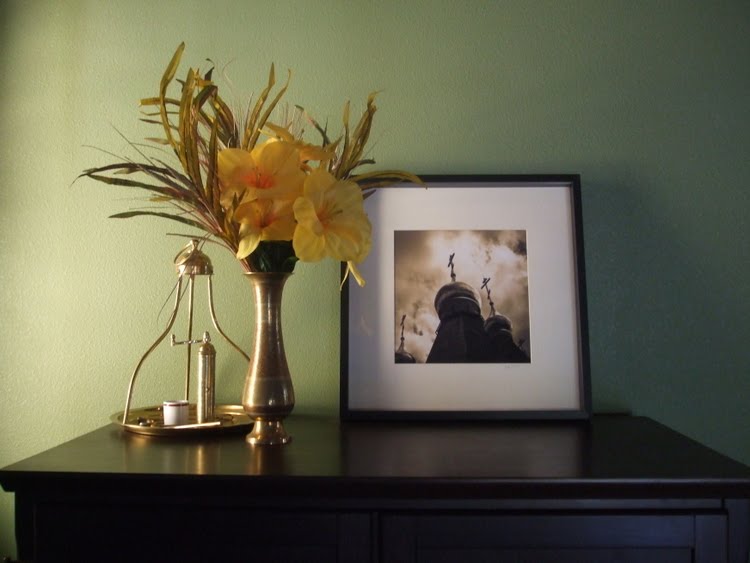 (Church Calendar)
Fathers of the 6th Councils
Saints of the Day
July 19 / August 1. St. Macrina, sister of St. Basil the Great. St. Dius, abbot of Antioch. Blessed Romanus, prince of Ryazan. Opening of the Relics of St. Seraphim of Sarov Blessed Stephen, king of Serbia, and his mother St. Militsa. St. Paisius of the Kiev Caves. New-Martyr Victor, Bishop of Glazov (1934). (Greek Calendar: Abba Diocles of The Paradise.) Repose of Blessed Abbot Nilus (1870), Elder John of St. Nilus of Sora Monastery (1903), and Hieroschemamonk Anthony of Valaam (1862).
Photo of the Day
The black and white photograph, seen atop a cabinet in our trapeza, was taken by Vashon Island photographer, Peter Serko, an Orthodox Christian, and a longtime supporter of the monastery. The photo is of Holy Trinity Monastery's cathedral, in Jordanville, New York. The color photo was taken by Abbot Tryphon. (click for enlargement)
Quote of the Day
"…the beginning and sum of the passions: unholy self-esteem."
St. John Climacus
Scripture Readings for the Day
1 Corinthians 4:9-16
9 For I think that God has displayed us, the apostles, last, as men condemned to death; for we have been made a spectacle to the world, both to angels and to men. 10 We are fools for Christ's sake, but you are wise in Christ! We are weak, but you are strong! You are distinguished, but we are dishonored! 11 To the present hour we both hunger and thirst, and we are poorly clothed, and beaten, and homeless. 12 And we labor, working with our own hands. Being reviled, we bless; being persecuted, we endure; 13 being defamed, we entreat. We have been made as the filth of the world, the offscouring of all things until now.
Paul's Paternal Care
14 I do not write these things to shame you, but as my beloved children I warn you. 15 For though you might have ten thousand instructors in Christ, yet you do not have many fathers; for in Christ Jesus I have begotten you through the gospel. 16 Therefore I urge you, imitate me.
Matthew 17:14-23
A Boy Is Healed
14 And when they had come to the multitude, a man came to Him, kneeling down to Him and saying, 15 "Lord, have mercy on my son, for he is an epileptic and suffers severely; for he often falls into the fire and often into the water. 16 So I brought him to Your disciples, but they could not cure him."
17 Then Jesus answered and said, "O faithless and perverse generation, how long shall I be with you? How long shall I bear with you? Bring him here to Me." 18 And Jesus rebuked the demon, and it came out of him; and the child was cured from that very hour.
19 Then the disciples came to Jesus privately and said, "Why could we not cast it out?"
20 So Jesus said to them, "Because of your unbelief; for assuredly, I say to you, if you have faith as a mustard seed, you will say to this mountain, 'Move from here to there,' and it will move; and nothing will be impossible for you. 21 However, this kind does not go out except by prayer and fasting."
Jesus Again Predicts His Death and Resurrection
22 Now while they were staying in Galilee, Jesus said to them, "The Son of Man is about to be betrayed into the hands of men, 23 and they will kill Him, and the third day He will be raised up." And they were exceedingly sorrowful.