(Church Calendar)
Saints of the Day
August 8 / 21. Afterfeast of the Transfiguration. St. Emilian the Confessor, Bishop of Cyzicus. St. Myron, Bishop of Crete. Martyrs Eleutherius and Leonides of Constantinople, and many infants martyred with them. St. Gregory of Sinai (and Mt. Athos). St. Gregory, iconographer of the Kiev Caves. St. Gregory, Wonderworker of the Kiev Caves. Translation of the Relics of Saints Zosimas and Sabbatius of Solovki. New-Martyr Triandaphyllus of Thessaly. (Greek Calendar: Twelve Ascetics of Egypt. Two Martyrs of Tyre. Martyr Styracius.) Tolga Icon of the Most Holy Theotokos.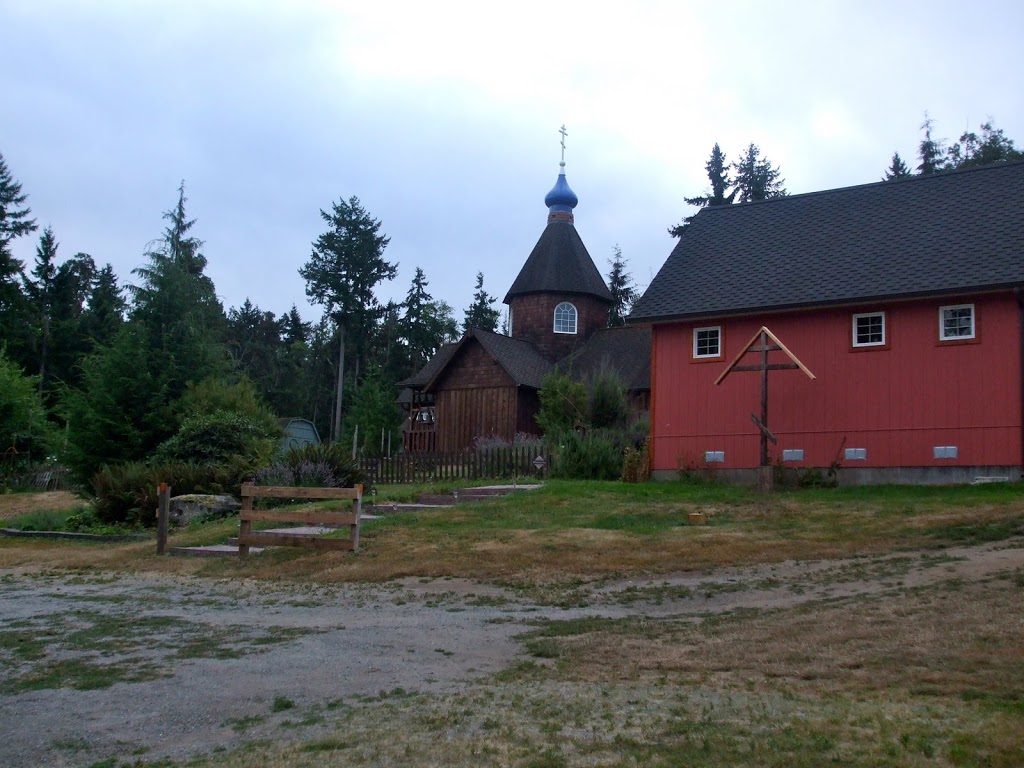 Photo of the Day
View from the parking lot.
Quote for the Day:
"After being healed, our mind has our body under control and leads and carries it about. Through it our mind brings to light the fruits and works of repentance, so that all who see them glorify God. For they see that yesterday's publican is today's Evangelist, the persecutor an Apostle, the thief a theologian. Even the man who used to live among pigs, if you please, is now the son of the Heavenly Father. Having planned in their hearts ways to ascend, they advanced "from glory to glory" (2 Cor. 3:18), progressing day by day towards excellence. The Lord says to His disciples, "Let your light so shine before men, that they may see your good works, and glorify your Father which is in heaven" (Matt. 5:16). He does not say this to urge them to show off, but to urge them to organize their lives as is pleasing to God."
St. Gregory Palamas
Scripture Readings for the Day
1 Corinthians 2:6-9
Spiritual Wisdom
6 However, we speak wisdom among those who are mature, yet not the wisdom of this age, nor of the rulers of this age, who are coming to nothing. 7 But we speak the wisdom of God in a mystery, the hidden wisdom which God ordained before the ages for our glory, 8 which none of the rulers of this age knew; for had they known, they would not have crucified the Lord of glory.
9 But as it is written:
" Eye has not seen, nor ear heard,
Nor have entered into the heart of man
The things which God has prepared for those who love Him."
Matthew 22:15-22
The Pharisees: Is It Lawful to Pay Taxes to Caesar?
15 Then the Pharisees went and plotted how they might entangle Him in His talk. 16 And they sent to Him their disciples with the Herodians, saying, "Teacher, we know that You are true, and teach the way of God in truth; nor do You care about anyone, for You do not regard the person of men. 17 Tell us, therefore, what do You think? Is it lawful to pay taxes to Caesar, or not?"
18 But Jesus perceived their wickedness, and said, "Why do you test Me, you hypocrites? 19 Show Me the tax money."
So they brought Him a denarius.
20 And He said to them, "Whose image and inscription is this?"
21 They said to Him, "Caesar's."
And He said to them, "Render therefore to Caesar the things that are Caesar's, and to God the things that are God's." 22 When they had heard these words, they marveled, and left Him and went their way.