(Church Calendar)
Procession of the Holy Cross
The Monastery's Patronal Feast of the All-Merciful Saviour
Saints of the Day
August 1 / 14. Procession of the Precious Wood of the Life-giving Cross of the Lord. Holy Seven Maccabees: Martyrs Abimus, Antoninus, Gurias, Eleazar, Eusabonus, Alimus, and Marcellus their mother Solomonia and their teacher Eleazar. Nine Martyrs of Perge in Pamphylia: Leontius, Attius, Alexander, Cindeus, Minsitheus (Mnesitheus), Cyriacus, Mineon (Menaeus), Catanus, and Eucleus. (Greek Calendar: Martyr Papas the New. Martyr Eleazar. Martyr Cyricus. Martyrs Theodore and Polyeuctus. Martyrs Menas, Menais, and others of England. Martyr Elessa of Cythera. St. Timothy the Wonderworker, Archbishop of Priconissus of Peloponnesus.) Archbishop Nicholas (Kassatki), Enlightener of Japan (1912).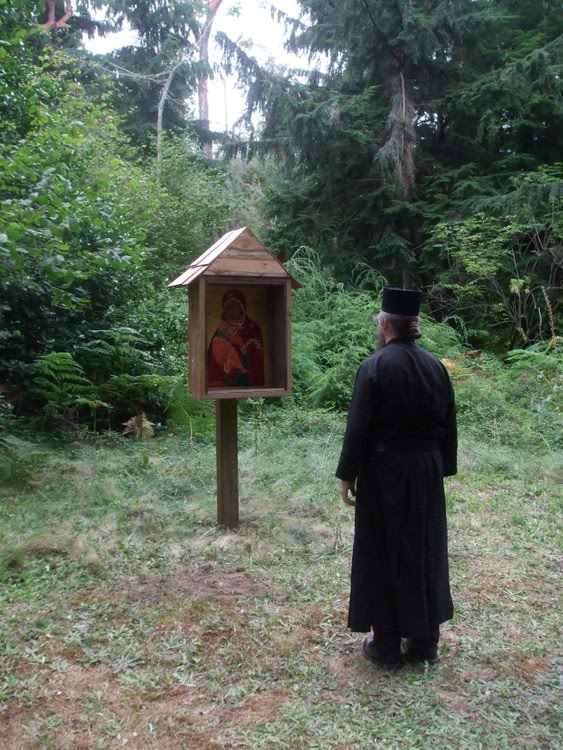 Photo of the Day
The Holy Theotokos Grove.
Quote for the Day
"To produce something new is always a gamble, and God's creation of man in His image and after His likeness involved a certain degree of risk. It was not that He risked introducing an element of instability or shock into His Eternal Being but that to give man god-like freedom shut the door against predestination in any form. Man is at full liberty to determine himself negatively in relation to God – even to enter into conflict with Him. As infinite love, the Heavenly Father cannot abandon man whom He created for eternity, in order to impart to him His divine plenitude. He lives with us our human tragedy. We appreciate this risk, so breath-taking in its majesty, when we contemplate the life of Christ on earth."
Archimandrite Sophrony
Scripture Readings for the Day
1 Corinthians 1:26-29
Glory Only in the Lord
26 For you see your calling, brethren, that not many wise according to the flesh, not many mighty, not many noble, are called. 27 But God has chosen the foolish things of the world to put to shame the wise, and God has chosen the weak things of the world to put to shame the things which are mighty; 28 and the base things of the world and the things which are despised God has chosen, and the things which are not, to bring to nothing the things that are, 29 that no flesh should glory in His presence.
Matthew 20:29-34
Two Blind Men Receive Their Sight29 Now as they went out of Jericho, a great multitude followed Him. 30 And behold, two blind men sitting by the road, when they heard that Jesus was passing by, cried out, saying, "Have mercy on us, O Lord, Son of David!"
31 Then the multitude warned them that they should be quiet; but they cried out all the more, saying, "Have mercy on us, O Lord, Son of David!"
32 So Jesus stood still and called them, and said, "What do you want Me to do for you?"
33 They said to Him, "Lord, that our eyes may be opened." 34 So Jesus had compassion and touched their eyes. And immediately their eyes received sight, and they followed Him.