(Church Calendar)
Saints of the Day
August 11 / 24. Afterfeast of the Transfiguration. Holy Martyr and Archdeacon Euplus of Catania. Virgin Martyr Susanna and those with her: Martyrs Gaius, pope of Rome; presbyter Gabinus his brother and father of Susanna; Maximus, Claudius, and his wife Praepedigna, with their sons Alexander and Cutias. Martyrs Basil and Theodore of the Kiev Caves. St. Theodosius (Prince Theodore of Ostrog) of the Kiev Caves. St. Passarion of Palestine. St. Niphon, Patriarch of Constantinople (Mt. Athos). (Greek Calendar: Martyrs Neophytus, Zeno, Gaius, Mark, Macarius, and Gaianus. Commemoration of the Miracle of St. Spyridon on Kerkyra (Corfu) with the Hagarenes.)
PayPal:
We now have PayPal set up on our website, as well as this blog. These economic hard times have hurt the monastery in a big way, and we are struggling to pay the bills. With a growing brotherhood, and the need for construction of new monastic cells to accommodate all the monks who are planning to join us, we need your support more than ever before. Please consider making a donation, using PayPal. You can do so by visiting either my daily blog, or by going to our website:
http://www.morningoffering.blogspot.com/
http://www.vashonmonks.com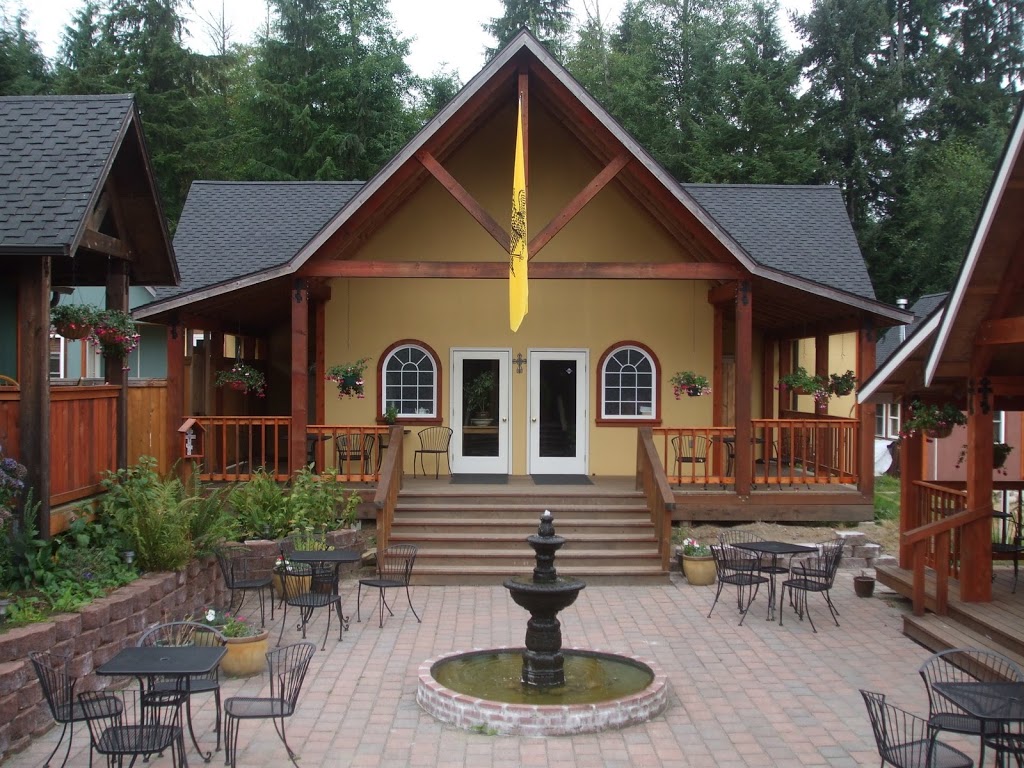 Photo of the Day
The Monastery's courtyard, with the Trapeza, and the Byzantine (Orthodox Church) flag.
Quote of the Day
"All corrupt careerism in the church – this is what needs to be eradicated, and with God's help, we'll deal with it, – And everyone who really wants to become a bishop, I want to warn: the Patriarch sees it and is unlikely you will become bishops. The Bishopric will be for those who are not seeking it….I think that we should treat the Episcopal service thus: the lot fell on you – take it, if the lot does not fall on you – do what is your occupation….After all, before God we all stand in line not by the order of our ordination, and not by the number of crosses, and not by whether you serve in a mitre or kamilavka. It may come to pass that the Patriarch will be standing behind a cleaning lady and will look into her eyes and say: 'Maria Ivanovna, could you pray for me…' "

His Holiness Kyrill, Patriarch of Moscow and All Russia
Scripture Readings for the Day
2 Corinthians 12:20-13:2
20 For I fear lest, when I come, I shall not find you such as I wish, and that I shall be found by you such as you do not wish; lest there be contentions, jealousies, outbursts of wrath, selfish ambitions, backbitings, whisperings, conceits, tumults; 21 lest, when I come again, my God will humble me among you, and I shall mourn for many who have sinned before and have not repented of the uncleanness, fornication, and lewdness which they have practiced.
2 Corinthians 13
Coming with Authority
1 This will be the third time I am coming to you. "By the mouth of two or three witnesses every word shall be established." 2 I have told you before, and foretell as if I were present the second time, and now being absent I write to those who have sinned before, and to all the rest, that if I come again I will not spare—
Mark 4:24-34
24 Then He said to them, "Take heed what you hear. With the same measure you use, it will be measured to you; and to you who hear, more will be given. 25 For whoever has, to him more will be given; but whoever does not have, even what he has will be taken away from him."
The Parable of the Growing Seed
26 And He said, "The kingdom of God is as if a man should scatter seed on the ground, 27 and should sleep by night and rise by day, and the seed should sprout and grow, he himself does not know how. 28 For the earth yields crops by itself: first the blade, then the head, after that the full grain in the head. 29 But when the grain ripens, immediately he puts in the sickle, because the harvest has come."
The Parable of the Mustard Seed
30 Then He said, "To what shall we liken the kingdom of God? Or with what parable shall we picture it? 31 It is like a mustard seed which, when it is sown on the ground, is smaller than all the seeds on earth; 32 but when it is sown, it grows up and becomes greater than all herbs, and shoots out large branches, so that the birds of the air may nest under its shade."
Jesus' Use of Parables
33 And with many such parables He spoke the word to them as they were able to hear it. 34 But without a parable He did not speak to them. And when they were alone, He explained all things to His disciples.