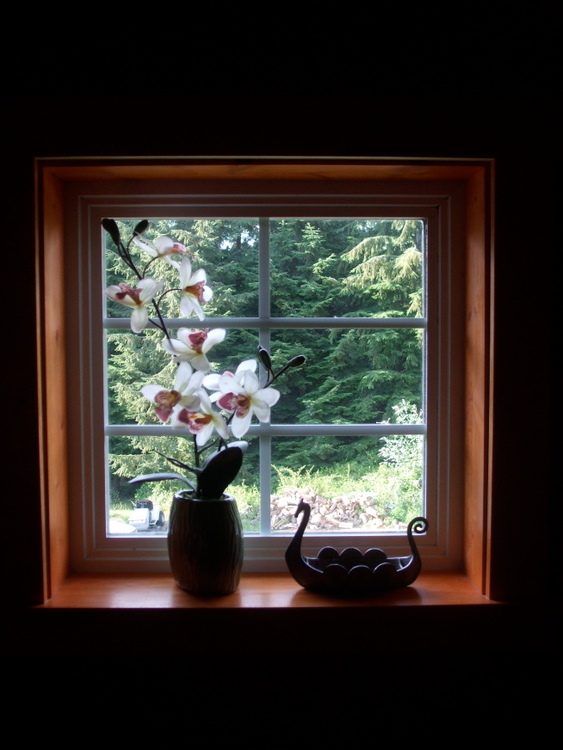 (Church Calendar)
Saints of the Day
July 20 / August 2. Holy Glorious Prophet Elias (Elijah St. Abramius of Galich or Chukhloma Lake, disciple of St. Sergius of Radonezh. Opening of the Relics of St. Athanasius, abbot of Brest-Litovsk. New-Martyr Lydia, and with her the soldiers Alexei and Cyril (1928) Priest Philosoph Ornalsky and those with him (1918). Repose of Righteous Priest Valentine (Amphiteatrov) (1908).
Photo of the Day
The Nordic theme of my study. (click for enlargement)
Quote of the Day
"There are a great many mysteries in nature which my mind cannot grasp, although they have concrete forms, yet they exist, with their mysteries. So also, is this Sacrament of the life-giving Body and Blood, it is a mystery for me, how the bread and wine are made into the Body and Blood of the Lord Himself – but the mystery of the Body and Blood really exists, although it is incomprehensible to me."
St. John of Kronstadt
Scripture Readings for the Day
2 Corinthians 2:4-15
4 For out of much affliction and anguish of heart I wrote to you, with many tears, not that you should be grieved, but that you might know the love which I have so abundantly for you.
5 But if anyone has caused grief, he has not grieved me, but all of you to some extent—not to be too severe. 6 This punishment which was inflicted by the majority is sufficient for such a man, 7 so that, on the contrary, you ought rather to forgive and comfort him, lest perhaps such a one be swallowed up with too much sorrow. 8 Therefore I urge you to reaffirm your love to him. 9 For to this end I also wrote, that I might put you to the test, whether you are obedient in all things. 10 Now whom you forgive anything, I also forgive. For if indeed I have forgiven anything, I have forgiven that one for your sakes in the presence of Christ, 11 lest Satan should take advantage of us; for we are not ignorant of his devices.
Triumph in Christ
12 Furthermore, when I came to Troas to preach Christ's gospel, and a door was opened to me by the Lord, 13 I had no rest in my spirit, because I did not find Titus my brother; but taking my leave of them, I departed for Macedonia.
14 Now thanks be to God who always leads us in triumph in Christ, and through us diffuses the fragrance of His knowledge in every place. 15 For we are to God the fragrance of Christ among those who are being saved and among those who are perishing.
Matthew 23:13-22
13 "But woe to you, scribes and Pharisees, hypocrites! For you shut up the kingdom of heaven against men; for you neither go in yourselves, nor do you allow those who are entering to go in. 14 Woe to you, scribes and Pharisees, hypocrites! For you devour widows' houses, and for a pretense make long prayers. Therefore you will receive greater condemnation.
15 "Woe to you, scribes and Pharisees, hypocrites! For you travel land and sea to win one proselyte, and when he is won, you make him twice as much a son of hell as yourselves.
16 "Woe to you, blind guides, who say, 'Whoever swears by the temple, it is nothing; but whoever swears by the gold of the temple, he is obliged to perform it.' 17 Fools and blind! For which is greater, the gold or the temple that sanctifies the gold? 18 And, 'Whoever swears by the altar, it is nothing; but whoever swears by the gift that is on it, he is obliged to perform it.' 19 Fools and blind! For which is greater, the gift or the altar that sanctifies the gift? 20 Therefore he who swears by the altar, swears by it and by all things on it. 21 He who swears by the temple, swears by it and by Him who dwells in it. 22 And he who swears by heaven, swears by the throne of God and by Him who sits on it.