(Church Calendar)
Saints of the Day
July 24 / August 6. Martyr Christina of Tyre. Holy Martyrs and Passion-bearers Boris and Gleb, in holy baptism Romanus and David. St. Polycarp, archimandrite of the Kiev Caves. New-Martyr Athanasius of Ikia. New-Martyr Theophilus of Zakynthos. Martyr Hermogenes. St. Pachomius, abbot, on the Lake, friend of St. Dionysius of Glushets (Vologda). (Greek Calendar: Martyrs Capito and Hymenaeus.) Repose of Blessed Monk Tikhon of Turukhan on the Enisei River in Siberia (1682).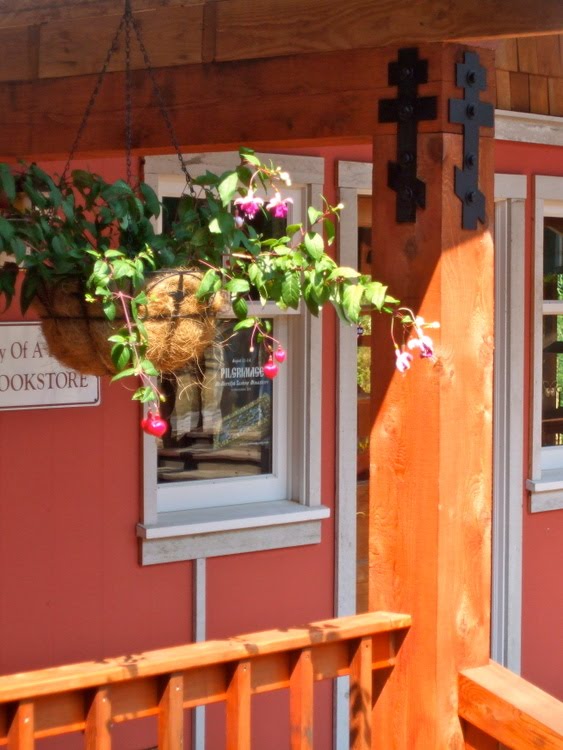 Photo of the Day
Hanging basket at the monastery bookstore
Thought for the day:
When our country was attacked by Islamic extremists, on September 11, 2001, the only religious building destroyed was the Greek Orthodox Church of Saint Nicholas. Saint Nicholas Church had served the spiritual needs of countless people, since 1922, and in an instant, was turned into a pile of ashes. For almost ten years, the City of New York as put up one obstacle after another, hindering the rebuilding of this church.
Now we hear with outrage, that this same government has given permission for an Islamic center, complete with a mosque, to be built within the sacred space of Ground Zero. This is a direct slap in the face of the countless families who lost their loved ones, due to the evil visited upon our nation, and the City of New York, by extremist members of the Islamic faith. It is quite evident to most of us, that the 100 million dollar price tag for this Islamic building, will be paid, in great part, by the government of Saudi Arabia, a country that confiscates crosses from around the necks of Christians, disallows the import of Bibles, and forbids Christian and Jewish worship within their boarders.
It is an outrage that the Port Authority of New York, has continued to put up roadblocks in the path of Orthodox Christians, who have been trying to rebuild their beloved church, destroyed by Muslims, while allowing Muslims to construct their huge Islamic center, in an area that has become sacred land to our whole nation.
The "politically correct" stand of New York City, and our federal government, towards a religion that time and again has prevented the free expression of the Christian and Jewish faiths, within Islamic countries, is outrageous. This Islamic center should NOT be allowed to be constructed, until Saudi Arabia, agrees to allow the construction of Christian churches, and Jewish synagogues. This Islamic center should NOT be allowed to be constructed, until the Egyptian government puts an end to the persecution of Coptic Christians. ENOUGH of this madness. We Christians need to stand up against the increasingly anti-Christian stance of our government, and demand that our Judea-Christian heritage be respected, and protected. Enough is enough!
Abbot Tryphon
Scripture Readings for the Day
2 Corinthians 4:13-18
13 And since we have the same spirit of faith, according to what is written, "I believed and therefore I spoke," we also believe and therefore speak, 14 knowing that He who raised up the Lord Jesus will also raise us up with Jesus, and will present us with you. 15 For all things are for your sakes, that grace, having spread through the many, may cause thanksgiving to abound to the glory of God.
Seeing the Invisible
16 Therefore we do not lose heart. Even though our outward man is perishing, yet the inward man is being renewed day by day. 17 For our light affliction, which is but for a moment, is working for us a far more exceeding and eternal weight of glory, 18 while we do not look at the things which are seen, but at the things which are not seen. For the things which are seen are temporary, but the things which are not seen are eternal.
Matthew 24:27-51
27 For as the lightning comes from the east and flashes to the west, so also will the coming of the Son of Man be. 28 For wherever the carcass is, there the eagles will be gathered together.
The Coming of the Son of Man
29 "Immediately after the tribulation of those days the sun will be darkened, and the moon will not give its light; the stars will fall from heaven, and the powers of the heavens will be shaken. 30 Then the sign of the Son of Man will appear in heaven, and then all the tribes of the earth will mourn, and they will see the Son of Man coming on the clouds of heaven with power and great glory. 31 And He will send His angels with a great sound of a trumpet, and they will gather together His elect from the four winds, from one end of heaven to the other.
The Parable of the Fig Tree
32 "Now learn this parable from the fig tree: When its branch has already become tender and puts forth leaves, you know that summer is near. 33 So you also, when you see all these things, know that it is near—at the doors!
Matthew 24: 42-51
42 Watch therefore, for you do not know what hour your Lord is coming. 43 But know this, that if the master of the house had known what hour the thief would come, he would have watched and not allowed his house to be broken into.
44Therefore you also be ready, for the son of Man is coming at an hour you do not expect.
The Faithful Servant and the Evil Servant
45 "Who then is a faithful and wise servant, whom his master made ruler over his household, to give them food in due season? 46 Blessed is that servant whom his master, when he comes, will find so doing. 47 Assuredly, I say to you that he will make him ruler over all his goods. 48 But if that evil servant says in his heart, 'My master is delaying his coming,' 49 and begins to beat his fellow servants, and to eat and drink with the drunkards, 50 the master of that servant will come on a day when he is not looking for him and at an hour that he is not aware of, 51 and will cut him in two and appoint him his portion with the hypocrites. There shall be weeping and gnashing of teeth.