(Church Calendar)
Saints of the Day
July 18 / 31. Martyr Emilian of Silistria in Bulgaria. Martyr Hyacinth of Amastris. St. John the Long-suffering of the Kiev Caves. St. Pambo, hermit of Egypt. St. Pambo, recluse of the Kiev Caves. St. Leontius, abbot of Karikhov (Novgorod). (Greek Calendar: Martyr Marcel. Martyrs Dasius and Maron. Saints Stephen, Archbishop of Constantinople, and John, Metropolitan of Chalcedon.) Tolga Icon of the Most Holy Theotokos.
Photo of the Day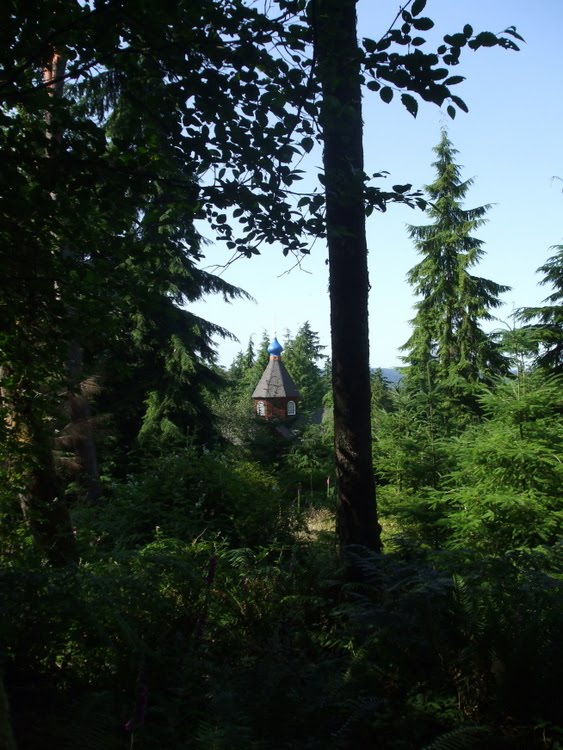 Holy Protection Church, as seen from the Saint Seraphim Forest. Quote of the Day
"…the beginning and sum of the passions: unholy self-esteem."
St. John Climacus
Scripture Readings for the Day
Romans 15:30-33
30 Now I beg you, brethren, through the Lord Jesus Christ, and through the love of the Spirit, that you strive together with me in prayers to God for me, 31 that I may be delivered from those in Judea who do not believe, and that my service for Jerusalem may be acceptable to the saints, 32 that I may come to you with joy by the will of God, and may be refreshed together with you. 33 Now the God of peace be with you all. Amen.
Matthew 17:24-18:4
Peter and His Master Pay Their Taxes24 When they had come to Capernaum, those who received the temple tax came to Peter and said, "Does your Teacher not pay the temple tax?"
25 He said, "Yes."
And when he had come into the house, Jesus anticipated him, saying, "What do you think, Simon? From whom do the kings of the earth take customs or taxes, from their sons or from strangers?"
26 Peter said to Him, "From strangers."
Jesus said to him, "Then the sons are free. 27 Nevertheless, lest we offend them, go to the sea, cast in a hook, and take the fish that comes up first. And when you have opened its mouth, you will find a piece of money; take that and give it to them for Me and you."
Matthew 18
Who Is the Greatest?
1 At that time the disciples came to Jesus, saying, "Who then is greatest in the kingdom of heaven?"
2 Then Jesus called a little child to Him, set him in the midst of them, 3 and said, "Assuredly, I say to you, unless you are converted and become as little children, you will by no means enter the kingdom of heaven. 4 Therefore whoever humbles himself as this little child is the greatest in the kingdom of heaven.
—
Very Rev. Abbot Tryphon
All-Merciful Saviour Monastery
Vashon Island, WA 98070-2420