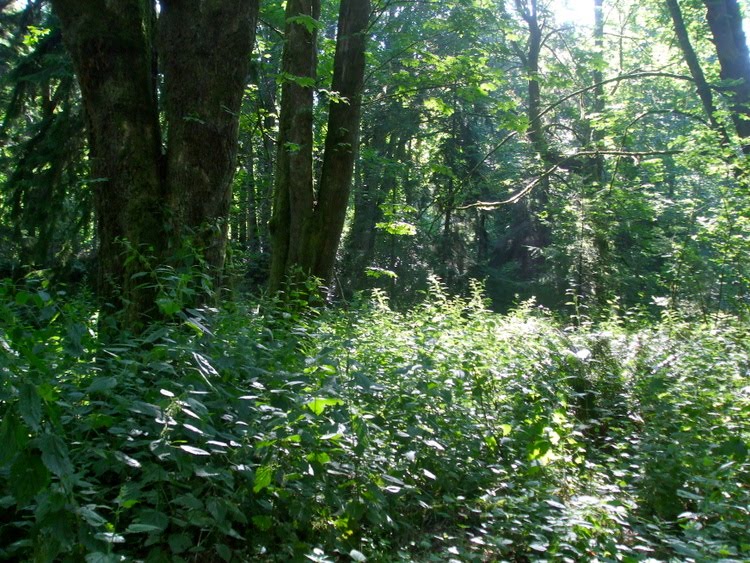 Glory to Jesus Christ! Glory to Him forever!
Saints of the Day
June 27 / July 10. St. Sampson the Hospitable of Constantinople. St. Severus, presbyter of Interocrea in Italy. St. Joanna the Myrrh-bearer. Martyr Anectus of Caesarea in Cappadocia. Blessed Martin of Turov. New-Martyr priest Gregory Nikolsky (1918). (Greek Calendar: St. Luke the hermit. Martyrs Mark and Marcia. Hieromartyr Pierius, presbyter of Antioch.)
Photo of the Day
The lower forest, near the entrance to the Monastery.
Quote of the Day
"Whereas we contribute our utmost, we enjoy in generous measure as well cooperation from God. You see, in case we show indifference and prove recalcitrant, He wants us also to make an effort so that in this way our contribution may be demonstrated. It is neither the case that everything is due to help from on high (rather we , too, must contribute something), nor on the other hand does He require everything of us, knowing as He does the extraordinary degree of our limitations; on the contrary, out of fidelity to His characteristic love and wishing to find some occasion for demonstrating His own generosity, He awaits the contribution of what we have to offer."
St. John Chrysostom
A Request:
I am presently writing the history of this monastery, and would welcome any memories, suggestions, or photographs, my readers might have. Email me, at:
Scripture Readings for the Day
Romans 12:1-3
Living Sacrifices to God
1 I beseech you therefore, brethren, by the mercies of God, that you present your bodies a living sacrifice, holy, acceptable to God, which is your reasonable service. 2 And do not be conformed to this world, but be transformed by the renewing of your mind, that you may prove what is that good and acceptable and perfect will of God.
Serve God with Spiritual Gifts
3 For I say, through the grace given to me, to everyone who is among you, not to think of himself more highly than he ought to think, but to think soberly, as God has dealt to each one a measure of faith.
Matthew 10:37-11:1
37 He who loves father or mother more than Me is not worthy of Me. And he who loves son or daughter more than Me is not worthy of Me. 38 And he who does not take his cross and follow after Me is not worthy of Me. 39 He who finds his life will lose it, and he who loses his life for My sake will find it.
A Cup of Cold Water
40 "He who receives you receives Me, and he who receives Me receives Him who sent Me. 41 He who receives a prophet in the name of a prophet shall receive a prophet's reward. And he who receives a righteous man in the name of a righteous man shall receive a righteous man's reward. 42 And whoever gives one of these little ones only a cup of cold water in the name of a disciple, assuredly, I say to you, he shall by no means lose his reward."
Matthew 11
John the Baptist Sends Messengers to Jesus
1 Now it came to pass, when Jesus finished commanding His twelve disciples, that He departed from there to teach and to preach in their cities.