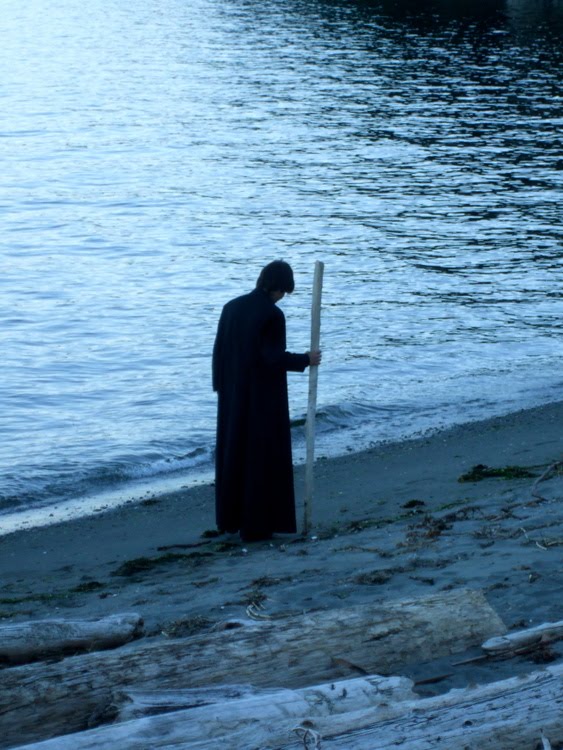 Glory to Jesus Christ! Glory to Him forever!
Saints of the Day
July 6 / 19. St. Sisoes the Great. Virgin Martyr Lucy, and Rixius, and those with them at Rome: Martyrs Anthony, Lucian, Isidore, Dion, Diodorus, Cutonius, Arnosus, Capicus, Satyrus, and others. Martyr Cointus (Quintus) of Phrygia. Martyrs Marinus and Martha, and their children Audifax and Abbacum (Habbakuk) and those with them at Rome: Cyrinus, Valentine, and Asterius the presbyter. Martyrs Isaurus the deacon, Innocent, Felix, Hermias, Basil, Peregrinus, Rufus, and Rufinus of Apollonia in Macedonia. Opening of the Relics of Princess Juliana Olshanskaya. St. Sisoes of the Kiev Caves. New-Martyr Bishop Simon of Ufa (1921). Greek Calendar: Synaxis of the Apostles Archippus, Philemon, and Onesimus. Martyrs Apollonius, Alexander, and Epimachus.)
Photo of the Day
A walk on the beach.
Quote of the Day
"Prefer nothing to the love of Christ" Saint Benedict
Scripture Readings for the Day
1 Corinthians 11:31-12:6
31 For if we would judge ourselves, we would not be judged. 32 But when we are judged, we are chastened by the Lord, that we may not be condemned with the world.
33 Therefore, my brethren, when you come together to eat, wait for one another. 34 But if anyone is hungry, let him eat at home, lest you come together for judgment. And the rest I will set in order when I come.
1 Corinthians 12
Spiritual Gifts: Unity in Diversity
1 Now concerning spiritual gifts, brethren, I do not want you to be ignorant: 2 You know that you were Gentiles, carried away to these dumb idols, however you were led. 3 Therefore I make known to you that no one speaking by the Spirit of God calls Jesus accursed, and no one can say that Jesus is Lord except by the Holy Spirit.
4 There are diversities of gifts, but the same Spirit. 5 There are differences of ministries, but the same Lord. 6 And there are diversities of activities, but it is the same God who works all in all.
Matthew 18:1-11
Who Is the Greatest?
1 At that time the disciples came to Jesus, saying, "Who then is greatest in the kingdom of heaven?"
2 Then Jesus called a little child to Him, set him in the midst of them, 3 and said, "Assuredly, I say to you, unless you are converted and become as little children, you will by no means enter the kingdom of heaven. 4 Therefore whoever humbles himself as this little child is the greatest in the kingdom of heaven. 5 Whoever receives one little child like this in My name receives Me.
Jesus Warns of Offenses
6 "Whoever causes one of these little ones who believe in Me to sin, it would be better for him if a millstone were hung around his neck, and he were drowned in the depth of the sea. 7 Woe to the world because of offenses! For offenses must come, but woe to that man by whom the offense comes!
8 "If your hand or foot causes you to sin, cut it off and cast it from you. It is better for you to enter into life lame or maimed, rather than having two hands or two feet, to be cast into the everlasting fire. 9 And if your eye causes you to sin, pluck it out and cast it from you. It is better for you to enter into life with one eye, rather than having two eyes, to be cast into hell fire.
The Parable of the Lost Sheep
10 "Take heed that you do not despise one of these little ones, for I say to you that in heaven their angels always see the face of My Father who is in heaven. 11 For the Son of Man has come to save that which was lost.