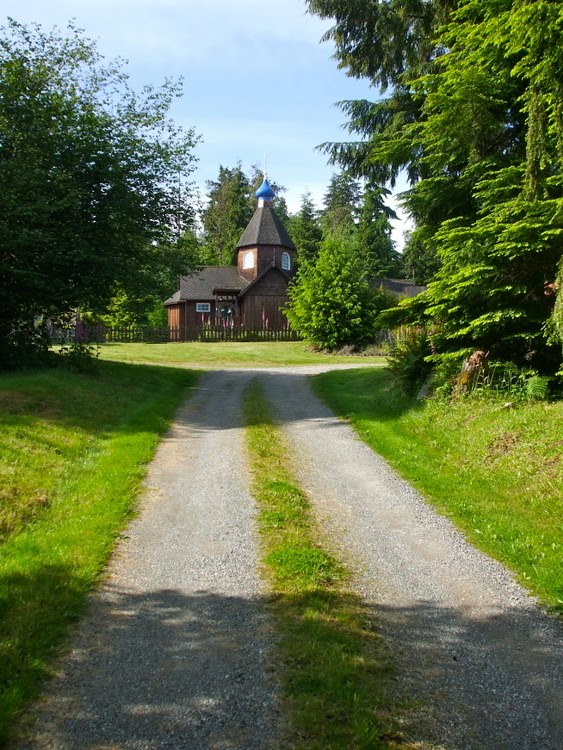 Glory to Jesus Christ! Glory to Him forever!
Saints of the Day
June 3 / 16. Martyr Lucillian and those who suffered with him at Byzantium: four youths, Claudius, Hypatius, Paul and Dionysius; and Virgin Paula. Hieromartyr Lucian, and with him Julian and Maximian, at Beauvais in France. Translation of the Relics of the slain Crown Prince Demetrius of Moscow. St. Athanasius, wonderworker of Cilicia. St. Hieria, widow, of Mesopotamia. St. Clotilde Chlotilda), Queen of France. (Greek Calendar: St. Pappos, monk.)
Photo of the Day
First view of Monastery, coming up the long road.
Quote of the Day
"Do not look at the world, so that God may look at you." Elder Joseph the Hesychast "Monastic Wisdom; Letters…"
Scripture Readings for the Day
Romans 11:2-12
2 God has not cast away His people whom He foreknew. Or do you not know what the Scripture says of Elijah, how he pleads with God against Israel, saying, 3 "LORD, they have killed Your prophets and torn down Your altars, and I alone am left, and they seek my life"? 4 But what does the divine response say to him? "I have reserved for Myself seven thousand men who have not bowed the knee to Baal." 5 Even so then, at this present time there is a remnant according to the election of grace. 6 And if by grace, then it is no longer of works; otherwise grace is no longer grace. But if it is of works, it is no longer grace; otherwise work is no longer work.
7 What then? Israel has not obtained what it seeks; but the elect have obtained it, and the rest were blinded. 8 Just as it is written:
"God has given them a spirit of stupor,
Eyes that they should not see
And ears that they should not hear,
To this very day."
9 And David says:
"Let their table become a snare and a trap,
A stumbling block and a recompense to them.
10 Let their eyes be darkened, so that they do not see,
And bow down their back always."
Israel's Rejection Not Final
11 I say then, have they stumbled that they should fall? Certainly not! But through their fall, to provoke them to jealousy, salvation has come to the Gentiles. 12 Now if their fall is riches for the world, and their failure riches for the Gentiles, how much more their fullness!
Matthew 11:20-26
Woe to the Impenitent Cities
20 Then He began to rebuke the cities in which most of His mighty works had been done, because they did not repent: 21 "Woe to you, Chorazin! Woe to you, Bethsaida! For if the mighty works which were done in you had been done in Tyre and Sidon, they would have repented long ago in sackcloth and ashes. 22 But I say to you, it will be more tolerable for Tyre and Sidon in the day of judgment than for you. 23 And you, Capernaum, who are exalted to heaven, will be brought down to Hades; for if the mighty works which were done in you had been done in Sodom, it would have remained until this day. 24 But I say to you that it shall be more tolerable for the land of Sodom in the day of judgment than for you."
Jesus Gives True Rest
25 At that time Jesus answered and said, "I thank You, Father, Lord of heaven and earth, that You have hidden these things from the wise and prudent and have revealed them to babes. 26 Even so, Father, for so it seemed good in Your sight.