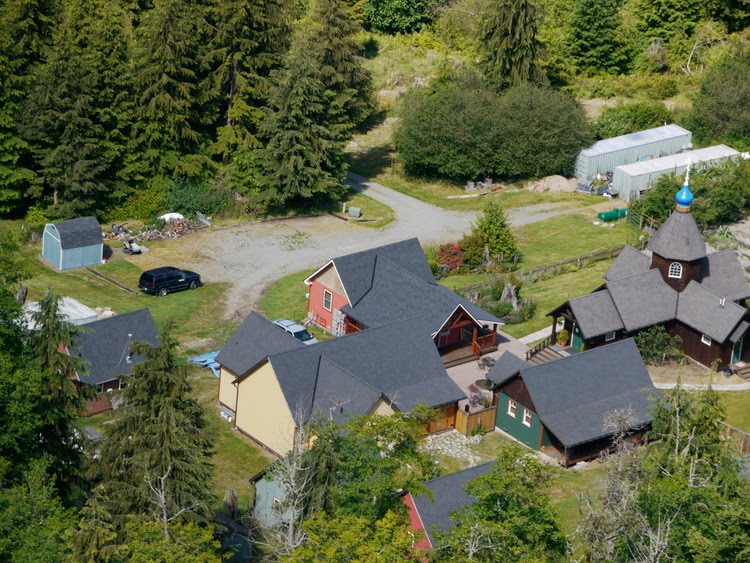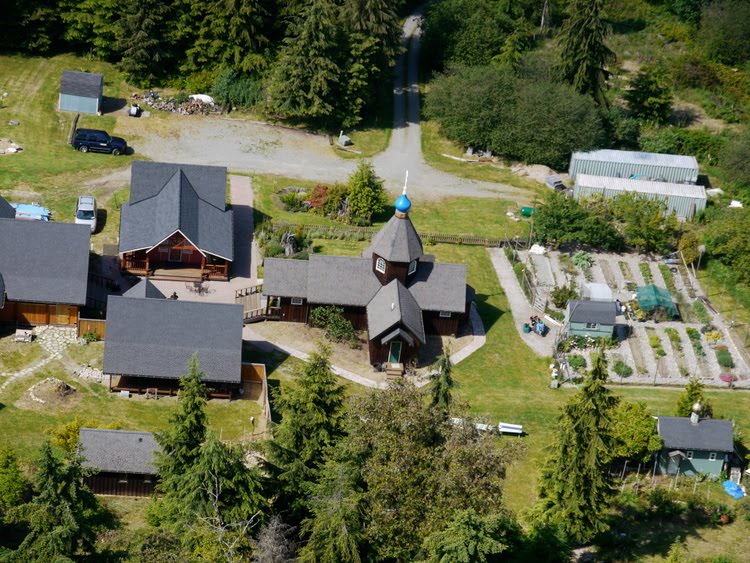 Glory to Jesus Christ! Glory to Him forever!
Saints of the Day
ay 26 / June 8. Apostles Carpus and Alphaeus of the Seventy. Martyrs Abercius and Helen, children of Apostle Alphaeus. Great-Martyr George the New at Sofia. St. John Psichaita the Confessor of Constantinople. Opening of the Relics of St. Macarius, abbot of Kolyazin. New-Martyr Alexander of Thessalonica, who suffered at Smyrna.
Photo of the Day
Newest aerial photographs of the monastery, taken by our friends, Ed and Kay Pierson, using their newly built experimental plane.
Quote of the Day
"In order to struggle with bad thoughts, an Orthodox person must firmly turn away from and depart from all that can elicit these bad thoughts."
Metropolitan Philaret
Scripture Readings for the Day
Romans 7:14-8:2
14 For we know that the law is spiritual, but I am carnal, sold under sin. 15 For what I am doing, I do not understand. For what I will to do, that I do not practice; but what I hate, that I do. 16 If, then, I do what I will not to do, I agree with the law that it is good. 17 But now, it is no longer I who do it, but sin that dwells in me. 18 For I know that in me (that is, in my flesh) nothing good dwells; for to will is present with me, but how to perform what is good I do not find. 19 For the good that I will to do, I do not do; but the evil I will not to do, that I practice. 20 Now if I do what I will not to do, it is no longer I who do it, but sin that dwells in me.
21 I find then a law, that evil is present with me, the one who wills to do good. 22 For I delight in the law of God according to the inward man. 23 But I see another law in my members, warring against the law of my mind, and bringing me into captivity to the law of sin which is in my members. 24 O wretched man that I am! Who will deliver me from this body of death? 25 I thank God—through Jesus Christ our Lord!
So then, with the mind I myself serve the law of God, but with the flesh the law of sin.
Romans 8
Free from Indwelling Sin
1 There is therefore now no condemnation to those who are in Christ Jesus, who do not walk according to the flesh, but according to the Spirit. 2 For the law of the Spirit of life in Christ Jesus has made me free from the law of sin and death.
Matthew 10:9-15
9 Provide neither gold nor silver nor copper in your money belts, 10 nor bag for your journey, nor two tunics, nor sandals, nor staffs; for a worker is worthy of his food.
11 "Now whatever city or town you enter, inquire who in it is worthy, and stay there till you go out. 12 And when you go into a household, greet it. 13 If the household is worthy, let your peace come upon it. But if it is not worthy, let your peace return to you. 14 And whoever will not receive you nor hear your words, when you depart from that house or city, shake off the dust from your feet. 15 Assuredly, I say to you, it will be more tolerable for the land of Sodom and Gomorrah in the day of judgment than for that city!