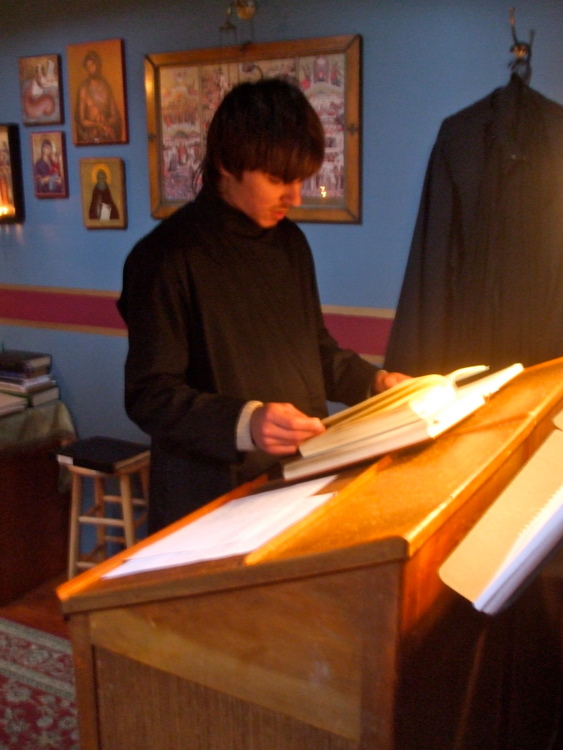 Glory to Jesus Christ! Glory to Him forever!
Saints of the Day
June 9 / 22. St. Cyril, Archbishop of Alexandria [Heb 13:7-16; Matt 5:14-19]. St. Cyril, abbot of White Lake (Byelozersk). St. Alexander, abbot of Kushta (Vologda). Five nuns beheaded in Persia: Martyrs Thecla, Mariamne, Martha, Mary, and Enmatha. Righteous Cyril of Velsk or Vazhesk (Vologda). (Greek Calendar: Hieromartyr Alexander of Prusa. Martyr Ananias. St. Cyril, monk. Three Virgin Martyrs of Chios.) Repose of Hieromonk Vitaly of Valaam (1856).
Photo of the Day
Reader Arseniy Bashirov, from Boise, Idaho, is living with us for the summer, in order to see if he might have a monastic vocation. Please remember Arseniy in your prayers, as he and the monks discern God's will.
Quote of the Day
"It goes without saying that neither merciful men nor angels need to inform God of what is happening in the world, that God should know in this way, for the most high God is all-knowing and all-seeing. All that they see and understand they do by God's help. Why, then, does it say that the servants saw what was done by their merciless fellow-servant and told their lord? In order to show the compassion of good men and angels. Because it is the will of God Himself that all His faithful servants rejoice in good and grieve at sin. God's sorrowful servants, then came and informed their lord of what was happening. (Mt. 18:31) "
St. Nikolai Velimirovic
Video of the Day:
http://rt.com/About_Us/Programmes/XL_Reports/2010-06-20/578119.html
Scripture Readings for the Day
Romans 14:9-18
9 For to this end Christ died and rose and lived again, that He might be Lord of both the dead and the living. 10 But why do you judge your brother? Or why do you show contempt for your brother? For we shall all stand before the judgment seat of Christ. 11 For it is written:
"As I live, says the LORD,
Every knee shall bow to Me,
And every tongue shall confess to God."
12 So then each of us shall give account of himself to God. 13 Therefore let us not judge one another anymore, but rather resolve this, not to put a stumbling block or a cause to fall in our brother's way.
The Law of Love
14 I know and am convinced by the Lord Jesus that there is nothing unclean of itself; but to him who considers anything to be unclean, to him it is unclean. 15 Yet if your brother is grieved because of your food, you are no longer walking in love. Do not destroy with your food the one for whom Christ died. 16 Therefore do not let your good be spoken of as evil; 17 for the kingdom of God is not eating and drinking, but righteousness and peace and joy in the Holy Spirit. 18 For he who serves Christ in these things is acceptable to God and approved by men.
Matthew 12:14-16
14 Then the Pharisees went out and plotted against Him, how they might destroy Him.
Behold, My Servant
15 But when Jesus knew it, He withdrew from there. And great multitudes followed Him, and He healed them all. 16 Yet He warned them not to make Him known,
Matthew 12:22-30
A House Divided Cannot Stand
22 Then one was brought to Him who was demon-possessed, blind and mute; and He healed him, so that the blind and mute man both spoke and saw. 23 And all the multitudes were amazed and said, "Could this be the Son of David?"
24 Now when the Pharisees heard it they said, "This fellow does not cast out demons except by Beelzebub, the ruler of the demons."
25 But Jesus knew their thoughts, and said to them: "Every kingdom divided against itself is brought to desolation, and every city or house divided against itself will not stand. 26 If Satan casts out Satan, he is divided against himself. How then will his kingdom stand? 27 And if I cast out demons by Beelzebub, by whom do your sons cast them out? Therefore they shall be your judges. 28 But if I cast out demons by the Spirit of God, surely the kingdom of God has come upon you. 29 Or how can one enter a strong man's house and plunder his goods, unless he first binds the strong man? And then he will plunder his house. 30 He who is not with Me is against Me, and he who does not gather with Me scatters abroad.