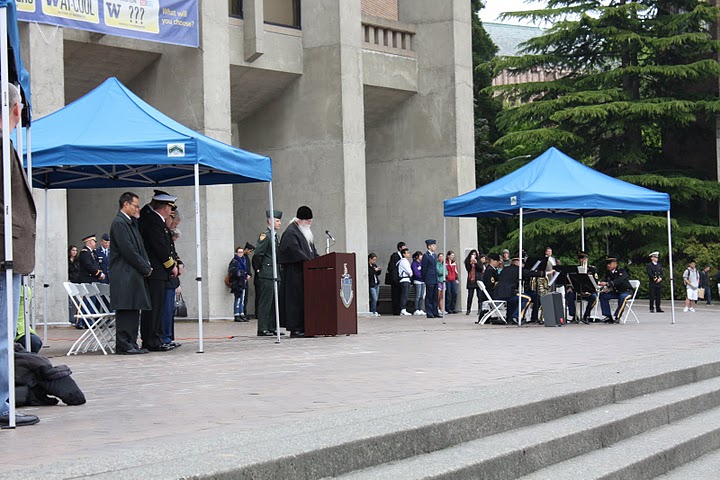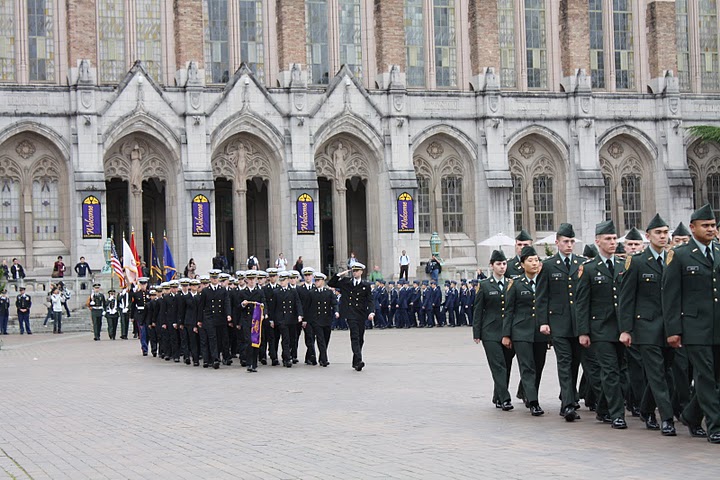 Glory to Jesus Christ! Glory to Him forever!
The Apostles Fast
Saints of the Day
May 19 / June 1. Hieromartyr Patrick, Bishop of Prusa, and his companions: Presbyters Acacius, Menander, and Polyenus. St. Cornelius, abbot of Komel (Vologda). Martyr Acolothus of the Thebaid. St. John, Bishop of Goths in Crimea. St. John, prince of Uglich, tonsured as Ignatius (Vologda). St. Sergius, monk of Shukhtov. St. Cornelius, abbot of Paleostrov. (Greek Calendar: Martyrs Cyriaca and Theotima.) Commemoration of ascetics of St. Anthony of Syandem Monastery: Elias (also of Valaam), Theophanes, and Dionysius.
Photo of the Day
I had the great honor of giving the Invocation at the University of Washington's ROTC Awards Ceremony.
Quote of the Day
"We reckon to achieve peace of soul and to take a straight road to it, yet we never come to the point of accusing ourselves. This is true, isn't it? If a man were to discipline himself in a thousand ways and not take this road, he would never stop troubling others or being troubled by them, and he would waste all his labors. How much joy, how much peace of soul would a man not have wherever he went, as Abba Poemen says, if he was one who habitually accused himself? For if anything happened to him, some punishment, a dishonor, or any kind of trouble, he would accept it as if he deserved it and would never be put to confusion. That man would have complete freedom from care."  
Abba Dorotheos of Gaza
"On Self-Accusation" (Discourses and Sayings)
Article of the Day:

The Story of AugustineWorth reading!http://www.pravoslavie.ru/english/35285.htm

Scripture Readings for the Day:
Romans 4:4-12
4 Now to him who works, the wages are not counted as grace but as debt.
David Celebrates the Same Truth
5 But to him who does not work but believes on Him who justifies the ungodly, his faith is accounted for righteousness, 6 just as David also describes the blessedness of the man to whom God imputes righteousness apart from works:
7 "Blessed are those whose lawless deeds are forgiven,
And whose sins are covered;
8 Blessed is the man to whom the LORD shall not impute sin."
Abraham Justified Before Circumcision
9 Does this blessedness then come upon the circumcised only, or upon the uncircumcised also? For we say that faith was accounted to Abraham for righteousness. 10 How then was it accounted? While he was circumcised, or uncircumcised? Not while circumcised, but while uncircumcised. 11 And he received the sign of circumcision, a seal of the righteousness of the faith which he had while still uncircumcised, that he might be the father of all those who believe, though they are uncircumcised, that righteousness might be imputed to them also, 12 and the father of circumcision to those who not only are of the circumcision, but who also walk in the steps of the faith which our father Abraham had while still uncircumcised.
Matthew 7:15-21
You Will Know Them by Their Fruits
15 "Beware of false prophets, who come to you in sheep's clothing, but inwardly they are ravenous wolves. 16 You will know them by their fruits. Do men gather grapes from thornbushes or figs from thistles? 17 Even so, every good tree bears good fruit, but a bad tree bears bad fruit. 18 A good tree cannot bear bad fruit, nor can a bad tree bear good fruit. 19 Every tree that does not bear good fruit is cut down and thrown into the fire. 20 Therefore by their fruits you will know them.
I Never Knew You
21 "Not everyone who says to Me, 'Lord, Lord,' shall enter the kingdom of heaven, but he who does the will of My Father in heaven.