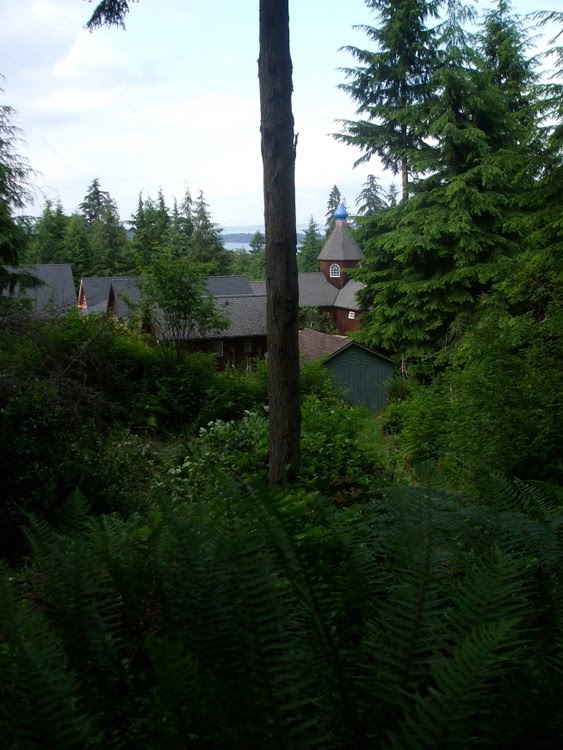 Glory to Jesus Christ! Glory to Him forever!
Saints of the Day
June 4 / 17. St. Metrophanes, first Patriarch of Constantinople. Hieromartyr Astius, Bishop of Dyrrachium in Macedonia. Martyr Concordius of Spoleto. Martyrs Frontasius, Severinus, Severian, and Salanus of Gaul. St. Zosimas of Cilicia, Bishop of Babylon in Egypt. St. Methodius, abbot of Peshnosha, disciple of St. Sergius of Radonezh. St. Sophia of Thrace. St. John, abbot of Monagria near Cyzicus. St. Alonius of Scete in Egypt. Saints Mary and Martha, sisters of St. Lazarus. Saints Eleazar and Nazarius, wonderworkers of Olonets. New-Martyrs Archbishops. Andronicus of Perm and Basil of Chernigov, and those with them (1918). Repose of Righteous sisters Vera and Lyubov (June 8), foundresses of Shamordino Convent of Elder Ambrose of Optina (1883).
Photo of the Day
The Monastery, as seen from south forest.
Quote of the Day
"It is better for a man to be silent and be [a Christian], than to talk and not to be one. It is good to teach, if he who speaks also acts. There is then one Teacher, who spake and it was done; while even those things which He did in silence are worthy of the Father. He who possesses the word of Jesus, is truly able to hear even His very silence, that he may be perfect, and may both act as he speaks, and be recognised by his silence. There is nothing which is hid from God, but our very secrets are near to Him. Let us therefore do all things as those who have Him dwelling in us, that we may be His temples. and He may be in us as our God, which indeed He is, and will manifest Himself before our faces. Wherefore we justly love Him."
St. Ignatius the Godbearer Epistle to the Ephesians
Scripture Readings for the Day
Romans 11:13-24
13 For I speak to you Gentiles; inasmuch as I am an apostle to the Gentiles, I magnify my ministry, 14 if by any means I may provoke to jealousy those who are my flesh and save some of them. 15 For if their being cast away is the reconciling of the world, what will their acceptance be but life from the dead?
16 For if the firstfruit is holy, the lump is also holy; and if the root is holy, so are the branches. 17 And if some of the branches were broken off, and you, being a wild olive tree, were grafted in among them, and with them became a partaker of the root and fatness of the olive tree, 18 do not boast against the branches. But if you do boast, remember that you do not support the root, but the root supports you.
19 You will say then, "Branches were broken off that I might be grafted in." 20 Well said. Because of unbelief they were broken off, and you stand by faith. Do not be haughty, but fear. 21 For if God did not spare the natural branches, He may not spare you either. 22 Therefore consider the goodness and severity of God: on those who fell, severity; but toward you, goodness, if you continue in His goodness. Otherwise you also will be cut off. 23 And they also, if they do not continue in unbelief, will be grafted in, for God is able to graft them in again. 24 For if you were cut out of the olive tree which is wild by nature, and were grafted contrary to nature into a cultivated olive tree, how much more will these, who are natural branches, be grafted into their own olive tree?
Matthew 11:27-30
27 All things have been delivered to Me by My Father, and no one knows the Son except the Father. Nor does anyone know the Father except the Son, and the one to whom the Son wills to reveal Him. 28 Come to Me, all you who labor and are heavy laden, and I will give you rest. 29 Take My yoke upon you and learn from Me, for I am gentle and lowly in heart, and you will find rest for your souls. 30 For My yoke is easy and My burden is light."