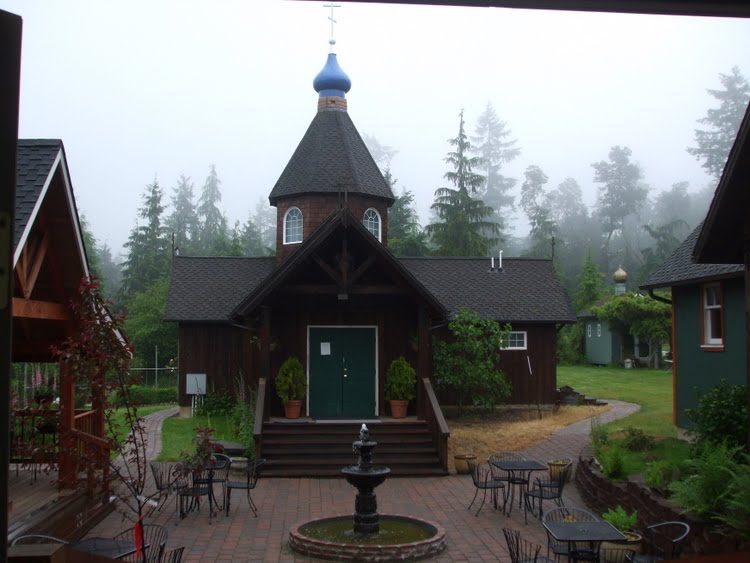 Glory to Jesus Christ! Glory to Him forever!
Saints of the Day
May 28 / June 10. St. Nicetas, Bishop of Chalcedon. St. Ignatius, Bishop and wonderworker of Rostov. Hieromartyr Helladius, Bishop in the East. St. Eutychius, Bishop of Melitene. Martyr Heliconis of Thessalonica. St. Sophronius, monk of Bulgaria. New-Martyr Demetrius. New-Martyr Zachariah of Prusa. St. Germanus, Bishop of Paris. (Greek Calendar: Martyrs Crescens, Paul and Dioscorus of Rome.)
Photo of the Day
A foggy  June morning at the monastery.
Quote of the Day
"Without…patience and humility a person will suffer what many have suffered, perishing in their stupidity, trusting to their own opinions and thinking they can get along very well without either a guide or the experience that comes from patience and humility. For experience transcends tribulation, trials and even active warfare. Should a person of experience be subject to some slight attack on the part of the demons, this trial will be a source of great joy and profit to him; for it is permitted by God so that he may gain yet further experience and courage in facing his enemies."
St. Peter of Damaskos
Scripture Readings for the Day
Romans 8:22-27
22 For we know that the whole creation groans and labors with birth pangs together until now. 23 Not only that, but we also who have the firstfruits of the Spirit, even we ourselves groan within ourselves, eagerly waiting for the adoption, the redemption of our body. 24 For we were saved in this hope, but hope that is seen is not hope; for why does one still hope for what he sees? 25 But if we hope for what we do not see, we eagerly wait for it with perseverance.
26 Likewise the Spirit also helps in our weaknesses. For we do not know what we should pray for as we ought, but the Spirit Himself makes intercession for us with groanings which cannot be uttered. 27 Now He who searches the hearts knows what the mind of the Spirit is, because He makes intercession for the saints according to the will of God.
Matthew 10:23-31
23 When they persecute you in this city, flee to another. For assuredly, I say to you, you will not have gone through the cities of Israel before the Son of Man comes.
24 "A disciple is not above his teacher, nor a servant above his master. 25 It is enough for a disciple that he be like his teacher, and a servant like his master. If they have called the master of the house Beelzebub, how much more will they call those of his household! 26 Therefore do not fear them. For there is nothing covered that will not be revealed, and hidden that will not be known.
Jesus Teaches the Fear of God
27 "Whatever I tell you in the dark, speak in the light; and what you hear in the ear, preach on the housetops. 28 And do not fear those who kill the body but cannot kill the soul. But rather fear Him who is able to destroy both soul and body in hell. 29 Are not two sparrows sold for a copper coin? And not one of them falls to the ground apart from your Father's will. 30 But the very hairs of your head are all numbered. 31 Do not fear therefore; you are of more value than many sparrows.