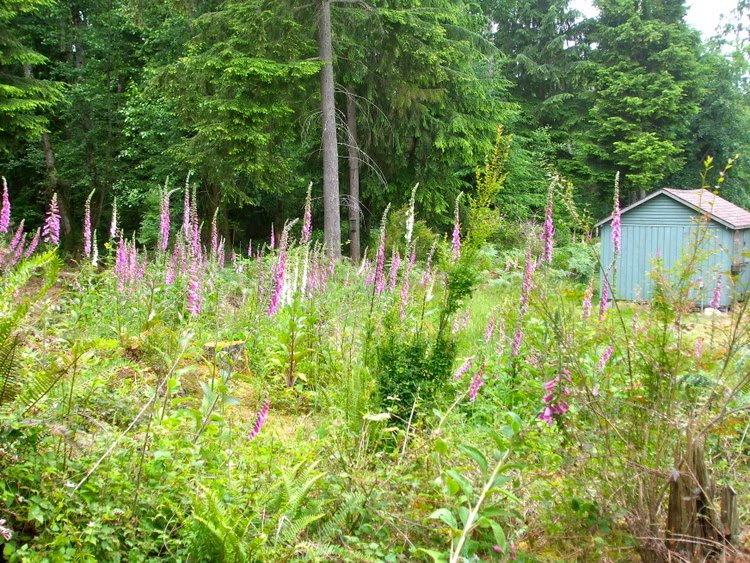 Glory to Jesus Christ! Glory to Him forever!
Saints of the Day
June 7 / 20. Hieromartyr Theodotus, Bishop of Ancyra. Martyrs Cyriaca, Caleria, and Mary, of Caesarea in Palestine. Hieromartyr Marcellus, Bishop of Rome, and those with him: Sisinius and Cyriacus, deacons; Smaragdus, Largus, Apronian, Saturninus, Pappias, Maurus, Crescentian, Priscilla, Lucina, and princess Artemia. St. Daniel of Scete in Egypt. Hieromartyr Marcellinus, pope of Rome. Virgin Martyr Potemaiena of Alexandria. Martyr Zenais (Zenaida) of Caesarea in Palestine. (Greek Calendar: Holy women Aesia and Susanna, disciples of St. Pancratius of Taormina and martyred with him. Martyr Lycarion of Hermopolis in Egypt. Martyrs Tarasius and John. St. Stephen the hieromonk. St. Anthimus the hieromonk. St. Sebastian the Wonderworker.) Repose of Anthony Ivanovich, fool-for-Christ of Valaam (1832).
Photo of the Day
Our wild foxglove, setting the stage for one of the monastic cells.
Quote of the Day
"It is better for a man to be silent and be [a Christian], than to talk and not to be one. It is good to teach, if he who speaks also acts. There is then one Teacher, who spake and it was done; while even those things which He did in silence are worthy of the Father. He who possesses the word of Jesus, is truly able to hear even His very silence, that he may be perfect, and may both act as he speaks, and be recognised by his silence. There is nothing which is hid from God, but our very secrets are near to Him. Let us therefore do all things as those who have Him dwelling in us, that we may be His temples. and He may be in us as our God, which indeed He is, and will manifest Himself before our faces. Wherefore we justly love Him."
St. Ignatius the Godbearer Epistle to the Ephesians
Scripture Readings for the Day
Romans 6:18-23
18 And having been set free from sin, you became slaves of righteousness. 19 I speak in human terms because of the weakness of your flesh. For just as you presented your members as slaves of uncleanness, and of lawlessness leading to more lawlessness, so now present your members as slaves of righteousness for holiness.
20 For when you were slaves of sin, you were free in regard to righteousness. 21 What fruit did you have then in the things of which you are now ashamed? For the end of those things is death. 22 But now having been set free from sin, and having become slaves of God, you have your fruit to holiness, and the end, everlasting life. 23 For the wages of sin is death, but the gift of God is eternal life in Christ Jesus our Lord.
Matthew 8:5-13
Jesus Heals a Centurion's Servant
5 Now when Jesus had entered Capernaum, a centurion came to Him, pleading with Him, 6 saying, "Lord, my servant is lying at home paralyzed, dreadfully tormented."
7 And Jesus said to him, "I will come and heal him."
8 The centurion answered and said, "Lord, I am not worthy that You should come under my roof. But only speak a word, and my servant will be healed. 9 For I also am a man under authority, having soldiers under me. And I say to this one, 'Go,' and he goes; and to another, 'Come,' and he comes; and to my servant, 'Do this,' and he does it."
10 When Jesus heard it, He marveled, and said to those who followed, "Assuredly, I say to you, I have not found such great faith, not even in Israel! 11 And I say to you that many will come from east and west, and sit down with Abraham, Isaac, and Jacob in the kingdom of heaven. 12 But the sons of the kingdom will be cast out into outer darkness. There will be weeping and gnashing of teeth." 13 Then Jesus said to the centurion, "Go your way; and as you have believed, so let it be done for you." And his servant was healed that same hour.