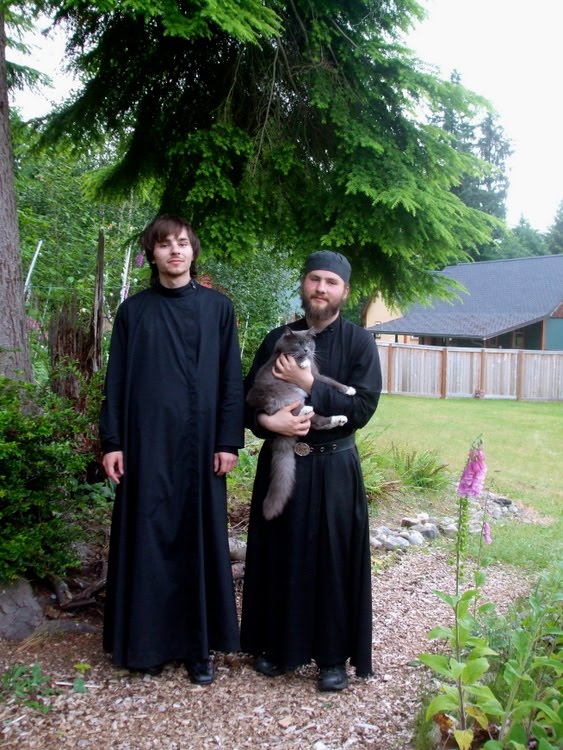 Glory to Jesus Christ! Glory to Him forever!
Saints of the Day
June 13 / 26. Martyr Aquila of Byblos in Syria. St. Triphyllius, Bishop of Leucosia (Nicosia) in Cyprus. Martyr Antonina of Nicaea. St. Anna and her son St. John of Constantinople. St. Antipater, Bishop of Bostra in Arabia. St. Andronicus, disciple of St. Sergius of Radonezh, and St. Sabbas, abbots of Moscow. Finding of the relics of New-Martyr Nicholas the Deacon of Lesbos. (Greek Calendar: St. James, monk, who was deceived and worshipped the Antichrist. St. Eulogius, Patriarch of Antioch. Martyr Diodorus of Emesus who was crucified.) Repose of Abbess Alexandra, foundress of Diveyevo Convent (1789).
Photo of the Day
Reader Arseniy, Novice Christos, and Hammi.
Quote of the Day
For we do not know how long we may remain in virtue, as says the Prophet who attained to knowledge of this matter by experience: In my prosperity I said, I shall never be moved. Thou didst hide Thy face, and I am troubled (Ps. 29:7, 8).
St. Seraphim of Sarov
Scripture Readings for the Day
Romans 8:14-21
14 For as many as are led by the Spirit of God, these are sons of God. 15 For you did not receive the spirit of bondage again to fear, but you received the Spirit of adoption by whom we cry out, "Abba, Father." 16 The Spirit Himself bears witness with our spirit that we are children of God, 17 and if children, then heirs—heirs of God and joint heirs with Christ, if indeed we suffer with Him, that we may also be glorified together.
From Suffering to Glory
18 For I consider that the sufferings of this present time are not worthy to be compared with the glory which shall be revealed in us. 19 For the earnest expectation of the creation eagerly waits for the revealing of the sons of God. 20 For the creation was subjected to futility, not willingly, but because of Him who subjected it in hope; 21 because the creation itself also will be delivered from the bondage of corruption into the glorious liberty of the children of God.
Matthew 9:9-13
Matthew the Tax Collector
9 As Jesus passed on from there, He saw a man named Matthew sitting at the tax office. And He said to him, "Follow Me." So he arose and followed Him.
10 Now it happened, as Jesus sat at the table in the house, that behold, many tax collectors and sinners came and sat down with Him and His disciples. 11 And when the Pharisees saw it, they said to His disciples, "Why does your Teacher eat with tax collectors and sinners?"
12 When Jesus heard that, He said to them, "Those who are well have no need of a physician, but those who are sick. 13 But go and learn what this means: 'I desire mercy and not sacrifice.' For I did not come to call the righteous, but sinners, to repentance."