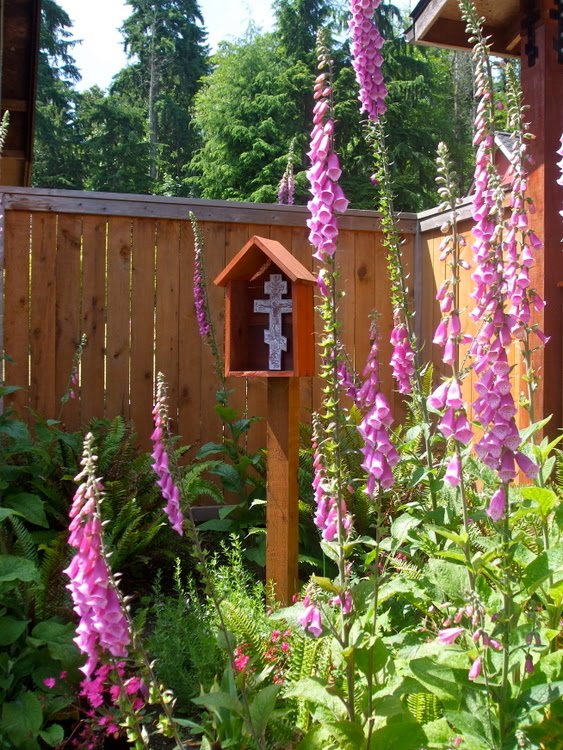 Living the evangelical life of Orthodox monasticism in witness to the salvific truth of the Gospels of Our Lord, God, and Saviour, Jesus Christ.
Glory to Jesus Christ! Glory to Him forever!
Saints of the Day
June 15 / 28. Prophet Amos. St. Jonah, Metropolitan of Moscow. Martyrs Vitus, Modestus, and Crescentia at Lucania. Martyr Dulas of Cilicia. St. Jerome (Hieronymus) of Stridonium. St. Dulas the Passion-bearer of Egypt. St. Lazarus, prince of Serbia. Translation of the Relics of St. Theodore the Sykeote. St. Orsiesius of Tabenna, disciple of St. Pachomius the Great. Blessed Augustine, Bishop of Hippo. Saints Gregory and Cassian, abbots of Avnezhk (Vologda). St. Michael, first Metropolitan of Kiev. St. Symeon, Archbishop of Novgorod. St. Ephraim, Patriarch of Serbia. Martyr Leonis (Leonida) of Syria. St. Abraham, abbot of Auvergne (Gaul). (Greek Calendar: Apostles Fortunatus, Achaicus, and Stephen. Martyr Grace. St. Joseph, monk of Bethlehem.) Icon of the Most Holy Theotokos 'Marianica'. Repose of Jonah, fool-for-Christ of Peshnosha Monastery (1838).
Photo of the Day
The beautiful foxglove in our courtyard.
(click to enlarge photo)
Quote of the Day
"Hope also requires a life corresponding to the hope."
St. John of Kronstadt   "My Life in Christ"   
Scripture Readings for the Day
Romans 16:17-24
Avoid Divisive Persons
17 Now I urge you, brethren, note those who cause divisions and offenses, contrary to the doctrine which you learned, and avoid them. 18 For those who are such do not serve our Lord Jesus Christ, but their own belly, and by smooth words and flattering speech deceive the hearts of the simple. 19 For your obedience has become known to all. Therefore I am glad on your behalf; but I want you to be wise in what is good, and simple concerning evil. 20 And the God of peace will crush Satan under your feet shortly.
The grace of our Lord Jesus Christ be with you. Amen.
Greetings from Paul's Friends
21 Timothy, my fellow worker, and Lucius, Jason, and Sosipater, my countrymen, greet you.
22 I, Tertius, who wrote this epistle, greet you in the Lord.
23 Gaius, my host and the host of the whole church, greets you. Erastus, the treasurer of the city, greets you, and Quartus, a brother. 24 The grace of our Lord Jesus Christ be with you all. Amen.
Matthew 13:10-23
The Purpose of Parables
10 And the disciples came and said to Him, "Why do You speak to them in parables?"
11 He answered and said to them, "Because it has been given to you to know the mysteries of the kingdom of heaven, but to them it has not been given. 12 For whoever has, to him more will be given, and he will have abundance; but whoever does not have, even what he has will be taken away from him. 13 Therefore I speak to them in parables, because seeing they do not see, and hearing they do not hear, nor do they understand. 14 And in them the prophecy of Isaiah is fulfilled, which says:
'Hearing you will hear and shall not understand,
And seeing you will see and not perceive;
15 For the hearts of this people have grown dull.
Their ears are hard of hearing,
And their eyes they have closed,
Lest they should see with their eyes and hear with their ears,
Lest they should understand with their hearts and turn,
So that I should heal them.'
16 But blessed are your eyes for they see, and your ears for they hear; 17 for assuredly, I say to you that many prophets and righteous men desired to see what you see, and did not see it, and to hear what you hear, and did not hear it.
The Parable of the Sower Explained
18 "Therefore hear the parable of the sower: 19 When anyone hears the word of the kingdom, and does not understand it, then the wicked one comes and snatches away what was sown in his heart. This is he who received seed by the wayside. 20 But he who received the seed on stony places, this is he who hears the word and immediately receives it with joy; 21 yet he has no root in himself, but endures only for a while. For when tribulation or persecution arises because of the word, immediately he stumbles. 22 Now he who received seed among the thorns is he who hears the word, and the cares of this world and the deceitfulness of riches choke the word, and he becomes unfruitful. 23 But he who received seed on the good ground is he who hears the word and understands it, who indeed bears fruit and produces: some a hundredfold, some sixty, some thirty."