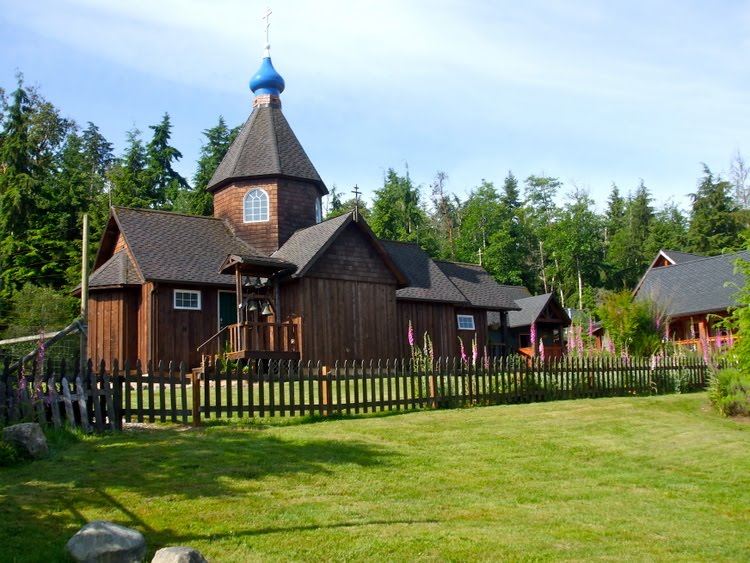 Glory to Jesus Christ! Glory to Him forever!
Saints of the Day
June 1 / 14. Martyr Justin the Philosopher and those with him at Rome: Martyrs Justin, Chariton and his wife Charita, Euelpistus, Hierax, Peon, Valerian and Justus. St. Dionysius, abbot of Glushetsk (Vologda). St. Agapitus, unmercenary physician of the Kiev Caves. St. Metrius the Farmer. (Greek Calendar: Martyr Neon. Hieromartyr Pyrrhus the virgin. Martyr Firmus of Magus. Martyr Thespesius of Cappadocia.)
Photo of the Day
Monastery, as seen from the parking lot.
Quote of the Day
"God, as the eternal Mercy, 'will have all men to be saved, and to come into the knowledge of the truth' (I Tim. 2:4). And we, the children of the merciful God, also must wish with our whole hearts that all men, and even our enemies, should be saved, and must care for this."
St. John of Kronstadt
Scripture Readings for the Day
Romans 9:18-33
18 Therefore He has mercy on whom He wills, and whom He wills He hardens.
19 You will say to me then, "Why does He still find fault? For who has resisted His will?" 20 But indeed, O man, who are you to reply against God? Will the thing formed say to him who formed it, "Why have you made me like this?" 21 Does not the potter have power over the clay, from the same lump to make one vessel for honor and another for dishonor?
22 What if God, wanting to show His wrath and to make His power known, endured with much longsuffering the vessels of wrath prepared for destruction, 23 and that He might make known the riches of His glory on the vessels of mercy, which He had prepared beforehand for glory, 24 even us whom He called, not of the Jews only, but also of the Gentiles?
25 As He says also in Hosea:
"I will call them My people, who were not My people,
And her beloved, who was not beloved."
26 "And it shall come to pass in the place where it was said to them,
' You are not My people,'
There they shall be called sons of the living God."
27 Isaiah also cries out concerning Israel:
"Though the number of the children of Israel be as the sand of the sea,
The remnant will be saved.
28 For He will finish the work and cut it short in righteousness,
Because the LORD will make a short work upon the earth."
29 And as Isaiah said before:
"Unless the LORD of Sabaoth had left us a seed,
We would have become like Sodom,
And we would have been made like Gomorrah."
Present Condition of Israel
30 What shall we say then? That Gentiles, who did not pursue righteousness, have attained to righteousness, even the righteousness of faith; 31 but Israel, pursuing the law of righteousness, has not attained to the law of righteousness. 32 Why? Because they did not seek it by faith, but as it were, by the works of the law. For they stumbled at that stumbling stone. 33 As it is written:
"Behold, I lay in Zion a stumbling stone and rock of offense,
And whoever believes on Him will not be put to shame."

Matthew 11:2-15
2 And when John had heard in prison about the works of Christ, he sent two of his disciples 3 and said to Him, "Are You the Coming One, or do we look for another?"
4 Jesus answered and said to them, "Go and tell John the things which you hear and see: 5 The blind see and the lame walk; the lepers are cleansed and the deaf hear; the dead are raised up and the poor have the gospel preached to them. 6 And blessed is he who is not offended because of Me."
7 As they departed, Jesus began to say to the multitudes concerning John: "What did you go out into the wilderness to see? A reed shaken by the wind? 8 But what did you go out to see? A man clothed in soft garments? Indeed, those who wear soft clothing are in kings' houses. 9 But what did you go out to see? A prophet? Yes, I say to you, and more than a prophet. 10 For this is he of whom it is written:
'Behold, I send My messenger before Your face,
Who will prepare Your way before You.'
11 "Assuredly, I say to you, among those born of women there has not risen one greater than John the Baptist; but he who is least in the kingdom of heaven is greater than he. 12 And from the days of John the Baptist until now the kingdom of heaven suffers violence, and the violent take it by force. 13 For all the prophets and the law prophesied until John. 14 And if you are willing to receive it, he is Elijah who is to come. 15 He who has ears to hear, let him hear!