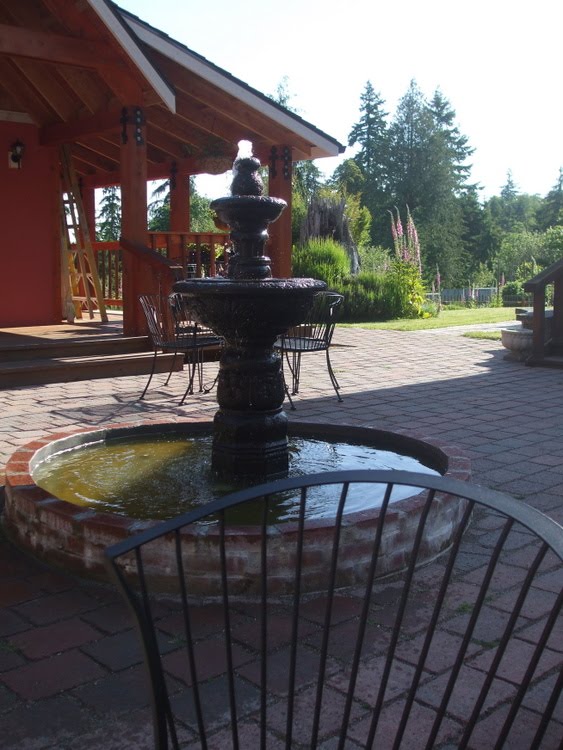 Glory to Jesus Christ! Glory to Him forever!
Saints of the Day
May 31 / June 13. Apostle Hermes of the Seventy. Martyr Hermias at Comana. Martyr Philosophus at Alexandria. Martyr Marus the magician who was converted on witnessing the martyrdom of Hermias. New-Martyrs Hierotheus, Bishop of Nikolsk (1928), and his friend Schema-hieromonk Seraphim (1923). (Greek Calendar: Five Martyrs of Ascalon. Martyrs Eusebius and Charalampus.) Repose of Philotheus, Metropolitan of Tobolsk (1727) and Archimandrite Macarius of Peshnosha Monastery, disciple of Blessed Theodore of Sanaxar (1811).
Photo of the Day
The Monastery's courtyard fountain.
Quote of the Day
"Virtue stands in the middle [between excess and defect]. This is the King's highway of which one of the elders used to say, 'Walk by the King's highway and count up the miles.' The virtues, therefore, as we say, are in the middle between too much and too little. Therefore, it is written, 'Do not deviate to the right or to the left but walk the King's highway.' And as St. Basil says, 'A man is upright at heart when his estimation of things is not biased towards excess or defect, but goes straight to the middle path of virtue.' "
St. Dorotheus of Gaza
Scripture Readings for the Day
Romans 5:1-10
Faith Triumphs in Trouble
1 Therefore, having been justified by faith, we have peace with God through our Lord Jesus Christ, 2 through whom also we have access by faith into this grace in which we stand, and rejoice in hope of the glory of God. 3 And not only that, but we also glory in tribulations, knowing that tribulation produces perseverance; 4 and perseverance, character; and character, hope. 5 Now hope does not disappoint, because the love of God has been poured out in our hearts by the Holy Spirit who was given to us.
Christ in Our Place
6 For when we were still without strength, in due time Christ died for the ungodly. 7 For scarcely for a righteous man will one die; yet perhaps for a good man someone would even dare to die. 8 But God demonstrates His own love toward us, in that while we were still sinners, Christ died for us. 9 Much more then, having now been justified by His blood, we shall be saved from wrath through Him. 10 For if when we were enemies we were reconciled to God through the death of His Son, much more, having been reconciled, we shall be saved by His life.
Matthew 6:22-33
The Lamp of the Body
22 "The lamp of the body is the eye. If therefore your eye is good, your whole body will be full of light. 23 But if your eye is bad, your whole body will be full of darkness. If therefore the light that is in you is darkness, how great is that darkness!
You Cannot Serve God and Riches
24 "No one can serve two masters; for either he will hate the one and love the other, or else he will be loyal to the one and despise the other. You cannot serve God and mammon.
Do Not Worry
25 "Therefore I say to you, do not worry about your life, what you will eat or what you will drink; nor about your body, what you will put on. Is not life more than food and the body more than clothing? 26 Look at the birds of the air, for they neither sow nor reap nor gather into barns; yet your heavenly Father feeds them. Are you not of more value than they? 27 Which of you by worrying can add one cubit to his stature?
28 "So why do you worry about clothing? Consider the lilies of the field, how they grow: they neither toil nor spin; 29 and yet I say to you that even Solomon in all his glory was not arrayed like one of these. 30 Now if God so clothes the grass of the field, which today is, and tomorrow is thrown into the oven, will He not much more clothe you, O you of little faith?
31 "Therefore do not worry, saying, 'What shall we eat?' or 'What shall we drink?' or 'What shall we wear?' 32 For after all these things the Gentiles seek. For your heavenly Father knows that you need all these things. 33 But seek first the kingdom of God and His righteousness, and all these things shall be added to you.