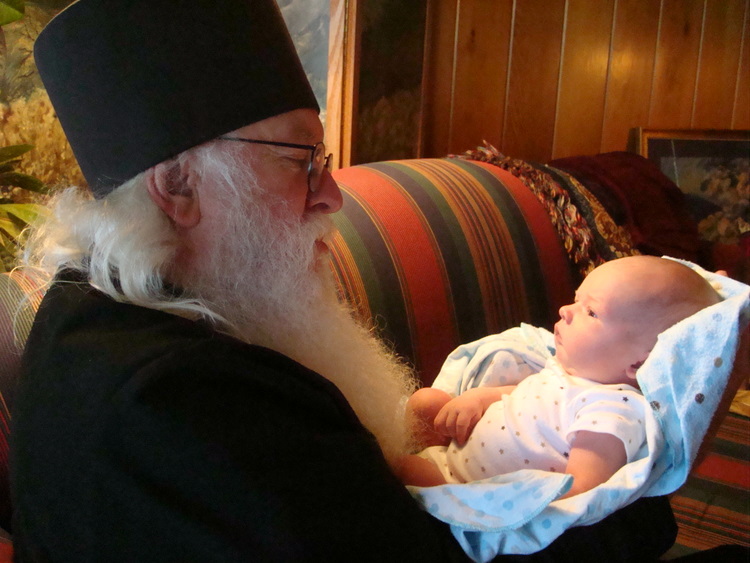 Glory to Jesus Christ! Glory to Him forever!
Saints of the Day
May 29 / June 11. Virgin Theodosia of Constantinople. Repose of Blessed John of Ustiug, fool-for-Christ. Virgin Martyr Theodosia of Tyre. St. Alexander, Patriarch of Alexandria. New-Martyr Andrew. New-Martyr John (or Nannus) at Smyrna. Commemoration of the First Ecumenical Council. (Greek Calendar: Hieromartyr Olbian, Bishop of Aneus, and his disciple. Two women of senatorial rank martyred with St. Procopius and others.) Icon of the Most Holy Theotokos 'Surety of Sinners'. Repose of Schemamonk Michael of Valaam (1854).
Photo of the Day
Granduncle, Abbot Tryphon, holding Maximos (after Saint Maximos the Confessor), the newborn son of my dear niece, Sarah, and her wonderful husband, Nicholas Nichols. Their priest, Archpriest Gregory Horton, performed the naming ceremony, yesterday! There is great power in a name, and when one is named after a saint, there is a spiritual connection with that saint, that lasts a lifetime. When we finally stand before the Throne of God, we will know the name that God has given us, from the beginning. Meanwhile we must honor our saint, by using that name. One's Orthodox name, given to us at baptism (if we are converts, or at the naming ceremony, if we are infants), is the sacred name by which we should travel through our whole journey to God. To use another name, is to show dishonor toward our saint, and break the connection we have with that saint. Thus, the naming service of a newborn child, is spiritually very important, and should be honored by all. Saint John the Wonderworker would not commune anyone who did not use their saints name in everyday use. Many adult converts even have their names changed legally, to take on their Christian name, just as Saint Paul had given up his given name, Saul.
Many God grant Maximos Nichols many years!
Quote of the Day
"Our bodily eyes, when healthy, can see everything, even gnats and mosquitoes flying about in the air; but when they are clouded by some discharge, they see large objects only indistinctly and small things not at all. Similarly if the soul, through attentiveness, reduces the blindness caused by love of this world, it will consider its slightest faults to be very grave and will continually shed tears with deep thankfulness."
St. Diadochos of Photiki
Scripture Readings for the Day
Romans 9:6-19
Israel's Rejection and God's Purpose
6 But it is not that the word of God has taken no effect. For they are not all Israel who are of Israel, 7 nor are they all children because they are the seed of Abraham; but, "In Isaac your seed shall be called." 8 That is, those who are the children of the flesh, these are not the children of God; but the children of the promise are counted as the seed. 9 For this is the word of promise: "At this time I will come and Sarah shall have a son."
10 And not only this, but when Rebecca also had conceived by one man, even by our father Isaac 11 (for the children not yet being born, nor having done any good or evil, that the purpose of God according to election might stand, not of works but of Him who calls), 12 it was said to her, "The older shall serve the younger." 13 As it is written, "Jacob I have loved, but Esau I have hated."
Israel's Rejection and God's Justice
14 What shall we say then? Is there unrighteousness with God? Certainly not! 15 For He says to Moses, "I will have mercy on whomever I will have mercy, and I will have compassion on whomever I will have compassion." 16 So then it is not of him who wills, nor of him who runs, but of God who shows mercy. 17 For the Scripture says to the Pharaoh, "For this very purpose I have raised you up, that I may show My power in you, and that My name may be declared in all the earth." 18 Therefore He has mercy on whom He wills, and whom He wills He hardens.
19 You will say to me then, "Why does He still find fault? For who has resisted His will?"
Matthew 10:32-36
Confess Christ Before Men
32 "Therefore whoever confesses Me before men, him I will also confess before My Father who is in heaven. 33 But whoever denies Me before men, him I will also deny before My Father who is in heaven.
Christ Brings Division
34 "Do not think that I came to bring peace on earth. I did not come to bring peace but a sword. 35 For I have come to 'set a man against his father, a daughter against her mother, and a daughter-in-law against her mother-in-law'; 36 and 'a man's enemies will be those of his own household.'
Matthew 11:1
John the Baptist Sends Messengers to Jesus
1 Now it came to pass, when Jesus finished commanding His twelve disciples, that He departed from there to teach and to preach in their cities.