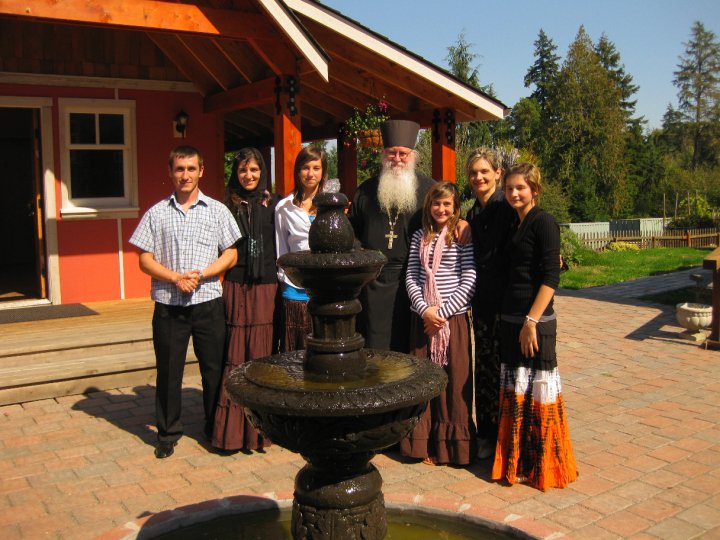 Glory to Jesus Christ! Glory to Him forever!
Saints of the Day
May 13 / 26. Virgin Martyr Glyceria at Heraclea. Martyr Laodicius, jailer of St. Glyceria. Martyr Alexander of Rome. St. George the Confessor of Constantinople. St. Pausicacius, Bishop of Synnada. St. Euthymius the New, founder of Iveron Monastery, and his fellow Georgian saints of Mt. Athos: his father John, his cousin George, and Gabriel. Commemoration of monks of Iveron martyred by the Latins in the 13th century. Righteous Virgin Glyceria of Novgorod. Translation of the Relics of St. Macarius, Archimadrite of Obruch or Kanev. St. Macarius, abbot of Glushets (Vologda). St. Sergius Georgius the Confessor of Constantinople. (Greek Calendar: St. Nicephorus, priest of the Monastery of Ephapsios. Hieromartyr Alexander of Tiverias.) Repose of Righteous Priest Alexis of Bartsumany, disciple of St. Seraphim (1848), and Ryasofor-monk John of St. Nilus of Sora Monastery (1863).
Photo of the Day
Pilgrims to the monastery.
Quote of the Day
"What, then, O, brethren, is required of us in order that we might avail ourselves of all the grace brought unto us from on high by the coming to earth of the Son of God? What is necessary, first of all, is faith in the Son of God, in the Gospel as the salvation-bestowing heavenly teaching; a true repentance of sins and the correction of life and of heart; communion in prayer and in the mysteries [sacraments]; the knowledge and fulfillment of Christ's commandments. Also necessary are the virtues: Christian humility, alms-giving, continence, purity and chastity, simplicity and goodness of heart."
St. John of Kronstadt
Scripture Readings for the Day
Romans 1:18-27
God's Wrath on Unrighteousness
18 For the wrath of God is revealed from heaven against all ungodliness and unrighteousness of men, who suppress the truth in unrighteousness, 19 because what may be known of God is manifest in them, for God has shown it to them. 20 For since the creation of the world His invisible attributes are clearly seen, being understood by the things that are made, even His eternal power and Godhead, so that they are without excuse, 21 because, although they knew God, they did not glorify Him as God, nor were thankful, but became futile in their thoughts, and their foolish hearts were darkened. 22 Professing to be wise, they became fools, 23 and changed the glory of the incorruptible God into an image made like corruptible man—and birds and four-footed animals and creeping things.
24 Therefore God also gave them up to uncleanness, in the lusts of their hearts, to dishonor their bodies among themselves, 25 who exchanged the truth of God for the lie, and worshiped and served the creature rather than the Creator, who is blessed forever. Amen.
26 For this reason God gave them up to vile passions. For even their women exchanged the natural use for what is against nature. 27 Likewise also the men, leaving the natural use of the woman, burned in their lust for one another, men with men committing what is shameful, and receiving in themselves the penalty of their error which was due.
Matthew 5:20-26
20 For I say to you, that unless your righteousness exceeds the righteousness of the scribes and Pharisees, you will by no means enter the kingdom of heaven.
Murder Begins in the Heart
21 "You have heard that it was said to those of old, 'You shall not murder, and whoever murders will be in danger of the judgment.' 22 But I say to you that whoever is angry with his brother without a cause shall be in danger of the judgment. And whoever says to his brother, 'Raca!' shall be in danger of the council. But whoever says, 'You fool!' shall be in danger of hell fire. 23 Therefore if you bring your gift to the altar, and there remember that your brother has something against you, 24 leave your gift there before the altar, and go your way. First be reconciled to your brother, and then come and offer your gift. 25 Agree with your adversary quickly, while you are on the way with him, lest your adversary deliver you to the judge, the judge hand you over to the officer, and you be thrown into prison. 26 Assuredly, I say to you, you will by no means get out of there till you have paid the last penny.