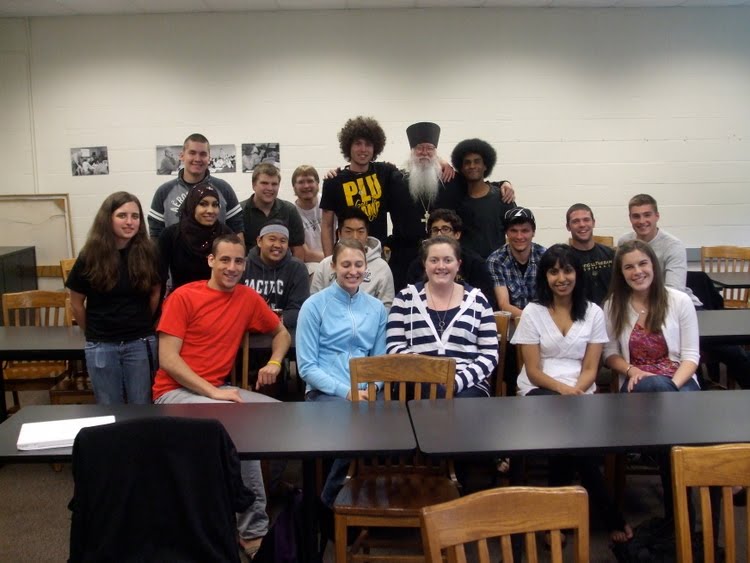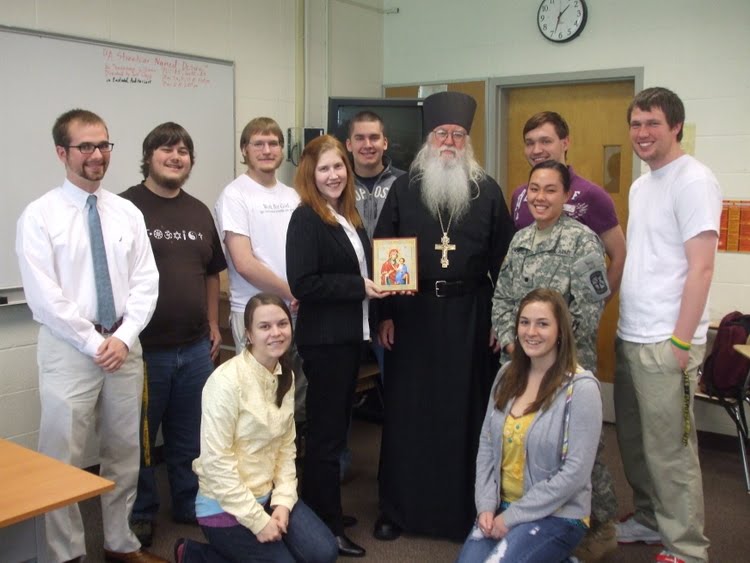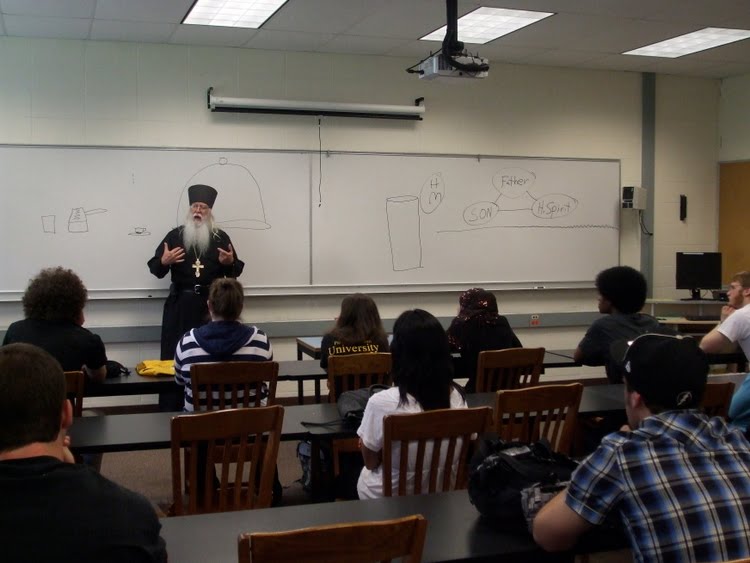 Glory to Jesus Christ! Glory to Him forever!
Apodosis of Pascha
Saints of the Day:
April 29 / May 12. Nine Martyrs at Cyzicus: Theognes, Rufus, Antipater, Theostichus, Artemas, Magnus, Theodotus, Thaumasius, and Philemon. St. Memnon the Wonderworker. Martyrs Diodorus and Rhodopianus, deacon, at Aphrodisia in Anatolia. St. Basil, Bishop of Ostrog in Montenegro. New-Martyr Nectarius of Optina (1928).
Photo of the Day
I'm on the Pacific Lutheran University campus, for two days, lecturing on Orthodoxy, and spending time visiting students and faculty. Glory to God for this wonderful opportunity to share Orthodoxy with these wonderful people. For a former Lutheran to have such an opportunity, is, as you can imagine, a great blessing for me, and, God willing, a blessing for the campus community.
News  Article for the Day:
Patriarch Kirill's sister was pressed at school for her faith
Moscow, May 11, Interfax –
Yelena Gundyayeva, sister of Patriarch Kirill of Moscow and All Russia, in her school years was not afraid to witness to her faith and was pressed for this.
"Many schoolmates (during school years in Leningrad – IF) saw how I was pressed and tried to keep away from me, so I almost didn't have friends there," Gundyayeva said in her interview published in May by the Foma magazine.
According to her, this pressing was seen in everything.
"When I came to pass tests, they told me, "You'll have this test later." Then I had to come in the evening, without other pupils, and write the test in a lab. And they gave me any mark they liked no matter how I answered," Yelena recalls.
For example, when she passed a test for social sciences, she answered exactly in compliance with the textbook. The teacher read and asked, "But you don't share this opinion, do you?"
"I said, "No, I certainly don't." She insisted, "Then write what you think…" But by that time we knew how to respond and I said I wouldn't write anything else. I was given three balls (a satisfactory mark – IF), though the answer was absolutely correct in their system of coordinates," Gundyayeva said.
Their father – priest Mikhail Gundyayev told his children, "If you're believers, you should be believers in everything, if you step back in any question, then your whole life you will search for compromise with your conscience and circumstances."
The Patriarch's sister was one of the first students of the Choir Director Faculty in St. Petersburg Theological Academy which was opened on the initiative of her brother in 1978. She organized a diocesan theological school for children at the academy twenty years ago and has chaired it since then.
Quote of the Day
"Nevertheless, besides the action of God's Grace for salvation, the personal efforts of man himself are also necessary. Man's personal efforts alone are insufficient for his salvation -but they are necessary, for without them, God's Grace will not begin to work out the matter of his salvation."
Metropolitan Philaret, Chief Hierarch of the Russian Church Abroad, of blessed memory.
Scripture Readings for the Day
Acts 18:22-28
22 And when he had landed at Caesarea, and gone up and greeted the church, he went down to Antioch. 23 After he had spent some time there, he departed and went over the region of Galatia and Phrygia in order, strengthening all the disciples.
Ministry of Apollos
24 Now a certain Jew named Apollos, born at Alexandria, an eloquent man and mighty in the Scriptures, came to Ephesus. 25 This man had been instructed in the way of the Lord; and being fervent in spirit, he spoke and taught accurately the things of the Lord, though he knew only the baptism of John. 26 So he began to speak boldly in the synagogue. When Aquila and Priscilla heard him, they took him aside and explained to him the way of God more accurately. 27 And when he desired to cross to Achaia, the brethren wrote, exhorting the disciples to receive him; and when he arrived, he greatly helped those who had believed through grace; 28 for he vigorously refuted the Jews publicly, showing from the Scriptures that Jesus is the Christ.
John 12:36-47
36 While you have the light, believe in the light, that you may become sons of light." These things Jesus spoke, and departed, and was hidden from them.
Who Has Believed Our Report?
37 But although He had done so many signs before them, they did not believe in Him, 38 that the word of Isaiah the prophet might be fulfilled, which he spoke:
"Lord, who has believed our report?
And to whom has the arm of the LORD been revealed?"
39 Therefore they could not believe, because Isaiah said again:
40 "He has blinded their eyes and hardened their hearts,
Lest they should see with their eyes,
Lest they should understand with their hearts and turn,
So that I should heal them."
41 These things Isaiah said when he saw His glory and spoke of Him.
Walk in the Light
42 Nevertheless even among the rulers many believed in Him, but because of the Pharisees they did not confess Him, lest they should be put out of the synagogue; 43 for they loved the praise of men more than the praise of God.
44 Then Jesus cried out and said, "He who believes in Me, believes not in Me but in Him who sent Me. 45 And he who sees Me sees Him who sent Me. 46 I have come as a light into the world, that whoever believes in Me should not abide in darkness. 47 And if anyone hears My words and does not believe, I do not judge him; for I did not come to judge the world but to save the world.