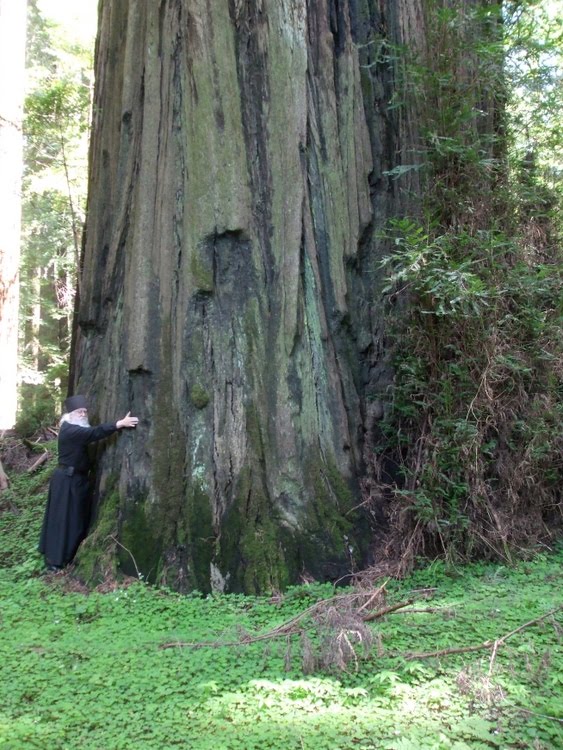 Glory to Jesus Christ! Glory to Him forever!
Saints of the Day
April 21 / May 4. Hieromartyr Januarius, Bishop of Benevento, and his companions: Festus, Proculus, and Sosius deacons; Desiderius, reader; and Eutychius and Acutius, laymen; at Pozzuoli. Hieromartyr Theodore of Perge in Pamphylia, his mother Philippa, and Martyrs Dioscorus, Socrates, and Dionysius. Martyr Alexandra the Empress (same as April 23). Martyrs Isaacius, Apollo, and Codratus of Nicomedia. St. Maximian, Patriarch of Constantinople. St. Niphont, Bishop of Novgorod (Kiev Caves). Repose of Schemamonk Nicetas of Valaam (1907).
Photo of the Day
Abbot Tryphon, hugging a redwood, on our pilgrimage to Holy Virgin Cathedral, and the holy relics of Saint John. Bet you didn't know Father Tryphon was a "tree hugger". []';o)))))
Quote of the Day
A comment reported in today's "daily devotion" on the Portland, Maine, TV station, Channel 6:
"We could take a cue from Orthodoxy, whose priests stand with their backs to their congregation, leading a liturgy that is neither clever nor impassioned, but simply beautiful, like stone smoothed by centuries of rhythmic tides. It's an austere ritual, in the sense of – there's nothing new here; it's sublime, in the sense of – creating a clearer view into Heaven. The priest can be any priest. Who he is, what he looks like, how he speaks, and what he thinks matter little. He hasn't written the service that he officiates. It isn't about him or his prowess. He's an interchangeable functionary draped in brocaded robes, obscured by incense, and, as such, never points to himself, a flawed human, pointing ever and only to the Perfection of the Mysterious Divine. That is the role of every priest or preacher – invisibility, while making God seen."
Scripture Readings for the Day
Acts 12:25-13:12
Barnabas and Saul Appointed
25 And Barnabas and Saul returned from Jerusalem when they had fulfilled their ministry, and they also took with them John whose surname was Mark.
Acts 13
1 Now in the church that was at Antioch there were certain prophets and teachers: Barnabas, Simeon who was called Niger, Lucius of Cyrene, Manaen who had been brought up with Herod the tetrarch, and Saul. 2 As they ministered to the Lord and fasted, the Holy Spirit said, "Now separate to Me Barnabas and Saul for the work to which I have called them." 3 Then, having fasted and prayed, and laid hands on them, they sent them away.
Preaching in Cyprus
4 So, being sent out by the Holy Spirit, they went down to Seleucia, and from there they sailed to Cyprus. 5 And when they arrived in Salamis, they preached the word of God in the synagogues of the Jews. They also had John as their assistant.
6 Now when they had gone through the island to Paphos, they found a certain sorcerer, a false prophet, a Jew whose name was Bar-Jesus, 7 who was with the proconsul, Sergius Paulus, an intelligent man. This man called for Barnabas and Saul and sought to hear the word of God. 8 But Elymas the sorcerer (for so his name is translated) withstood them, seeking to turn the proconsul away from the faith. 9 Then Saul, who also is called Paul, filled with the Holy Spirit, looked intently at him 10 and said, "O full of all deceit and all fraud, you son of the devil, you enemy of all righteousness, will you not cease perverting the straight ways of the Lord? 11 And now, indeed, the hand of the Lord is upon you, and you shall be blind, not seeing the sun for a time."
And immediately a dark mist fell on him, and he went around seeking someone to lead him by the hand. 12 Then the proconsul believed, when he saw what had been done, being astonished at the teaching of the Lord.
John 8:51-59
51 Most assuredly, I say to you, if anyone keeps My word he shall never see death."
52 Then the Jews said to Him, "Now we know that You have a demon! Abraham is dead, and the prophets; and You say, 'If anyone keeps My word he shall never taste death.' 53 Are You greater than our father Abraham, who is dead? And the prophets are dead. Who do You make Yourself out to be?"
54 Jesus answered, "If I honor Myself, My honor is nothing. It is My Father who honors Me, of whom you say that He is your God. 55 Yet you have not known Him, but I know Him. And if I say, 'I do not know Him,' I shall be a liar like you; but I do know Him and keep His word. 56 Your father Abraham rejoiced to see My day, and he saw it and was glad."
57 Then the Jews said to Him, "You are not yet fifty years old, and have You seen Abraham?"
58 Jesus said to them, "Most assuredly, I say to you, before Abraham was, I AM."
59 Then they took up stones to throw at Him; but Jesus hid Himself and went out of the temple, going through the midst of them, and so passed by.