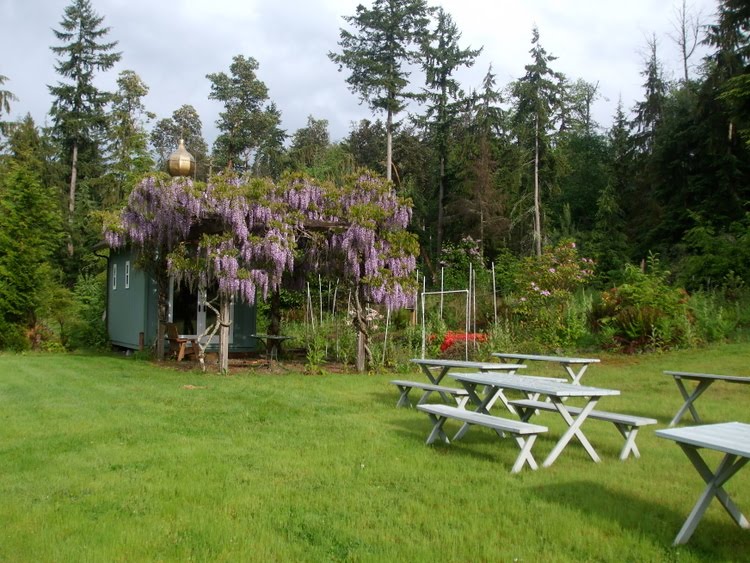 Glory to Jesus Christ! Glory to Him forever!
Saints of the Day
May 12 / 25. St. Epiphanius, Bishop of Cyprus, and St. Germanus, Patriarch of Constantinople. St. Sabinus, Archbishop of Cyprus. St. Polybius, Bishop of Cyprus. St. Dionysius, archimandrite of St. Sergius Monastery. St. Hermogenes, Patriarch of Moscow. New-Martyr John of Walachia. (Greek Calendar: St. Theodore of Cythera, monk.) Commemoration of the Monk Dorotheus, disciple of St. Dionysius of St. Sergius Lavra.
Photo of the Day
Wisteria on pergola, before the Saint John the Wonderworker Chapel.
Quote of the Day
"If we want to fare well in this life and go to Paradise, and to call our God love and father, we must have two loves: the love for God and the love for our neighbor. It is natural for us to have these two loves, and contrary to nature not to have them. Just as a swallow needs two wings in order to fly in the air, so we need these two loves, because without them we cannot be saved."
St. Cosmas Aitolos.
Scripture Readings for the Day
Romans 1:1-7
Greeting
1 Paul, a bondservant of Jesus Christ, called to be an apostle, separated to the gospel of God 2 which He promised before through His prophets in the Holy Scriptures, 3 concerning His Son Jesus Christ our Lord, who was born of the seed of David according to the flesh, 4 and declared to be the Son of God with power according to the Spirit of holiness, by the resurrection from the dead. 5 Through Him we have received grace and apostleship for obedience to the faith among all nations for His name, 6 among whom you also are the called of Jesus Christ;
7 To all who are in Rome, beloved of God, called to be saints:
Grace to you and peace from God our Father and the Lord Jesus Christ.
Romans 1:13-17
13 Now I do not want you to be unaware, brethren, that I often planned to come to you (but was hindered until now), that I might have some fruit among you also, just as among the other Gentiles. 14 I am a debtor both to Greeks and to barbarians, both to wise and to unwise. 15 So, as much as is in me, I am ready to preach the gospel to you who are in Rome also.
The Just Live by Faith
16 For I am not ashamed of the gospel of Christ, for it is the power of God to salvation for everyone who believes, for the Jew first and also for the Greek. 17 For in it the righteousness of God is revealed from faith to faith; as it is written, "The just shall live by faith."
Matthew 4:25-5:12
25 Great multitudes followed Him—from Galilee, and from Decapolis, Jerusalem, Judea, and beyond the Jordan.
Matthew 5
The Beatitudes
1 And seeing the multitudes, He went up on a mountain, and when He was seated His disciples came to Him. 2 Then He opened His mouth and taught them, saying:
3 " Blessed are the poor in spirit,
For theirs is the kingdom of heaven.
4 Blessed are those who mourn,
For they shall be comforted.
5 Blessed are the meek,
For they shall inherit the earth.
6 Blessed are those who hunger and thirst for righteousness,
For they shall be filled.
7 Blessed are the merciful,
For they shall obtain mercy.
8 Blessed are the pure in heart,
For they shall see God.
9 Blessed are the peacemakers,
For they shall be called sons of God.
10 Blessed are those who are persecuted for righteousness' sake,
For theirs is the kingdom of heaven.
11 "Blessed are you when they revile and persecute you, and say all kinds of evil against you falsely for My sake. 12 Rejoice and be exceedingly glad, for great is your reward in heaven, for so they persecuted the prophets who were before you.