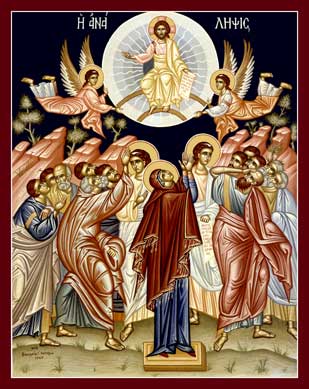 Glory to Jesus Christ! Glory to Him forever!
The Ascension of Our Lord, God, and Saviour, Jesus Christ
Saints of the Day:
April 30 / May 13. Holy Apostle James, the brother of St. John the Theologian. St. Donatus, Bishop of Euroea in Epirus. Martyr Maximus of Ephesus. Opening of the Relics of St. Nicetas, Bishop of Novgorod. Translation of the Relics of St. Sabbas, abbot of Zvenigorod Monastery. St. Clement the Hymnographer, abbot of the Studion. New-Martyr Argyra of Prussa. (Greek Calendar: Saints Quintian and Atticus.) Icon of the Most Holy Theotokos Of the Passion. Repose of Schema-abbess Martha (Protasieva), disciple of St. Paisius Velichkovsky (1813), and Bishop Ignatius (Brianchaninov) (1867).
Photo of the Day
Ascension Icon
News  Article for the Day:
Declaration on the results of the trilateral meeting between Patriarch Kirill of Moscow and All Russia, Catholicos of All Armenians Karekin II and Allahshuqur Pasha-zade
In the name of the Almighty Creator, in fulfillment of the cherished dream of our nations of peace, prosperity and happiness, we, the religious leaders of the Azerbaijani and Armenian people, with high mediation of the Primate of the Russian Orthodox Church, His Holiness Patriarch Kirill, have met in Baku to pay our devoirs to one another and discuss urgent measures to achieve peace with justice and accord among our nations and states.
We consider this meeting as a development of a peace dialogue started between the Armenian Apostolic Church and the Caucasus Muslim Board with mediation of the Russian Orthodox Church in 1988. Being faithful to the spirit of the statements made earlier, we hope to help promote the principles of peaceful coexistence of our nations and the elaboration of mutually acceptable decisions through negotiations only. It is gratifying to testify that the tradition of such meetings has largely helped to end the military stage of the Armenian-Azerbaijani conflict engendered by the Karabakh problem. These meetings have undoubtedly helped to avoid the conflict's turn into interreligious confrontation.
Today we consider it most important to follow the spiritual guides to cooperation in order to overcome alienation among our nations. A potential of religion calling to peace, good, compassion, and patience should become a reconciling force. We believe that our common efforts will help overcome the interethnic enmity. It is vitally important to prevent a return to military ways of settling controversial problems. Through our peacemaking efforts we will uphold people's hope of the removal of the present differences, barriers and enmity, as war will have no end if it continues.
We support international efforts for the settlement of the conflict. It is necessary to enlarge contacts in order to strengthen confidence and achieve peace and good-neighbourly relations. The lasting peace is possible only with the presence of good will and sincere intentions. We support efforts undertaken by the Presidents of Armenia and Azerbaijan and intend to further their aspirations. In this regard we consider it important to continue direct dialogue among the religious leaders in order to promote the settlement of the conflict. This will give people an opportunity to return to the places from which they have been ousted by war. We welcome the acts of good will of the sides, such as the release of the prisoners. We call upon political and religious leaders to intensify their efforts in this noble and humane process. All of us should show that good deeds, charity, allegiance to peace and justice could do much more that military confrontation. We denounce the acts of vandalism and consider it important to preserve the holy sites and religious monuments of our nations.
The way to peace and accord is difficult and demands tremendous work and strong will. Yet we have ardent hopes of success and, combining our efforts, hope to overcome alienation and prejudice. The responsibility and duty before the Most High and before our nations prompt us, the religious leaders, to make efforts for the sake of the long-desired triumph of the ideals of peace, good, and equitable solution of the present problems. May the lasting and just peace be achieved in the gracious land of the Caucasus, and may our nations inherit welfare and prosperity.
Quote of the Day
"When every shameful indwelling passion has been expelled and the intellect…has returned wholly to itself, converting at the same time the other powers of the soul – and when through cultivating the virtues it sets the soul in good order, ever advancing to a more perfect state, ascending through its active spiritual progress and with God's help cleansing itself more fully – then it not only expunges all imprints of evil but also rids itself of every accretion, however good it is or appears to be. And when it has transcended intelligible realities and the concepts, not unmixed with images, that pertain to them, and in a godly and devout manner has rejected all things, then it will stand before God deaf and speechless (cf. Ps. 38:13)."
St. Gregory Palamas
Scripture Readings for the Day
Acts 1:1-12
Prologue
1 The former account I made, O Theophilus, of all that Jesus began both to do and teach, 2 until the day in which He was taken up, after He through the Holy Spirit had given commandments to the apostles whom He had chosen, 3 to whom He also presented Himself alive after His suffering by many infallible proofs, being seen by them during forty days and speaking of the things pertaining to the kingdom of God.
The Holy Spirit Promised
4 And being assembled together with them, He commanded them not to depart from Jerusalem, but to wait for the Promise of the Father, "which," He said, "you have heard from Me; 5 for John truly baptized with water, but you shall be baptized with the Holy Spirit not many days from now." 6 Therefore, when they had come together, they asked Him, saying, "Lord, will You at this time restore the kingdom to Israel?" 7 And He said to them, "It is not for you to know times or seasons which the Father has put in His own authority. 8 But you shall receive power when the Holy Spirit has come upon you; and you shall be witnesses to Me in Jerusalem, and in all Judea and Samaria, and to the end of the earth."
Jesus Ascends to Heaven
9 Now when He had spoken these things, while they watched, He was taken up, and a cloud received Him out of their sight. 10 And while they looked steadfastly toward heaven as He went up, behold, two men stood by them in white apparel, 11 who also said, "Men of Galilee, why do you stand gazing up into heaven? This same Jesus, who was taken up from you into heaven, will so come in like manner as you saw Him go into heaven."
The Upper Room Prayer Meeting
12 Then they returned to Jerusalem from the mount called Olivet, which is near Jerusalem, a Sabbath day's journey.
Luke 24:36-53
Jesus Appears to His Disciples
36 Now as they said these things, Jesus Himself stood in the midst of them, and said to them, "Peace to you." 37 But they were terrified and frightened, and supposed they had seen a spirit. 38 And He said to them, "Why are you troubled? And why do doubts arise in your hearts? 39 Behold My hands and My feet, that it is I Myself. Handle Me and see, for a spirit does not have flesh and bones as you see I have."
40 When He had said this, He showed them His hands and His feet. 41 But while they still did not believe for joy, and marveled, He said to them, "Have you any food here?" 42 So they gave Him a piece of a broiled fish and some honeycomb. 43 And He took it and ate in their presence.
The Scriptures Opened
44 Then He said to them, "These are the words which I spoke to you while I was still with you, that all things must be fulfilled which were written in the Law of Moses and the Prophets and the Psalms concerning Me." 45 And He opened their understanding, that they might comprehend the Scriptures.
46 Then He said to them, "Thus it is written, and thus it was necessary for the Christ to suffer and to rise from the dead the third day, 47 and that repentance and remission of sins should be preached in His name to all nations, beginning at Jerusalem. 48 And you are witnesses of these things. 49 Behold, I send the Promise of My Father upon you; but tarry in the city of Jerusalem until you are endued with power from on high."
The Ascension
50 And He led them out as far as Bethany, and He lifted up His hands and blessed them. 51 Now it came to pass, while He blessed them, that He was parted from them and carried up into heaven. 52 And they worshiped Him, and returned to Jerusalem with great joy, 53 and were continually in the temple praising and blessing God. Amen.