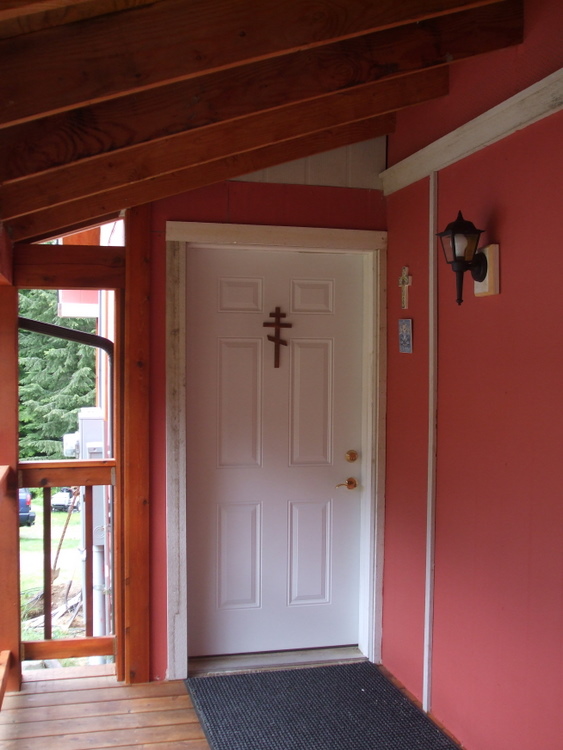 Glory to Jesus Christ! Glory to Him forever!
All Saints
Saints of the Day:
May 17 / 30. Apostle Andronicus of the Seventy and his fellow laborer Junia. St. Stephen, Archbishop of Constantinople. Martyrs Solochon, Pamphamer, and Pamphalon at Chalcedon. Translation of the Relics of St. Adrian, abbot of Ondrusov. Saints Nectarius and Theophanes of Meteora. St. Euphrosyne (princess Eudocia) of Moscow. (Greek Calendar: St. Athanasius the New, wonderworker of Christianopolis.) Repose of Righteous Priest Jonah of Odessa (1924).
Photo of the Day
Door to the Abbot's Office.
Quote of the Day
"Tears, striking the head in prayer with the hand, and casting oneself upon the earth with fervour, waken the warmth of their sweetness inside the heart, and with a laudable ecstasy the heart soars up toward God and cries out: 'My soul thirsted for Thee, the mighty, the living God! When shall I come and appear before Thy face, O Lord?' Only the man who drinks deeply of this wine, and afterwards is deprived of it, only he knows to what misery he has been abandoned, and what has been taken away from him because of his laxity." St. Isaac the Syrian
"Acsetical Homilies" (Homily Nineteen)
Scripture Readings for the Day
Hebrews 11:33-12:2
33 who through faith subdued kingdoms, worked righteousness, obtained promises, stopped the mouths of lions, 34 quenched the violence of fire, escaped the edge of the sword, out of weakness were made strong, became valiant in battle, turned to flight the armies of the aliens. 35 Women received their dead raised to life again.
Others were tortured, not accepting deliverance, that they might obtain a better resurrection. 36 Still others had trial of mockings and scourgings, yes, and of chains and imprisonment. 37 They were stoned, they were sawn in two, were tempted, were slain with the sword. They wandered about in sheepskins and goatskins, being destitute, afflicted, tormented— 38 of whom the world was not worthy. They wandered in deserts and mountains, in dens and caves of the earth.
39 And all these, having obtained a good testimony through faith, did not receive the promise, 40 God having provided something better for us, that they should not be made perfect apart from us.
Hebrews 12
The Race of Faith
1 Therefore we also, since we are surrounded by so great a cloud of witnesses, let us lay aside every weight, and the sin which so easily ensnares us, and let us run with endurance the race that is set before us, 2 looking unto Jesus, the author and finisher of our faith, who for the joy that was set before Him endured the cross, despising the shame, and has sat down at the right hand of the throne of God.
Matthew 10:37-38
37 He who loves father or mother more than Me is not worthy of Me. And he who loves son or daughter more than Me is not worthy of Me. 38 And he who does not take his cross and follow after Me is not worthy of Me.
Matthew 19:27-30
27 Then Peter answered and said to Him, "See, we have left all and followed You. Therefore what shall we have?"
28 So Jesus said to them, "Assuredly I say to you, that in the regeneration, when the Son of Man sits on the throne of His glory, you who have followed Me will also sit on twelve thrones, judging the twelve tribes of Israel. 29 And everyone who has left houses or brothers or sisters or father or mother or wife or children or lands, for My name's sake, shall receive a hundredfold, and inherit eternal life. 30 But many who are first will be last, and the last first.