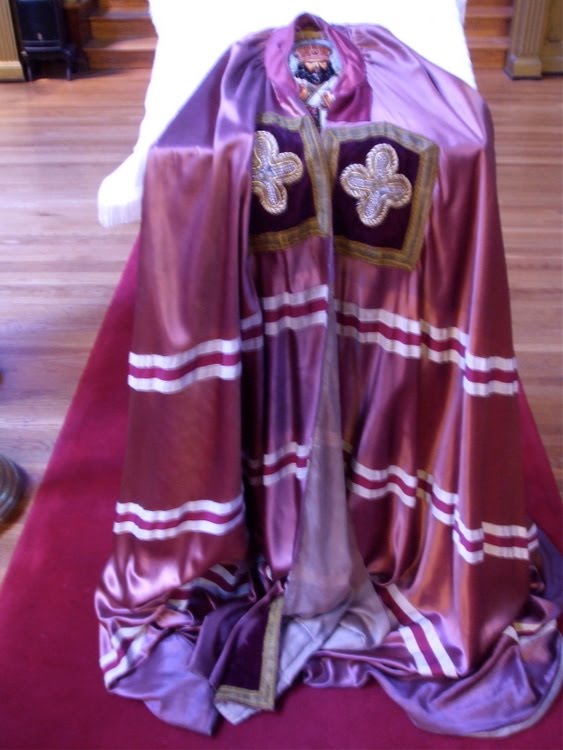 Glory to Jesus Christ! Glory to Him forever!
Saints of the Day
April 25 / May 8. Holy Apostle and Evangelist Mark St. Macedonius, Patriarch of Constantinople. St. Sylvester, abbot of Obnora. Greek Calendar Martyr Nice. Eight anchorites who were martyred. Repose of Bassian the Blind of the Kiev Caves (1827).
Photo of the Day
The mantel of Saint John the Wonderworker, venerated in Old Holy Virgin Cathedral, S.F., CA.
Quote of the Day
"Our Lord and Saviour, Jesus Christ, dearly beloved, sometimes connects us by His words and sometimes by His actions. His very deeds are commands, because when He does something silently, He is making known to us what we ought to do. He sent His disciples to preach two by two because there are two commandments of love, of God and neighbor, and there can be no love between fewer than two. Strictly speaking no one is said to have love for himself; love becomes possible when one reaches out toward someone else. The Lord sent His disciples to preach two by two, to inform us silently that no one who has no love for another person should undertake the duty of preaching."
St. Gregory the Great
Scripture Readings for the Day
Acts 15:35-41
35 Paul and Barnabas also remained in Antioch, teaching and preaching the word of the Lord, with many others also.
Division over John Mark
36 Then after some days Paul said to Barnabas, "Let us now go back and visit our brethren in every city where we have preached the word of the Lord, and see how they are doing." 37 Now Barnabas was determined to take with them John called Mark. 38 But Paul insisted that they should not take with them the one who had departed from them in Pamphylia, and had not gone with them to the work. 39 Then the contention became so sharp that they parted from one another. And so Barnabas took Mark and sailed to Cyprus; 40 but Paul chose Silas and departed, being commended by the brethren to the grace of God. 41 And he went through Syria and Cilicia, strengthening the churches.
John 10:27-38
27 My sheep hear My voice, and I know them, and they follow Me. 28 And I give them eternal life, and they shall never perish; neither shall anyone snatch them out of My hand. 29 My Father, who has given them to Me, is greater than all; and no one is able to snatch them out of My Father's hand. 30 I and My Father are one."
Renewed Efforts to Stone Jesus
31 Then the Jews took up stones again to stone Him. 32 Jesus answered them, "Many good works I have shown you from My Father. For which of those works do you stone Me?"
33 The Jews answered Him, saying, "For a good work we do not stone You, but for blasphemy, and because You, being a Man, make Yourself God."
34 Jesus answered them, "Is it not written in your law, 'I said, "You are gods"'? 35 If He called them gods, to whom the word of God came (and the Scripture cannot be broken), 36 do you say of Him whom the Father sanctified and sent into the world, 'You are blaspheming,' because I said, 'I am the Son of God'? 37 If I do not do the works of My Father, do not believe Me; 38 but if I do, though you do not believe Me, believe the works, that you may know and believe that the Father is in Me, and I in Him."