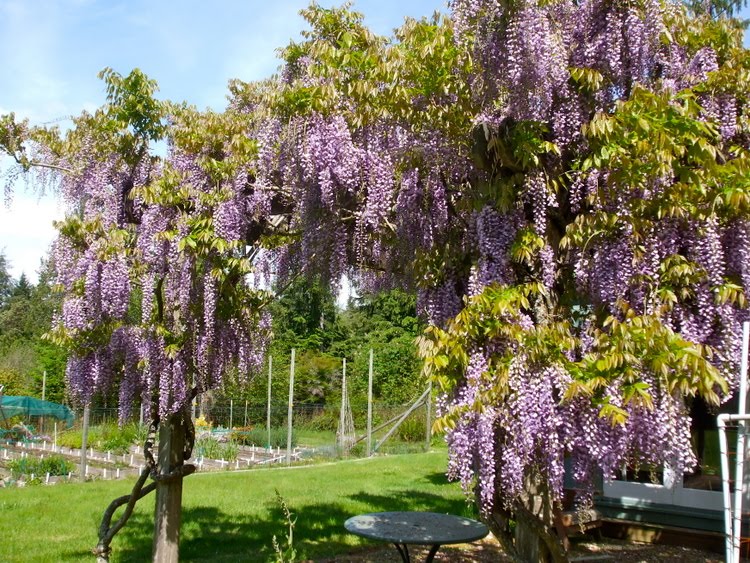 Glory to Jesus Christ! Glory to Him forever!
Saints of the Day
May 16 / 29. St. Theodore the Sanctified, disciple of St. Pachomius the Great. St. Ephraim, abbot of Perekos (Novgorod). Blessed child Musa of Rome. St. George, Bishop of Mitylene. Martyr Abdiesus, Bishop, and companions, in Persia. Martyr Peter of Blachernae. St. Nicholas the Mystic, Patriarch of Constantinople. Martyrs Vitus, Modestus, and Crescentia at Lucania. New-Martyr Nicholas of Metsov, whose relics are at Meteora. Saints Cassian and Laurence, abbots of Komel (Vologda). (Greek Calendar: St. Alexander, Archbishop of Jerusalem. St. Euphemia near Neaorion.)
Photo of the Day
The monastery's wisteria.
Quote of the Day
"If you wish to tell another about the power of God, you should first feel the power of God yourself."
Priest Daniel Alekseevich Sysoev
Video of the Day:
Video film of the Ecumenical Patriarch's visit to Russia:
http://www.patriarchate.org/multimedia/video/russia
Scripture Readings for the Day
Romans 1:7-12
7 To all who are in Rome, beloved of God, called to be saints:
Grace to you and peace from God our Father and the Lord Jesus Christ.
Desire to Visit Rome
8 First, I thank my God through Jesus Christ for you all, that your faith is spoken of throughout the whole world. 9 For God is my witness, whom I serve with my spirit in the gospel of His Son, that without ceasing I make mention of you always in my prayers, 10 making request if, by some means, now at last I may find a way in the will of God to come to you. 11 For I long to see you, that I may impart to you some spiritual gift, so that you may be established— 12 that is, that I may be encouraged together with you by the mutual faith both of you and me.
Matthew 5:42-48
42 Give to him who asks you, and from him who wants to borrow from you do not turn away.
Love Your Enemies
43 "You have heard that it was said, 'You shall love your neighbor and hate your enemy.' 44 But I say to you, love your enemies, bless those who curse you, do good to those who hate you, and pray for those who spitefully use you and persecute you, 45 that you may be sons of your Father in heaven; for He makes His sun rise on the evil and on the good, and sends rain on the just and on the unjust. 46 For if you love those who love you, what reward have you? Do not even the tax collectors do the same? 47 And if you greet your brethren only, what do you do more than others? Do not even the tax collectors do so? 48 Therefore you shall be perfect, just as your Father in heaven is perfect.