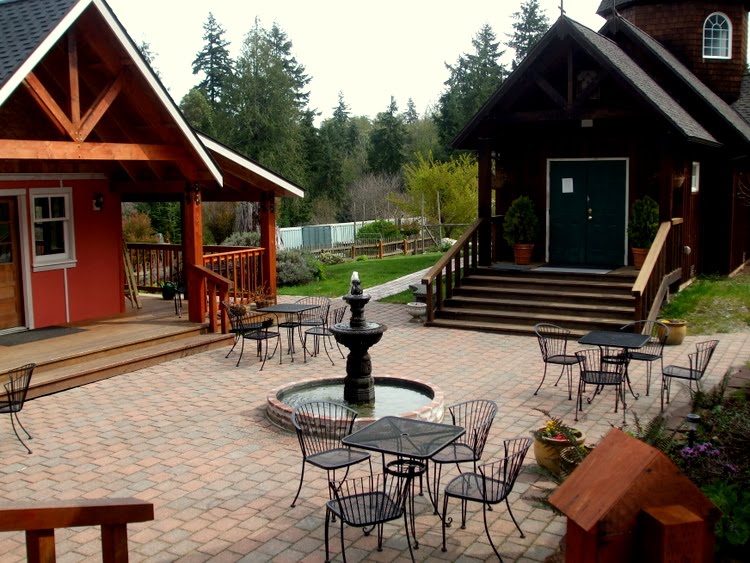 Glory to Jesus Christ! Glory to Him forever!
Saints of the Day
April 18 / May 1. St. John, disciple of St. Gregory of the Decapolis. St. Cosmas, Bishop of Chalcedon, and his fellow ascetic St. Auxentius. Martyrs Victor, Zoticus, Zeno, Acindynus, and Severian of Nicomedia. St. Euthymius the Enlightener of Karelia, and Saints Anthony and Felix of St. Nicholas Monastery in Karelia. New-Martyr John the New of Epirus. New-Martyr John Kulika.
Photo of the Day
Monastery's courtyard.
Quote of the Day
"But see the Evangelist, how he relates all without invidiousness, and as far as he can, absolutely makes out an excuse. Thus first in behalf of Herod he saith, 'For the oath's sake, and them which sat with him at meat,' and that 'he was sorry;' then of the damsel, 'Being before instructed of her mother,' and that 'she brought the head to her mother;' as though he had said, it was her command that she was fulfilling. Since not for the sufferers but for the wrongdoers do all righteous men grieve, since in fact these are they who properly speaking suffer ill. For neither was John injured, but these the contrivers of such proceedings."
St. John Chrysostom
Scripture Readings for the Day
Acts 12:1-11
Herod's Violence to the Church
1 Now about that time Herod the king stretched out his hand to harass some from the church. 2 Then he killed James the brother of John with the sword. 3 And because he saw that it pleased the Jews, he proceeded further to seize Peter also. Now it was during the Days of Unleavened Bread. 4 So when he had arrested him, he put him in prison, and delivered him to four squads of soldiers to keep him, intending to bring him before the people after Passover.
Peter Freed from Prison
5 Peter was therefore kept in prison, but constant prayer was offered to God for him by the church. 6 And when Herod was about to bring him out, that night Peter was sleeping, bound with two chains between two soldiers; and the guards before the door were keeping the prison. 7 Now behold, an angel of the Lord stood by him, and a light shone in the prison; and he struck Peter on the side and raised him up, saying, "Arise quickly!" And his chains fell off his hands. 8 Then the angel said to him, "Gird yourself and tie on your sandals"; and so he did. And he said to him, "Put on your garment and follow me." 9 So he went out and followed him, and did not know that what was done by the angel was real, but thought he was seeing a vision. 10 When they were past the first and the second guard posts, they came to the iron gate that leads to the city, which opened to them of its own accord; and they went out and went down one street, and immediately the angel departed from him.
11 And when Peter had come to himself, he said, "Now I know for certain that the Lord has sent His angel, and has delivered me from the hand of Herod and from all the expectation of the Jewish people."
John 8:31-42
31 Then Jesus said to those Jews who believed Him, "If you abide in My word, you are My disciples indeed. 32 And you shall know the truth, and the truth shall make you free."
33 They answered Him, "We are Abraham's descendants, and have never been in bondage to anyone. How can You say, 'You will be made free'?"
34 Jesus answered them, "Most assuredly, I say to you, whoever commits sin is a slave of sin. 35 And a slave does not abide in the house forever, but a son abides forever. 36 Therefore if the Son makes you free, you shall be free indeed.
Abraham's Seed and Satan's
37 "I know that you are Abraham's descendants, but you seek to kill Me, because My word has no place in you. 38 I speak what I have seen with My Father, and you do what you have seen with your father."
39 They answered and said to Him, "Abraham is our father."
Jesus said to them, "If you were Abraham's children, you would do the works of Abraham. 40 But now you seek to kill Me, a Man who has told you the truth which I heard from God. Abraham did not do this. 41 You do the deeds of your father."
Then they said to Him, "We were not born of fornication; we have one Father—God."
42 Jesus said to them, "If God were your Father, you would love Me, for I proceeded forth and came from God; nor have I come of Myself, but He sent Me.