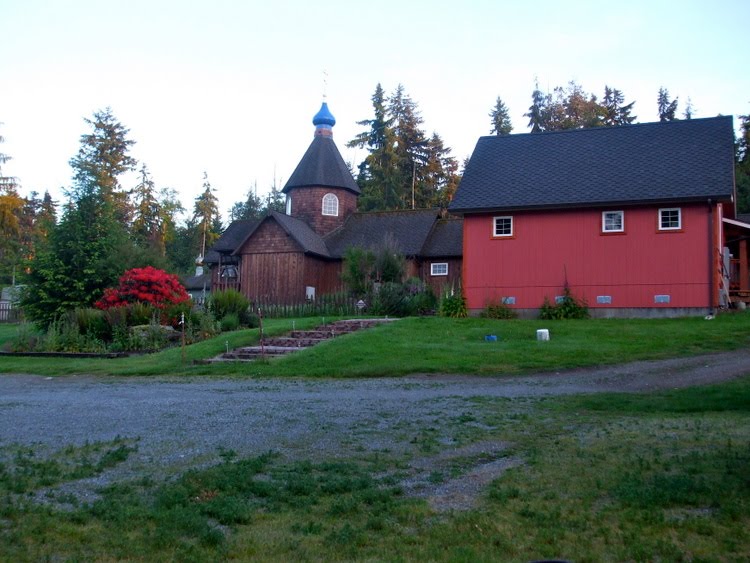 Glory to Jesus Christ! Glory to Him forever!
Memorial DayBeginning of the Apostles Fast
Saints of the Day
May 18 / 31. Martyr Theodotus of Ancyra, and with him the seven Virgin Martyrs Alexandra, Tecusa, Claudia, Phaine, Euphraisa, Matrona and Julia. Martyrs Peter, Dionysius, and those who suffered under Decius Andrew, Paul, Christina, Heraclius, Paulinus, and Benedimus. Martyrs Symeon, Isaac and Bachtisius of Persia. Martyr Euphrasia of Nicaea. Martyr Theodota at Ancyra. Martyrs David and Tarechan of Georgia. (Greek Calendar: Martyr Julian. St. Stephen the New, Patriarch of Constantinople. Hieromartyr Theodore, Pope of Rome. St. Anastaso of Lukada. St. Martinian of Areovinthus, monk.) Repose of Archimandrite Macarius, missionary to the Altai, Siberia (1847), and Blessed Philip, founder of the Gethsemane Caves Skete of St. Sergius Lavra (1869).
Photo of the Day
Monastery from parking lot.
Quote of the Day
"You write that after Communion you felt well. Glory be to God, Who comforts our unworthiness. And as regards the fact that this soon passed, here also is seen His fatherly providence for us. For continual consolation enfeebles the soul and makes it slothful, or leads to even greater harm. That is why the Lord takes it away quickly and again makes us feel our weakness, our helplessness, and our sinfulness. We must humble ourselves more, reproach ourselves, offer repentance for our sins, and not desire consolations, but patiently endure what God allows. Dryness and cooling of fervor are also permitted on account of vainglory."  
Elder Joseph of Optina
"Letters…"
Scripture Readings for the Day
Romans 2:28-3:18
28 For he is not a Jew who is one outwardly, nor is circumcision that which is outward in the flesh; 29 but he is a Jew who is one inwardly; and circumcision is that of the heart, in the Spirit, not in the letter; whose praise is not from men but from God.
Romans 3
God's Judgment Defended
1 What advantage then has the Jew, or what is the profit of circumcision? 2 Much in every way! Chiefly because to them were committed the oracles of God. 3 For what if some did not believe? Will their unbelief make the faithfulness of God without effect? 4 Certainly not! Indeed, let God be true but every man a liar. As it is written:
"That You may be justified in Your words,
And may overcome when You are judged."
5 But if our unrighteousness demonstrates the righteousness of God, what shall we say? Is God unjust who inflicts wrath? (I speak as a man.) 6 Certainly not! For then how will God judge the world?
7 For if the truth of God has increased through my lie to His glory, why am I also still judged as a sinner? 8 And why not say, "Let us do evil that good may come"?—as we are slanderously reported and as some affirm that we say. Their condemnation is just.
All Have Sinned
9 What then? Are we better than they? Not at all. For we have previously charged both Jews and Greeks that they are all under sin.
10 As it is written:
"There is none righteous, no, not one;
11 There is none who understands;
There is none who seeks after God.
12 They have all turned aside;
They have together become unprofitable;
There is none who does good, no, not one."
13 "Their throat is an open tomb;
With their tongues they have practiced deceit";
"The poison of asps is under their lips";
14 "Whose mouth is full of cursing and bitterness."
15 "Their feet are swift to shed blood;
16 Destruction and misery are in their ways;
17 And the way of peace they have not known."
18 "There is no fear of God before their eyes."
Matthew 6:31-34
31 "Therefore do not worry, saying, 'What shall we eat?' or 'What shall we drink?' or 'What shall we wear?' 32 For after all these things the Gentiles seek. For your heavenly Father knows that you need all these things. 33 But seek first the kingdom of God and His righteousness, and all these things shall be added to you. 34 Therefore do not worry about tomorrow, for tomorrow will worry about its own things. Sufficient for the day is its own trouble.
Matthew 7:9-11
9 Or what man is there among you who, if his son asks for bread, will give him a stone? 10 Or if he asks for a fish, will he give him a serpent? 11 If you then, being evil, know how to give good gifts to your children, how much more will your Father who is in heaven give good things to those who ask Him.