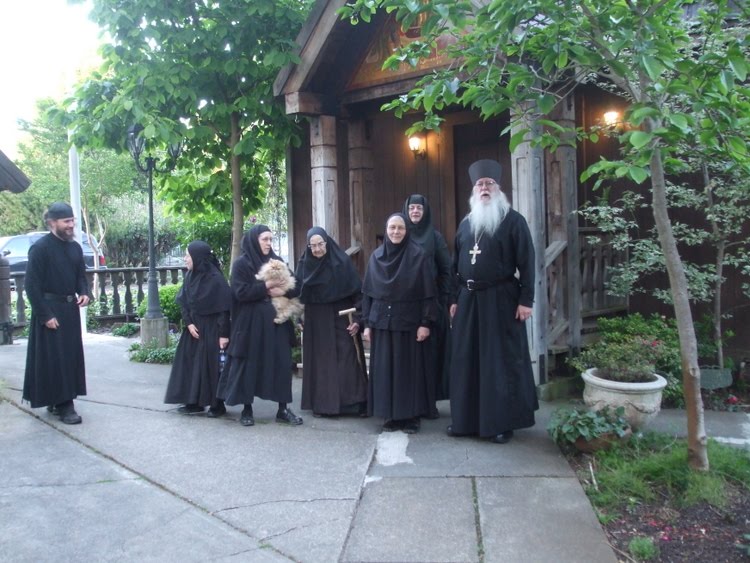 Glory to Jesus Christ! Glory to Him forever!
Saints of the Day
April 20 / May 3. St. Theodore Trichinas (the Hair-shirt Wearer), hermit near Constantinople. St. Anastasius, abbot of Sinai. Blessed Gregory and Blessed Anastasius, Patriarch of Antioch. Hieromartyr Anastasius II, Patriarch of Antioch. St. Alexander, abbot of Oshevensk. Child-martyr Gabriel of Slutsk. Saints Betran and Theotimus, Bishops in Lesser Scythia. Saints Athanasius and Ioasaph of Meteora, monks. Apostle Zacchaeus, Bishop of Caesarea. Repose of Schemamonk Ignatius of St. Nicephorus Monastery in Olonets (1852).
Photo of the Day
Abbot Tryphon and Brother Christos visit Calistoga, CA. nuns. We are on a pilgrimage to the holy relics of Saint John the Wonderworker of Shanghai and San Francisco.
Quote of the Day
"When it is most difficult to fight the flesh, then is the time to show your firmness, then is the time not to grow weak in the conflict, but to fight as a good soldier of Christ."  
St. John of Kronstadt
"My Life in Christ"  
Scripture Readings for the Day
Acts 12:12-17
12 So, when he had considered this, he came to the house of Mary, the mother of John whose surname was Mark, where many were gathered together praying. 13 And as Peter knocked at the door of the gate, a girl named Rhoda came to answer. 14 When she recognized Peter's voice, because of her gladness she did not open the gate, but ran in and announced that Peter stood before the gate. 15 But they said to her, "You are beside yourself!" Yet she kept insisting that it was so. So they said, "It is his angel."
16 Now Peter continued knocking; and when they opened the door and saw him, they were astonished. 17 But motioning to them with his hand to keep silent, he declared to them how the Lord had brought him out of the prison. And he said, "Go, tell these things to James and to the brethren." And he departed and went to another place.
John 8:42-51
42 Jesus said to them, "If God were your Father, you would love Me, for I proceeded forth and came from God; nor have I come of Myself, but He sent Me. 43 Why do you not understand My speech? Because you are not able to listen to My word. 44 You are of your father the devil, and the desires of your father you want to do. He was a murderer from the beginning, and does not stand in the truth, because there is no truth in him. When he speaks a lie, he speaks from his own resources, for he is a liar and the father of it. 45 But because I tell the truth, you do not believe Me. 46 Which of you convicts Me of sin? And if I tell the truth, why do you not believe Me? 47 He who is of God hears God's words; therefore you do not hear, because you are not of God."
Before Abraham Was, I AM
48 Then the Jews answered and said to Him, "Do we not say rightly that You are a Samaritan and have a demon?"
49 Jesus answered, "I do not have a demon; but I honor My Father, and you dishonor Me. 50 And I do not seek My own glory; there is One who seeks and judges. 51 Most assuredly, I say to you, if anyone keeps My word he shall never see death."