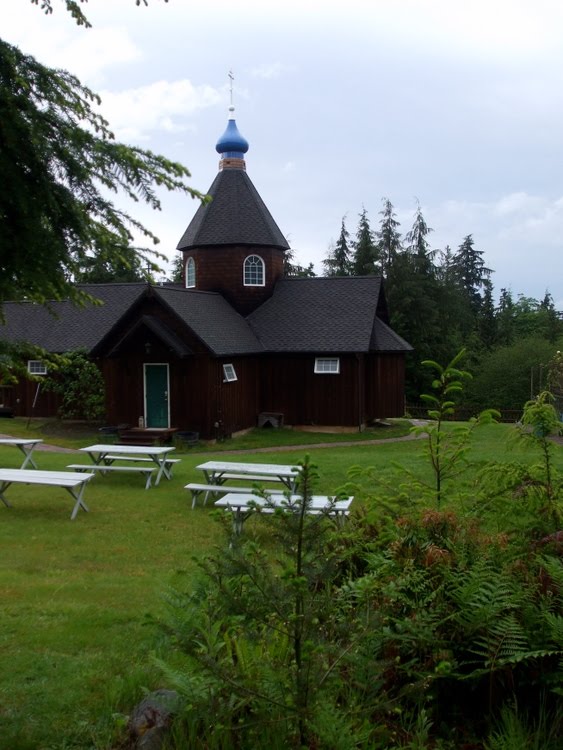 Glory to Jesus Christ! Glory to Him forever!
Day of the Holy Spirit
Saints of the Day
May 11 / 24. Holy Equals-to-the-Apostles Methodius and Cyril, first teachers of the Slavs. Hieromartyr Mocius (Mucius), presbyter of Amphipolis in Macedonia. Commemoration of the Founding of Constantinople. St. Nicodemus, Archbishop of Serbia. St. Sophronius, recluse of the Kiev Caves. St. Joseph, Metropolitan of Astrakhan. New-Martyrs Diosorus and Argyrus. St. Bessarion, Archbishop of Larissa. Martyr Acacius of Lower Moesia.
Photo of the Day
Protection of the Holy Virgin Monastery Church
Quote of the Day
"Great are the following words: "Grant us with one heart and one mouth to glorify and celebrate Thy glorious and majestic name, Father, Son and Holy Spirit." O, that it were ever so, and that our hearts were not apart, not even from those of other men, but even from our own selves!"
St. John of Kronstadt "My Life in Christ"
Scripture Readings for the Day
Ephesians 5:9-19
9 (for the fruit of the Spirit is in all goodness, righteousness, and truth), 10 finding out what is acceptable to the Lord. 11 And have no fellowship with the unfruitful works of darkness, but rather expose them. 12 For it is shameful even to speak of those things which are done by them in secret. 13 But all things that are exposed are made manifest by the light, for whatever makes manifest is light. 14 Therefore He says:
" Awake, you who sleep,
Arise from the dead,
And Christ will give you light."
Walk in Wisdom
15 See then that you walk circumspectly, not as fools but as wise, 16 redeeming the time, because the days are evil.
17 Therefore do not be unwise, but understand what the will of the Lord is. 18 And do not be drunk with wine, in which is dissipation; but be filled with the Spirit, 19 speaking to one another in psalms and hymns and spiritual songs, singing and making melody in your heart to the Lord,
Matthew 18:10-20
The Parable of the Lost Sheep
10 "Take heed that you do not despise one of these little ones, for I say to you that in heaven their angels always see the face of My Father who is in heaven. 11 For the Son of Man has come to save that which was lost.
12 "What do you think? If a man has a hundred sheep, and one of them goes astray, does he not leave the ninety-nine and go to the mountains to seek the one that is straying? 13 And if he should find it, assuredly, I say to you, he rejoices more over that sheep than over the ninety-nine that did not go astray. 14 Even so it is not the will of your Father who is in heaven that one of these little ones should perish.
Dealing with a Sinning Brother
15 "Moreover if your brother sins against you, go and tell him his fault between you and him alone. If he hears you, you have gained your brother. 16 But if he will not hear, take with you one or two more, that 'by the mouth of two or three witnesses every word may be established.' 17 And if he refuses to hear them, tell it to the church. But if he refuses even to hear the church, let him be to you like a heathen and a tax collector.
18 "Assuredly, I say to you, whatever you bind on earth will be bound in heaven, and whatever you loose on earth will be loosed in heaven.
19 "Again I say to you that if two of you agree on earth concerning anything that they ask, it will be done for them by My Father in heaven. 20 For where two or three are gathered together in My name, I am there in the midst of them."