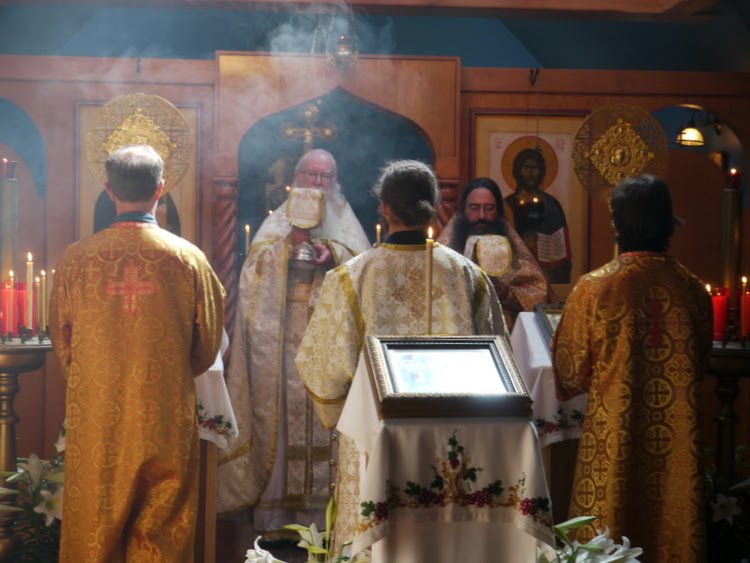 Living the evangelical life of Orthodox monasticism in witness to the salvific truth of the Gospels of Our Lord, God, and Saviour, Jesus Christ.
Glory to Jesus Christ! Glory to Him forever!
Saints of the Day
April 1 / 14. St. Mary the Egyptian. St. Euthymius, monk of Suzdal. St. Macarius, abbot of Pelecete. Martyrs Gerontius and Basilides. Martyr Abraham of Bulgaria. Righteous Achaz. St. Gerontius, canonarch of the Kiev Caves. New-Martyrs Schema-bishop Macarius (1944) and Michael (Misha), fool-for-Christ (1931). Repose of Elder Barsanuphius of Optina (1913).
Photo of the Day
The Great Entrance.
Quote of the Day
"The grace of repentance, which acts in those who struggle, is a patristic inheritance. It is a divine transaction and exchange in which we give dust and receive heaven. We exchange matter for the Spirit. Every drop of sweat, every pain, every ascesis for God is an exchange: a loss of blood, an influx of the Spirit. The magnitude of this grace depends on how much a person can contain, in proportion to how much his own vessel can hold. This grace of praxis is also called purifying grace."
Elder Joseph the Hesychast "Monastic Wisdom" (Thirty-fifth letter)
Scripture Readings for the Day
Acts 4:13-22
The Name of Jesus Forbidden
13 Now when they saw the boldness of Peter and John, and perceived that they were uneducated and untrained men, they marveled. And they realized that they had been with Jesus. 14 And seeing the man who had been healed standing with them, they could say nothing against it. 15 But when they had commanded them to go aside out of the council, they conferred among themselves, 16 saying, "What shall we do to these men? For, indeed, that a notable miracle has been done through them is evident to all who dwell in Jerusalem, and we cannot deny it. 17 But so that it spreads no further among the people, let us severely threaten them, that from now on they speak to no man in this name."
18 So they called them and commanded them not to speak at all nor teach in the name of Jesus. 19 But Peter and John answered and said to them, "Whether it is right in the sight of God to listen to you more than to God, you judge. 20 For we cannot but speak the things which we have seen and heard." 21 So when they had further threatened them, they let them go, finding no way of punishing them, because of the people, since they all glorified God for what had been done. 22 For the man was over forty years old on whom this miracle of healing had been performed.
John 5:17-24
17 But Jesus answered them, "My Father has been working until now, and I have been working." 18 Therefore the Jews sought all the more to kill Him, because He not only broke the Sabbath, but also said that God was His Father, making Himself equal with God. 19 Then Jesus answered and said to them, "Most assuredly, I say to you, the Son can do nothing of Himself, but what He sees the Father do; for whatever He does, the Son also does in like manner. 20 For the Father loves the Son, and shows Him all things that He Himself does; and He will show Him greater works than these, that you may marvel. 21 For as the Father raises the dead and gives life to them, even so the Son gives life to whom He will. 22 For the Father judges no one, but has committed all judgment to the Son, 23 that all should honor the Son just as they honor the Father. He who does not honor the Son does not honor the Father who sent Him.
Life and Judgment Are Through the Son
24 "Most assuredly, I say to you, he who hears My word and believes in Him who sent Me has everlasting life, and shall not come into judgment, but has passed from death into life.
—
Very Rev. Abbot Tryphon
All-Merciful Saviour Monastery
Vashon Island, WA 98070-2420
http://www.vashonmonks.com