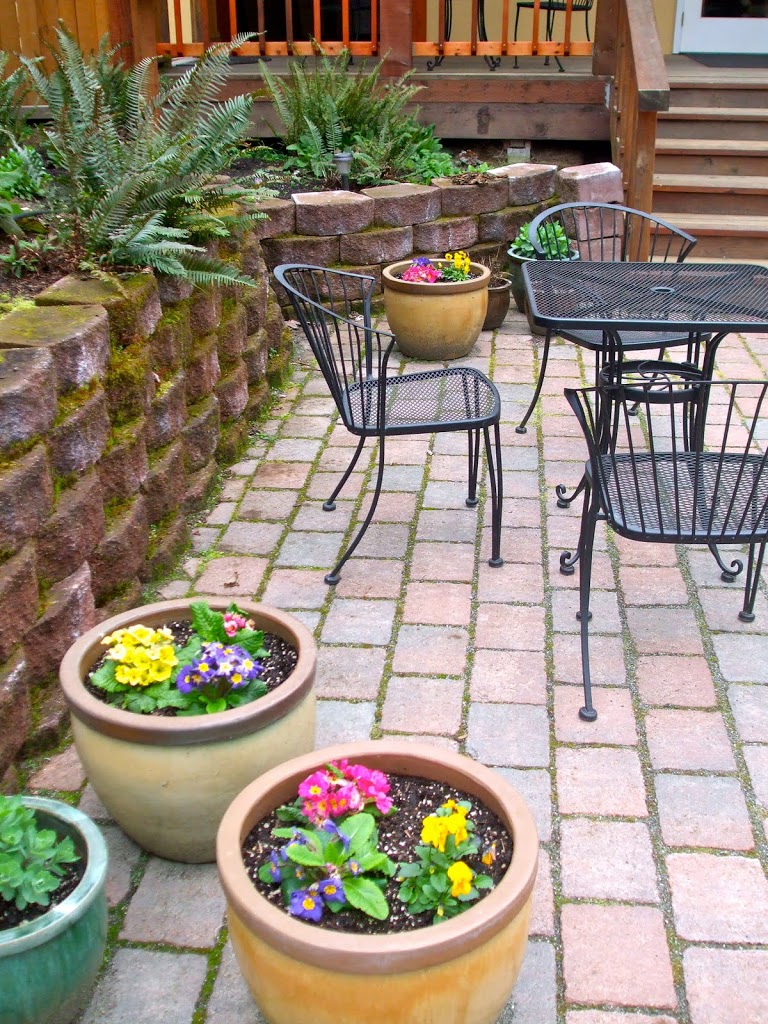 Glory to Jesus Christ! Glory to Him forever!
Saint Mary of Egypt
Saints of the Day:
March 8 / 21. St. Theophylactus, Bishop of Nicomedia. St. Dometius, monk. Hieromartyr Theodoretus of Antioch. Apostle Hermas of the Seventy. Saints Lazarus and Athanasius, monks of Murmansk. (Greek Calendar: St. Paul of Plusias, confessor. Martyr Dio.)
Photo of the Day
Our courtyard, on the first day of Spring!
Quote of the Day
"Do not desire to hear about the misfortunes of your enemies. For those who like listening to such things will themselves suffer what they wish for others."
St. Mark the Ascetic
Scripture Readings for the Day
Hebrews 9:11-14
The Heavenly Sanctuary
11 But Christ came as High Priest of the good things to come, with the greater and more perfect tabernacle not made with hands, that is, not of this creation. 12 Not with the blood of goats and calves, but with His own blood He entered the Most Holy Place once for all, having obtained eternal redemption. 13 For if the blood of bulls and goats and the ashes of a heifer, sprinkling the unclean, sanctifies for the purifying of the flesh, 14 how much more shall the blood of Christ, who through the eternal Spirit offered Himself without spot to God, cleanse your conscience from dead works to serve the living God?
Mark 10:32-45
Jesus a Third Time Predicts His Death and Resurrection
32 Now they were on the road, going up to Jerusalem, and Jesus was going before them; and they were amazed. And as they followed they were afraid. Then He took the twelve aside again and began to tell them the things that would happen to Him: 33 "Behold, we are going up to Jerusalem, and the Son of Man will be betrayed to the chief priests and to the scribes; and they will condemn Him to death and deliver Him to the Gentiles; 34 and they will mock Him, and scourge Him, and spit on Him, and kill Him. And the third day He will rise again."
Greatness Is Serving
35 Then James and John, the sons of Zebedee, came to Him, saying, "Teacher, we want You to do for us whatever we ask."
36 And He said to them, "What do you want Me to do for you?"
37 They said to Him, "Grant us that we may sit, one on Your right hand and the other on Your left, in Your glory."
38 But Jesus said to them, "You do not know what you ask. Are you able to drink the cup that I drink, and be baptized with the baptism that I am baptized with?"
39 They said to Him, "We are able."
So Jesus said to them, "You will indeed drink the cup that I drink, and with the baptism I am baptized with you will be baptized; 40 but to sit on My right hand and on My left is not Mine to give, but it is for those for whom it is prepared."
41 And when the ten heard it, they began to be greatly displeased with James and John. 42 But Jesus called them to Himself and said to them, "You know that those who are considered rulers over the Gentiles lord it over them, and their great ones exercise authority over them. 43 Yet it shall not be so among you; but whoever desires to become great among you shall be your servant. 44 And whoever of you desires to be first shall be slave of all. 45 For even the Son of Man did not come to be served, but to serve, and to give His life a ransom for many."