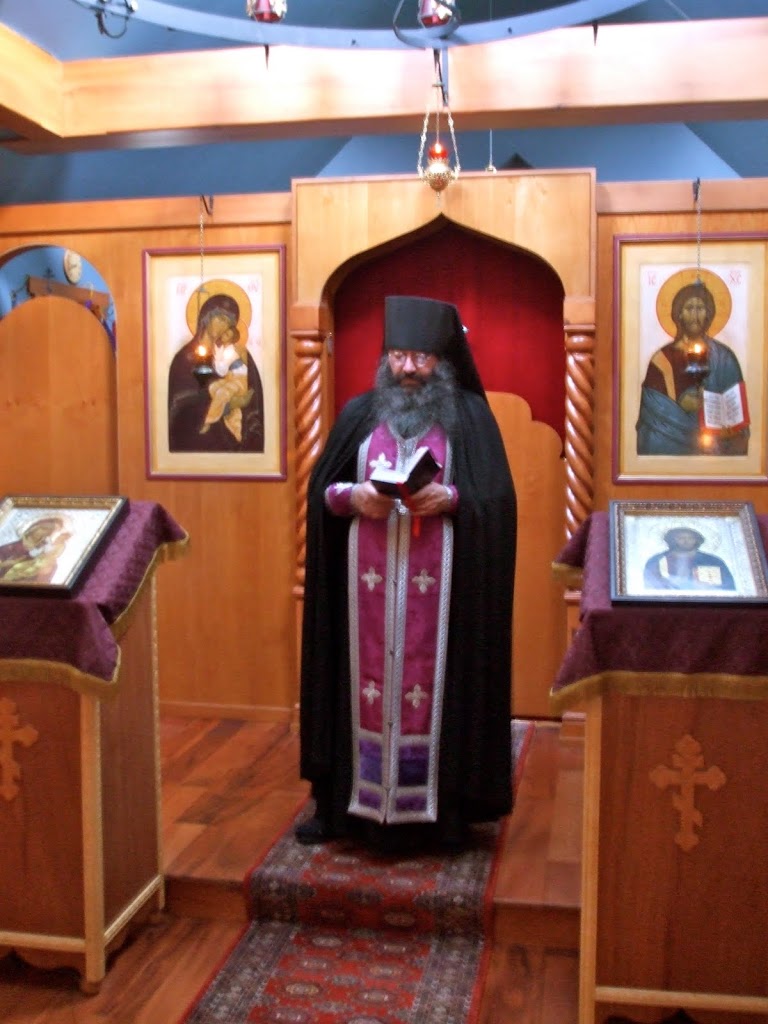 Glory to Jesus Christ! Glory to Him forever!
On this day we abstain from oil, but not wine.
Saints of the Day:
March 6 / 19. The 42 Martyrs of Ammoria in Phrygia, including Constantine, Aetius, Theophilus, Theodore, Melissenus, Callistus, Basoes and others. St. Arcadius, monk of Cyprus. Monk-martyrs Conon and his son Conon of Iconium. The uncovering of the Precious Cross and the Precious Nails by Empress St. Helen. Martyr Abraham of Bulgaria. St. Fridolin, abbot, Enlightener of the Upper Rhine. (Greek Calendar: Monk-martyr Maximus. Martyr Euphrosynus. Martyrs Julian and Eubulus. St. Hesychius the wonderworker, monk.) Repose of Elder Job of Solovki (1720)
Photo of the Day
Rev. Hieromonk Paul, serving Vigil in our temple.
Quote of the Day
Patriarchal and Synodal Encyclical
On the Sunday of Orthodoxy
(February 21, 2010)
+ BARTHOLOMEW
By God's Grace
Archbishop of Constantinople-New Rome
and Ecumenical Patriarch
To the Fullness of the Church, Grace and Peace
From our Lord and Savior Jesus Christ
Our most holy Orthodox Church today commemorates its own feast day, and – from this historical and martyric See of the Ecumenical Patriarchate – the Mother Church of Constantinople directs its blessing, love and concern to all of its faithful and dedicated spiritual children throughout the world, inviting them to concelebrate in prayer.
Blessed be the name of the Lord! Those who endeavored over the ages to suppress the Church through various visible and invisible persecutions; those who sought to falsify the Church with their heretical teachings; those who wanted to silence the Church, depriving it of its voice and witness; they all proved unsuccessful. The clouds of Martyrs, the tears of the Ascetics, and the prayers of the Saints protect the Church spiritually, while the Comforter and Spirit of Truth leads it to the fullness of truth.
With a sense of duty and responsibility, despite its hurdles and problems, as the First-Throne Church of Orthodoxy, the Ecumenical Patriarchate cares about protecting and establishing the unity of the Orthodox Church, in order that with one voice and in one heart we may confess the Orthodox faith of our Fathers in every age and even in our times. For, Orthodoxy is not a museum treasure that must be preserved; it is a breath of life that must be transmitted and invigorate all people. Orthodoxy is always contemporary, so long as we promote it with humility and interpret it in light of the existential quests and needs of humanity in each historical period and cultural circumstance.
To this purpose, Orthodoxy must be in constant dialogue with the world. The Orthodox Church does not fear dialogue because truth is not afraid of dialogue. On the contrary, if Orthodoxy is enclosed within itself and not in dialogue with those outside, it will both fail in its mission and no longer be the "catholic" and "ecumenical" Church. Instead, it will become an introverted and self-contained group, a "ghetto" on the margins of history. This is why the great Fathers of the Church never feared dialogue with the spiritual culture of their age – indeed even with the pagan idolaters and philosophers of their world – thereby influencing and transforming the civilization of their time and offering us a truly ecumenical Church.
Today, Orthodoxy is called to continue this dialogue with the outside world in order to provide a witness and the life-giving breath of its faith. However, this dialogue cannot reach the outside world unless it first passes through all those that bear the Christian name. Thus, we must first converse as Christians among ourselves in order to resolve our differences, in order that our witness to the outside world may be credible. Our endeavors for the union of all Christians is the will and command of our Lord, who before His Passion prayed to His Father "that all [namely, His disciples] may be one, so that the world may believe that You sent me." (John 17.21) It is not possible for the Lord to agonize over the unity of His disciples and for us to remain indifferent about the unity of all Christians. This would constitute criminal betrayal and transgression of His divine commandment.
It is precisely for these reasons that, with the mutual agreement and participation of all local Orthodox Churches, the Ecumenical Patriarchate has for many decades conducted official Panorthodox theological dialogues with the larger Christian Churches and Confessions. The aim of these dialogues is, in a spirit of love, to discuss whatever divides Christians both in terms of faith as well as in terms of the organization and life of the Church.
These dialogues, together with every effort for peaceful and fraternal relations of the Orthodox Church with other Christians, are unfortunately challenged today in an unacceptably fanatical way – at least by the standards of a genuinely Orthodox ethos – by certain circles that exclusively claim for themselves the title of zealot and defender of Orthodoxy. As if all the Patriarchs and Sacred Synods of the Orthodox Churches throughout the world, who unanimously decided on and continue to support these dialogues, were not Orthodox. Yet, these opponents of every effort for the restoration of unity among Christians raise themselves above Episcopal Synods of the Church to the dangerous point of creating schisms within the Church.
In their polemical argumentation, these critics of the restoration of unity among Christians do not even hesitate to distort reality in order to deceive and arouse the faithful. Thus, they are silent about the fact that theological dialogues are conducted by unanimous decision of all Orthodox Churches, instead attacking the Ecumenical Patriarchate alone. They disseminate false rumors that union between the Roman Catholic and Orthodox Churches is imminent, while they know well that the differences discussed in these theological dialogues remain numerous and require lengthy debate; moreover, union is not decided by theological commissions but by Church Synods. They assert that the Pope will supposedly subjugate the Orthodox, because the latter submit to dialogue with the Roman Catholics! They condemn those who conduct these dialogues as allegedly "heretics" and "traitors" of Orthodoxy, purely and simply because they converse with
non-Orthodox, with whom they share the treasure and truth of our Orthodox faith. They speak condescendingly of every effort for reconciliation among divided Christians and restoration of their unity as purportedly being "the pan-heresy of ecumenism" without providing the slightest evidence that, in its contacts with non-Orthodox, the Orthodox Church has abandoned or denied the doctrines of the Ecumenical Councils and of the Church Fathers.
Beloved children in the Lord, Orthodoxy has no need of either fanaticism or bigotry to protect itself. Whoever believes that Orthodoxy has the truth does not fear dialogue, because truth has never been endangered by dialogue. By contrast, when in our day all people strive to resolve their differences through dialogue, Orthodoxy cannot proceed with intolerance and extremism. You should have utmost confidence in your Mother Church. For the Mother Church has over the ages preserved and transmitted Orthodoxy even to other nations. And today, the Mother Church is struggling amid difficult circumstances to maintain Orthodoxy vibrant and venerable throughout the world.
From the Ecumenical Patriarchate, this sacred Center of Orthodoxy, we embrace all of you lovingly and bless you paternally, praying that you may journey in health through the holy period of contrition and asceticism known as Holy and Great Lent in order that you may become worthy of celebrating the pure Passion and glorious Resurrection of our Savior Lord with all faithful Orthodox Christians throughout the world.
Sunday of Orthodoxy 2010
+ Bartholomew of Constantinople
Fervent supplicant to God for all
Scripture Readings for the Day
Isaiah 45:11-17
11 Thus says the LORD,
The Holy One of Israel, and his Maker:
" Ask Me of things to come concerning My sons;
And concerning the work of My hands, you command Me.
12 I have made the earth,
And created man on it.
I—My hands—stretched out the heavens,
And all their host I have commanded.
13 I have raised him up in righteousness,
And I will direct all his ways;
He shall build My city
And let My exiles go free,
Not for price nor reward,"
Says the LORD of hosts.
The LORD, the Only Savior
14 Thus says the LORD:
" The labor of Egypt and merchandise of Cush
And of the Sabeans, men of stature,
Shall come over to you, and they shall be yours;
They shall walk behind you,
They shall come over in chains;
And they shall bow down to you.
They will make supplication to you, saying, 'Surely God is in you,
And there is no other;
There isno other God.'"
15 Truly You are God, who hide Yourself,
O God of Israel, the Savior!
16 They shall be ashamed
And also disgraced, all of them;
They shall go in confusion together,
Who are makers of idols.
17 But Israel shall be saved by the LORD
With an everlasting salvation;
You shall not be ashamed or disgraced
Forever and ever.
Genesis 22
Abraham's Faith Confirmed
1 Now it came to pass after these things that God tested Abraham, and said to him, "Abraham!"
And he said, "Here I am."
2 Then He said, "Take now your son, your only son Isaac, whom you love, and go to the land of Moriah, and offer him there as a burnt offering on one of the mountains of which I shall tell you."
3 So Abraham rose early in the morning and saddled his donkey, and took two of his young men with him, and Isaac his son; and he split the wood for the burnt offering, and arose and went to the place of which God had told him. 4 Then on the third day Abraham lifted his eyes and saw the place afar off. 5 And Abraham said to his young men, "Stay here with the donkey; the lad and I will go yonder and worship, and we will come back to you."
6 So Abraham took the wood of the burnt offering and laid it on Isaac his son; and he took the fire in his hand, and a knife, and the two of them went together. 7 But Isaac spoke to Abraham his father and said, "My father!"
And he said, "Here I am, my son."
Then he said, "Look, the fire and the wood, but where is the lamb for a burnt offering?"
8 And Abraham said, "My son, God will provide for Himself the lamb for a burnt offering." So the two of them went together.
9 Then they came to the place of which God had told him. And Abraham built an altar there and placed the wood in order; and he bound Isaac his son and laid him on the altar, upon the wood. 10 And Abraham stretched out his hand and took the knife to slay his son.
11 But the Angel of the LORD called to him from heaven and said, "Abraham, Abraham!"
So he said, "Here I am."
12 And He said, "Do not lay your hand on the lad, or do anything to him; for now I know that you fear God, since you have not withheld your son, your only son, from Me."
13 Then Abraham lifted his eyes and looked, and there behind him was a ram caught in a thicket by its horns. So Abraham went and took the ram, and offered it up for a burnt offering instead of his son. 14 And Abraham called the name of the place, The-LORD-Will-Provide; as it is said to this day, "In the Mount of the LORD it shall be provided."
15 Then the Angel of the LORD called to Abraham a second time out of heaven, 16 and said: "By Myself I have sworn, says the LORD, because you have done this thing, and have not withheld your son, your only son— 17 blessing I will bless you, and multiplying I will multiply your descendants as the stars of the heaven and as the sand which is on the seashore; and your descendants shall possess the gate of their enemies. 18 In your seed all the nations of the earth shall be blessed, because you have obeyed My voice."
Proverbs 17:17-18:5
17 A friend loves at all times,
And a brother is born for adversity.
18 A man devoid of understanding shakes hands in a pledge,
And becomes surety for his friend.
19 He who loves transgression loves strife,
And he who exalts his gate seeks destruction.
20 He who has a deceitful heart finds no good,
And he who has a perverse tongue falls into evil.
21 He who begets a scoffer does so to his sorrow,
And the father of a fool has no joy.
22 A merry heart does good, like medicine,[a]
But a broken spirit dries the bones.
23 A wicked man accepts a bribe behind the back[b]
To pervert the ways of justice.
24 Wisdom is in the sight of him who has understanding,
But the eyes of a fool are on the ends of the earth.
25 A foolish son is a grief to his father,
And bitterness to her who bore him.
26 Also, to punish the righteous is not good,
Nor to strike princes for their uprightness.
27 He who has knowledge spares his words,
And a man of understanding is of a calm spirit.
28 Even a fool is counted wise when he holds his peace;
When he shuts his lips, he is considered perceptive.
Proverbs 18
 1 A man who isolates himself seeks his own desire;
He rages against all wise judgment.
2 A fool has no delight in understanding,
But in expressing his own heart.
3 When the wicked comes, contempt comes also;
And with dishonor comes reproach.
4 The words of a man's mouth are deep waters;
The wellspring of wisdom is a flowing brook.
5 It is not good to show partiality to the wicked,
Or to overthrow the righteous in judgment.