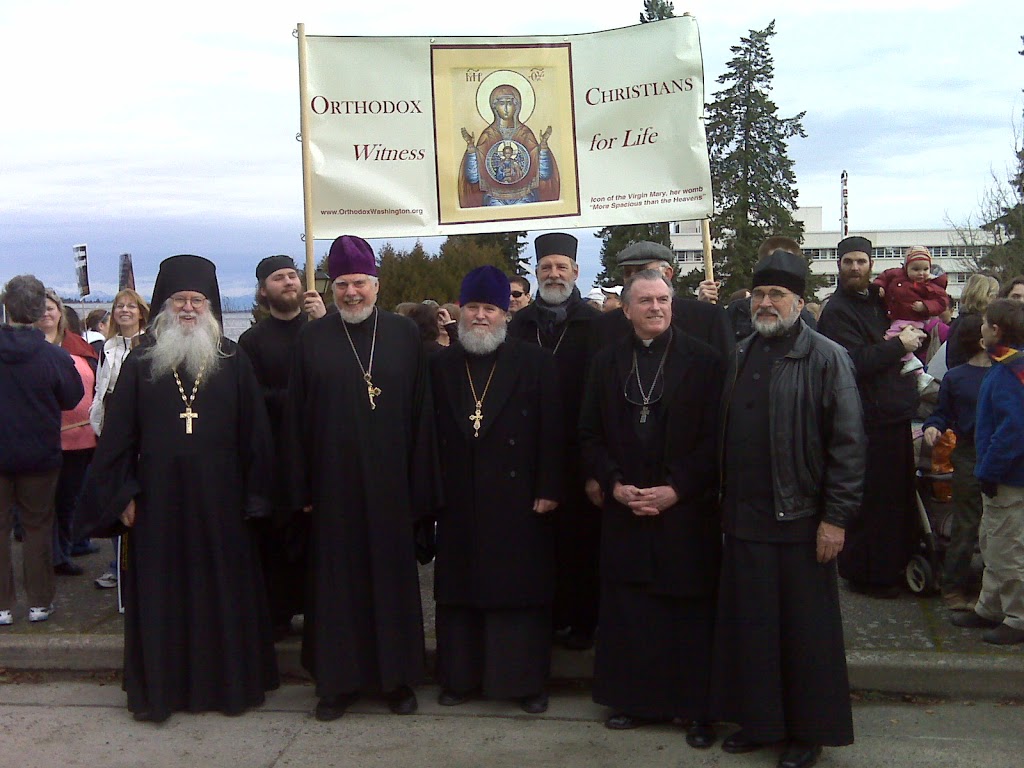 Glory to Jesus Christ! Glory to Him forever!
Saints of the Day
January 7 / 20. Synaxis of the Holy Glorious Prophet, Forerunner and Baptist, John [Acts 19:1-8; Jn 1:29-34]. New-MartyrAthanasius of Attalia.
Photo of the Day
Orthodox clergy gathered for the March for Life in Olympia, Washington. Well over six thousand people stood on the state capital steps, giving witness to the rights of the unborn. (click for enlargement)
Quote of the Day
"We often receive through prayer that which we have asked for, especially when we pray for that which relates to the salvation of our soul; it is necessary to ascribe this directly to God and His grace, and not to chance. How can there possibly be any chance in the Kingdom of the Almighty God? Nothing can really happen without His will, as 'without Him was not anything made that hath been made' (John 1:3)."
St. John of Kronstadt
Scripture Readings for the Day
1 Peter 2:21-3:22
21 For to this you were called, because Christ also suffered for us, leaving us an example, that you should follow His steps:
22 "Who committed no sin,
Nor was deceit found in His mouth";
23 who, when He was reviled, did not revile in return; when He suffered, He did not threaten, but committed Himself to Him who judges righteously; 24 who Himself bore our sins in His own body on the tree, that we, having died to sins, might live for righteousness—by whose stripes you were healed. 25 For you were like sheep going astray, but have now returned to the Shepherd and Overseer of your souls.
1 Peter 3
Submission to Husbands
1 Wives, likewise, be submissive to your own husbands, that even if some do not obey the word, they, without a word, may be won by the conduct of their wives, 2 when they observe your chaste conduct accompanied by fear. 3 Do not let your adornment be merely outward—arranging the hair, wearing gold, or putting on fine apparel— 4 rather let it be the hidden person of the heart, with the incorruptible beauty of a gentle and quiet spirit, which is very precious in the sight of God. 5 For in this manner, in former times, the holy women who trusted in God also adorned themselves, being submissive to their own husbands, 6 as Sarah obeyed Abraham, calling him lord, whose daughters you are if you do good and are not afraid with any terror.
A Word to Husbands
7 Husbands, likewise, dwell with them with understanding, giving honor to the wife, as to the weaker vessel, and as being heirs together of the grace of life, that your prayers may not be hindered.
Called to Blessing
8 Finally, all of you be of one mind, having compassion for one another; love as brothers, be tenderhearted, be courteous; 9 not returning evil for evil or reviling for reviling, but on the contrary blessing, knowing that you were called to this, that you may inherit a blessing. 10 For
"He who would love life
And see good days,
Let him refrain his tongue from evil,
And his lips from speaking deceit.
11 Let him turn away from evil and do good;
Let him seek peace and pursue it.
12 For the eyes of the LORD are on the righteous,
And His ears are open to their prayers;
But the face of the LORD is against those who do evil."
Suffering for Right and Wrong
13 And who is he who will harm you if you become followers of what is good? 14 But even if you should suffer for righteousness' sake, you are blessed. "And do not be afraid of their threats, nor be troubled." 15 But sanctify the Lord God in your hearts, and always be ready to give a defense to everyone who asks you a reason for the hope that is in you, with meekness and fear; 16 having a good conscience, that when they defame you as evildoers, those who revile your good conduct in Christ may be ashamed. 17 For it is better, if it is the will of God, to suffer for doing good than for doing evil.
Christ's Suffering and Ours
18 For Christ also suffered once for sins, the just for the unjust, that He might bring us to God, being put to death in the flesh but made alive by the Spirit, 19 by whom also He went and preached to the spirits in prison, 20 who formerly were disobedient, when once the Divine longsuffering waited in the days of Noah, while the ark was being prepared, in which a few, that is, eight souls, were saved through water. 21 There is also an antitype which now saves us—baptism (not the removal of the filth of the flesh, but the answer of a good conscience toward God), through the resurrection of Jesus Christ, 22 who has gone into heaven and is at the right hand of God, angels and authorities and powers having been made subject to Him.
Mark 12:13-27
The Pharisees: Is It Lawful to Pay Taxes to Caesar?
13 Then they sent to Him some of the Pharisees and the Herodians, to catch Him in His words. 14 When they had come, they said to Him, "Teacher, we know that You are true, and care about no one; for You do not regard the person of men, but teach the way of God in truth. Is it lawful to pay taxes to Caesar, or not? 15 Shall we pay, or shall we not pay?"
But He, knowing their hypocrisy, said to them, "Why do you test Me? Bring Me a denarius that I may see it."16 So they brought it.
And He said to them, "Whose image and inscription is this?" They said to Him, "Caesar's."
17 And Jesus answered and said to them, "Render to Caesar the things that are Caesar's, and to God the things that are God's."
And they marveled at Him.
The Sadducees: What About the Resurrection?
18 Then some Sadducees, who say there is no resurrection, came to Him; and they asked Him, saying: 19 "Teacher, Moses wrote to us that if a man's brother dies, and leaves his wife behind, and leaves no children, his brother should take his wife and raise up offspring for his brother. 20 Now there were seven brothers. The first took a wife; and dying, he left no offspring. 21 And the second took her, and he died; nor did he leave any offspring. And the third likewise. 22 So the seven had her and left no offspring. Last of all the woman died also. 23 Therefore, in the resurrection, when they rise, whose wife will she be? For all seven had her as wife."
24 Jesus answered and said to them, "Are you not therefore mistaken, because you do not know the Scriptures nor the power of God? 25 For when they rise from the dead, they neither marry nor are given in marriage, but are like angels in heaven. 26 But concerning the dead, that they rise, have you not read in the book of Moses, in the burning bush passage, how God spoke to him, saying, 'I am the God of Abraham, the God of Isaac, and the God of Jacob'? 27 He is not the God of the dead, but the God of the living. You are therefore greatly mistaken."