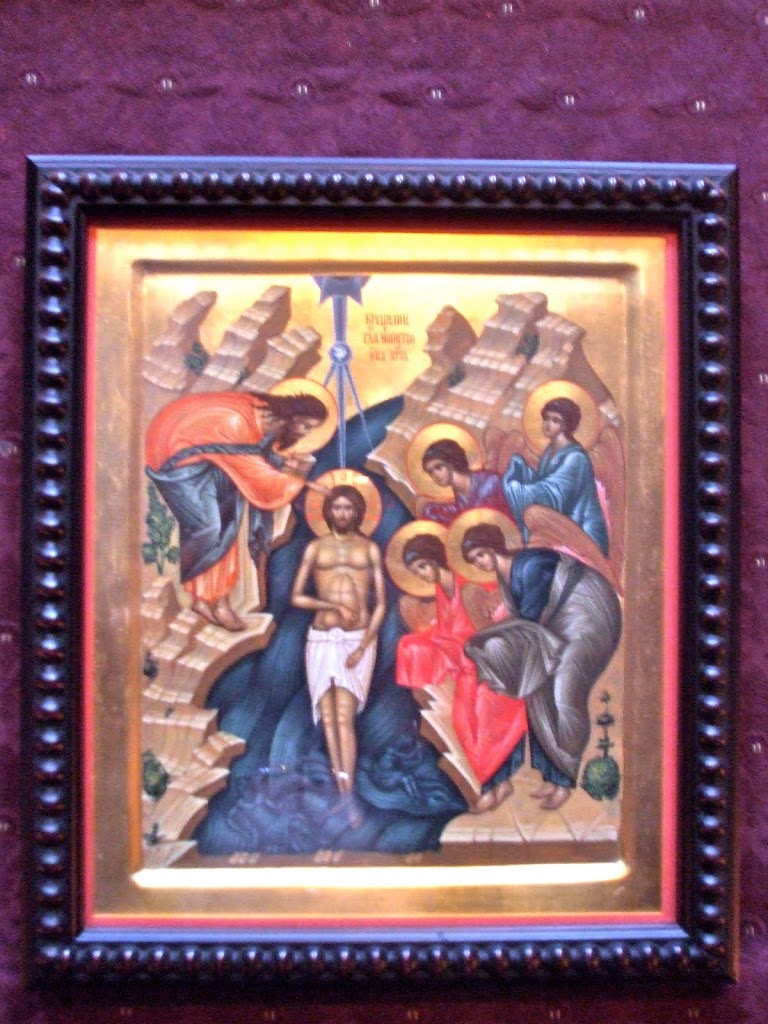 Glory to Jesus Christ! Glory to Him forever!
Holy Theophany
Saints of the Day
January 6 / 19. THE HOLY THEOPHANY OF OUR LORD, GOD AND SAVIOR JESUS CHRIST. New Hieromartyr Romanus,beheaded by the Turks. New-Martyrs priest Andrew, and with him Lydia, Domnica, Maria and his two daughters (1919). Repose of Schemamonk Nicholas of Valaam (1824), Schemamonk Sergius (Yanovsky), disciple of St. Herman of Alaska (1876), and Bishop Theophan the Recluse (1894).
Photo of the Day
Our monastery's Theophany icon. (click for enlargement)
Quote of the Day
Holy Water
On Theophany, the Day of the Lord's Baptism, every year a great miracle is performed. The Holy Spirit, coming down upon the water, changes its natural properties. It becomes incorrupt, not spoiling, remaining transparent and fresh for many years. This Holy Water receives the grace to heal illnesses, to drive away demons and every evil power, to preserve people and their dwellings from every danger, to sanctify various objects whether for church or home use. Therefore, Orthodox Christians with reverence drink Holy Water — a great Agiasma (holy thing), as the Greeks call it.
One should always have at home enough Theophany water to last the whole year, and make use of it at every need: in cases of illness, leaving on a journey, whenever one is upset, students prior to examinations, etc. People who drink a little Holy Water daily, before eating any kind of food, do well. It strengthens the powers of our soul—if it is done with prayer and reverence, and one does not merely expect a mechanical result from it.
Every priest should take care to bless a sufficient quantity of water for his church, so that it will be on hand for the course of the whole year for every need and to be given out to those who ask for it; and parishioners should provide themselves at Theophany with Holy Water for the whole year and even so that it can be kept for future years.
Scripture Readings for the Day
Titus 2:11-14
Trained by Saving Grace
11 For the grace of God that brings salvation has appeared to all men, 12 teaching us that, denying ungodliness and worldly lusts, we should live soberly, righteously, and godly in the present age, 13 looking for the blessed hope and glorious appearing of our great God and Savior Jesus Christ, 14 who gave Himself for us, that He might redeem us from every lawless deed and purify for Himself His own special people, zealous for good works.
Titus 3:4-7
4 But when the kindness and the love of God our Savior toward man appeared, 5 not by works of righteousness which we have done, but according to His mercy He saved us, through the washing of regeneration and renewing of the Holy Spirit, 6 whom He poured out on us abundantly through Jesus Christ our Savior, 7 that having been justified by His grace we should become heirs according to the hope of eternal life.
Matthew 3:13-17
John Baptizes Jesus
13 Then Jesus came from Galilee to John at the Jordan to be baptized by him. 14 And John tried to prevent Him, saying, "I need to be baptized by You, and are You coming to me?"
15 But Jesus answered and said to him, "Permit it to be so now, for thus it is fitting for us to fulfill all righteousness." Then he allowed Him.
16 When He had been baptized, Jesus came up immediately from the water; and behold, the heavens were opened to Him, and He saw the Spirit of God descending like a dove and alighting upon Him. 17 And suddenly a voice came from heaven, saying, "This is My beloved Son, in whom I am well pleased."