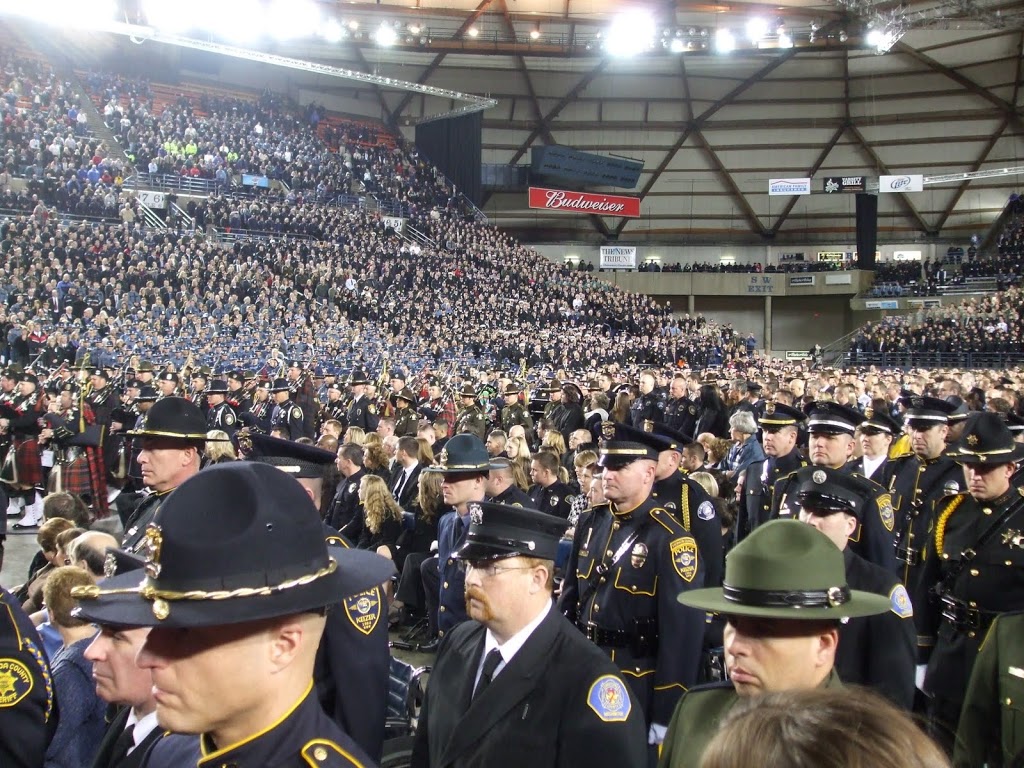 Glory to Jesus Christ! Glory to Him forever!
Saints of the Day
November 26 / December 9. Repose of St. Innocent, first Bishop of Irkutsk [(1) Isa 35:1-10; (2) Wis 3:1-9; (3) Wis 4:7-15]. Matins:Matt 5:14-19. Liturgy: Heb 7:26-8:2; Jn 10:9-16]. St. Alypius the Stylite of Adrianopolis. Dedication of the Church of St. George atKiev. St. James the Solitary of Syria. St. Nicon Metanoeite (preacher of repentance). New-Martyr George of Chios. (GreekCalendar: St. Stylianos of Paphlagonia, monk. St. Silas, Bishop of Persidos.)
Photo of the Day
Well over twenty thousand police officers were in attendance, from all over the United States and Canada, for the funeral service of the four slain officers. The funeral procession, was ten miles long, and there were an estimated 3,000 emergency vehicles. I was proud to be driving one of them. Quote of the Day
"Even if you can easily find someone who to some extent practices a number of virtues, you will hardly find the odor of humility in him, however you search for it. It is something that can be acquired only with much diligence."
St. Hesychios the Priest
Scripture Readings for the Day
1 Timothy 5:22-6:11
22 Do not lay hands on anyone hastily, nor share in other people's sins; keep yourself pure.
23 No longer drink only water, but use a little wine for your stomach's sake and your frequent infirmities.
24 Some men's sins are clearly evident, preceding them to judgment, but those of some men follow later. 25 Likewise, the good works of some are clearly evident, and those that are otherwise cannot be hidden.
1 Timothy 6
Honor Masters
1 Let as many bondservants as are under the yoke count their own masters worthy of all honor, so that the name of God and His doctrine may not be blasphemed. 2 And those who have believing masters, let them not despise them because they are brethren, but rather serve them because those who are benefited are believers and beloved. Teach and exhort these things.
Error and Greed
3 If anyone teaches otherwise and does not consent to wholesome words, even the words of our Lord Jesus Christ, and to the doctrine which accords with godliness, 4 he is proud, knowing nothing, but is obsessed with disputes and arguments over words, from which come envy, strife, reviling, evil suspicions, 5 useless wranglings of men of corrupt minds and destitute of the truth, who suppose that godliness is a means of gain. From such withdraw yourself.
6 Now godliness with contentment is great gain. 7 For we brought nothing into this world, and it is certain we can carry nothing out. 8 And having food and clothing, with these we shall be content. 9 But those who desire to be rich fall into temptation and a snare, and into many foolish and harmful lusts which drown men in destruction and perdition. 10 For the love of money is a root of all kinds of evil, for which some have strayed from the faith in their greediness, and pierced themselves through with many sorrows.
The Good Confession
11 But you, O man of God, flee these things and pursue righteousness, godliness, faith, love, patience, gentleness.
Luke 18:15-17
Jesus Blesses Little Children
15 Then they also brought infants to Him that He might touch them; but when the disciples saw it, they rebuked them. 16 But Jesus called them to Him and said, "Let the little children come to Me, and do not forbid them; for of such is the kingdom of God. 17 Assuredly, I say to you, whoever does not receive the kingdom of God as a little child will by no means enter it."
Luke 18:26-30
26 And those who heard it said, "Who then can be saved?"
27 But He said, "The things which are impossible with men are possible with God."
28 Then Peter said, "See, we have left all and followed You."
29 So He said to them, "Assuredly, I say to you, there is no one who has left house or parents or brothers or wife or children, for the sake of the kingdom of God, 30 who shall not receive many times more in this present time, and in the age to come eternal life."