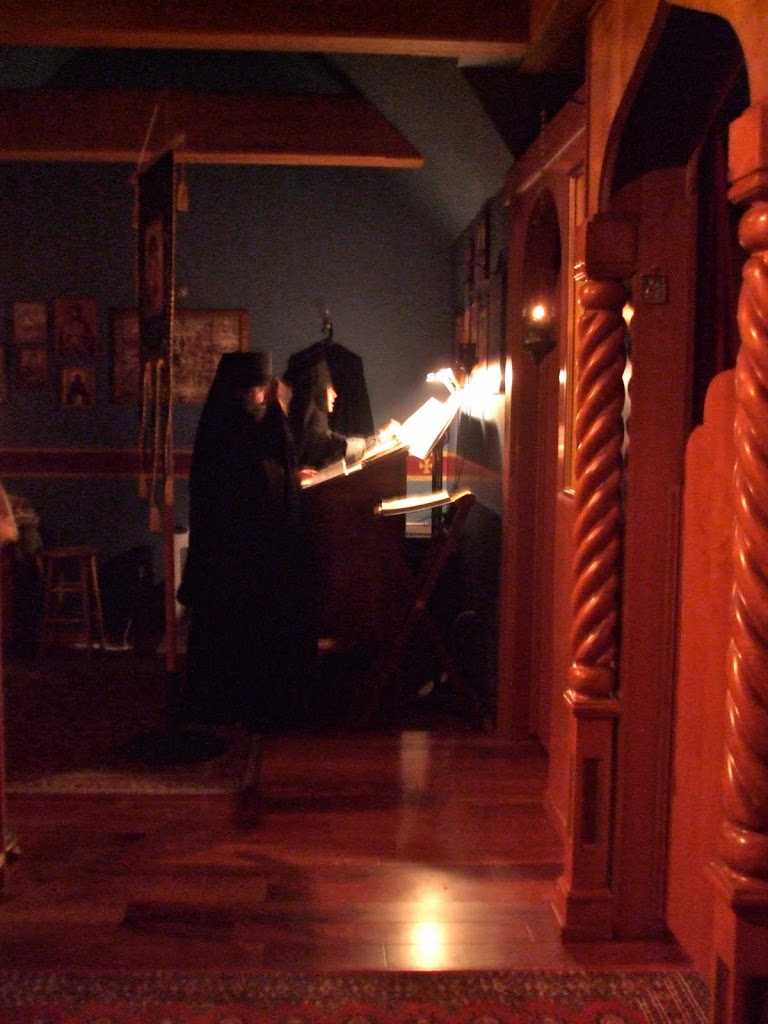 Glory to Jesus Christ! Glory to Him forever!
Saints of the Day
December 18 / 31. Martyr Sebastian at Rome and his companions: Martyrs Nicostratus, Zoe, Castorius, Tranquillinus, Marcellinus,Mark, Claudius, Symphorian, Victorinus, Tiburtius, and Castulus. St. Modestus, Archbishop of Jerusalem. St. Florus, Bishop ofAmisus. St. Micahel the Confessor at Constantinople. Martyr Eubotius at Cyzicus. St. Sebastian, abbot of Poshekhonye Monastery (Vologda). Righteous Simeon, Wonderworker of Verkhoturye. (Greek Calendar: Hieromartyr Zacchaeus the Deacon and St. Alphaeus the Reader, of Caesarea. St. Sophia the Wonderworker.)
Photo of the Day
 Hieromonk Paul and Nun Photini, chanting Matins. Quote of the Day
St. Seraphim of Sarov offered this advice to abbots:
 Let every abbot become and remain always in his relation to those
subject to him as a wise mother. A mother who loves her children lives not
to satisfy herself, but to satisfy her children. The infirmities of her
children she bears with love; those who have fallen into filth she cleans,
washes them calmly, clothes them in new white garments, puts their shoes on,
warms them, looks after them, comforts them and from all sides strives to
pacify their spirits so that she never hears the slightest cry from them;
and such children are well disposed to their mother. Thus should every abbot
live not to satisfy himself, but to satisfy those subject to him揺e should
be condescending to their weaknesses; bear with love the infirmities of the
infirm; heal their sinful diseases with the plaster of mercifulness; raise
with kindness those who have fallen into transgressions; quietly cleanse
those who have become sullied with the filth of some vice and wash them by
placing upon them fasting and prayer above the ordinary amount which is set
forth for all; clothe them, by instruction and by one's own exemplary life,
in garments of virtues; keep constant watch over them, by every means
comfort them, and from all sides defend their peace and repose to such an
extent that the slightest cry or murmuring will never be heard from them;
and then they will zealously strive to procure for the abbot peace and
repose.
Scripture Readings for the Day
Hebrews 10:35-11:7
35 Therefore do not cast away your confidence, which has great reward. 36 For you have need of endurance, so that after you have done the will of God, you may receive the promise:
37 "For yet a little while,
And He who is coming will come and will not tarry.
38 Now the just shall live by faith;
But if anyone draws back,
My soul has no pleasure in him."
39 But we are not of those who draw back to perdition, but of those who believe to the saving of the soul.
Hebrews 11
By Faith We Understand
1 Now faith is the substance of things hoped for, the evidence of things not seen. 2 For by it the elders obtained a good testimony.
3 By faith we understand that the worlds were framed by the word of God, so that the things which are seen were not made of things which are visible.
Faith at the Dawn of History
4 By faith Abel offered to God a more excellent sacrifice than Cain, through which he obtained witness that he was righteous, God testifying of his gifts; and through it he being dead still speaks.
5 By faith Enoch was taken away so that he did not see death, "and was not found, because God had taken him"; for before he was taken he had this testimony, that he pleased God. 6 But without faith it is impossible to please Him, for he who comes to God must believe that He is, and that He is a rewarder of those who diligently seek Him.
7 By faith Noah, being divinely warned of things not yet seen, moved with godly fear, prepared an ark for the saving of his household, by which he condemned the world and became heir of the righteousness which is according to faith.
Mark 9:10-16
10 So they kept this word to themselves, questioning what the rising from the dead meant.
11 And they asked Him, saying, "Why do the scribes say that Elijah must come first?"
12 Then He answered and told them, "Indeed, Elijah is coming first and restores all things. And how is it written concerning the Son of Man, that He must suffer many things and be treated with contempt? 13 But I say to you that Elijah has also come, and they did to him whatever they wished, as it is written of him."
A Boy Is Healed
14 And when He came to the disciples, He saw a great multitude around them, and scribes disputing with them. 15 Immediately, when they saw Him, all the people were greatly amazed, and running to Him, greeted Him. 16 And He asked the scribes, "What are you discussing with them?"