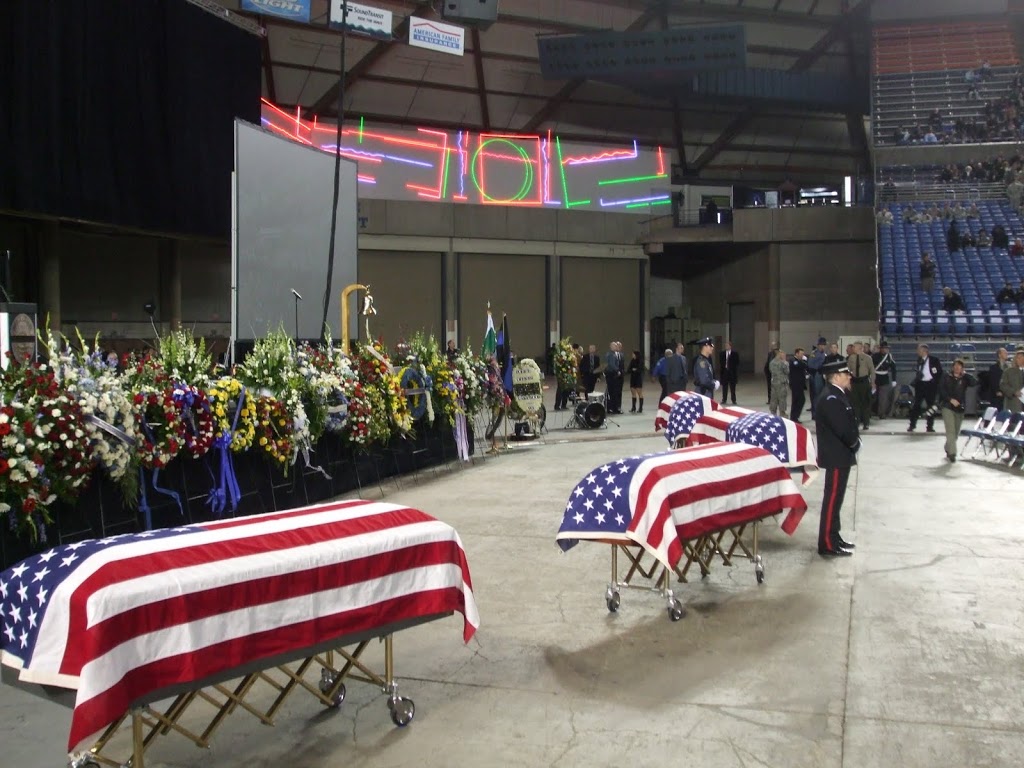 Glory to Jesus Christ! Glory to Him forever!
Saints of the Day
November 27 / December 10. Great-Martyr James the Persian [Eph 6:10-17; Jn 15:1-7]. St. Palladius of Thessalonica. St. James,Bishop and Wonderworker of Rostov. St. Romanus the Wonderworker of Cilicia. Opening of the Relics of St. Vsevolod (Gabriel) ofPskov. St. Pinuphrius of Egypt. St. Nathaniel of Nitria. St. Diodorus, abbot of Yuriev Monastery (Solovki). Commemoration of the miracle of the Weeping Icon of the Most Holy Theotokos Of the Sign at Novgorod in 1170. Icons of the Most Holy Theotokos Of the Sign: Kursk-Root, and Of Abalek.
Photo of the Day
The Fallen Heroes of the Lakewood Police Department.
This video, taken from a local television station, shows the view of the procession that I experienced. I had a difficult time driving my fire department vehicle, without crying. Abbot Tryphon
"A real man strives to be pious. Than man is piuos who desires nothing alien to him. What is alien to man is everything created."   St. Antony the Great "Texts on Saintly Life"
Scripture Readings for the Day
1 Timothy 6:17-21
Instructions to the Rich
17 Command those who are rich in this present age not to be haughty, nor to trust in uncertain riches but in the living God, who gives us richly all things to enjoy. 18 Let them do good, that they be rich in good works, ready to give, willing to share, 19 storing up for themselves a good foundation for the time to come, that they may lay hold on eternal life.
Guard the Faith
20 O Timothy! Guard what was committed to your trust, avoiding the profane and idle babblings and contradictions of what is falsely called knowledge— 21 by professing it some have strayed concerning the faith.
Grace be with you. Amen.
Luke 18:31-34
Jesus a Third Time Predicts His Death and Resurrection
31 Then He took the twelve aside and said to them, "Behold, we are going up to Jerusalem, and all things that are written by the prophets concerning the Son of Man will be accomplished. 32 For He will be delivered to the Gentiles and will be mocked and insulted and spit upon. 33 They will scourge Him and kill Him. And the third day He will rise again."
34 But they understood none of these things; this saying was hidden from them, and they did not know the things which were spoken.