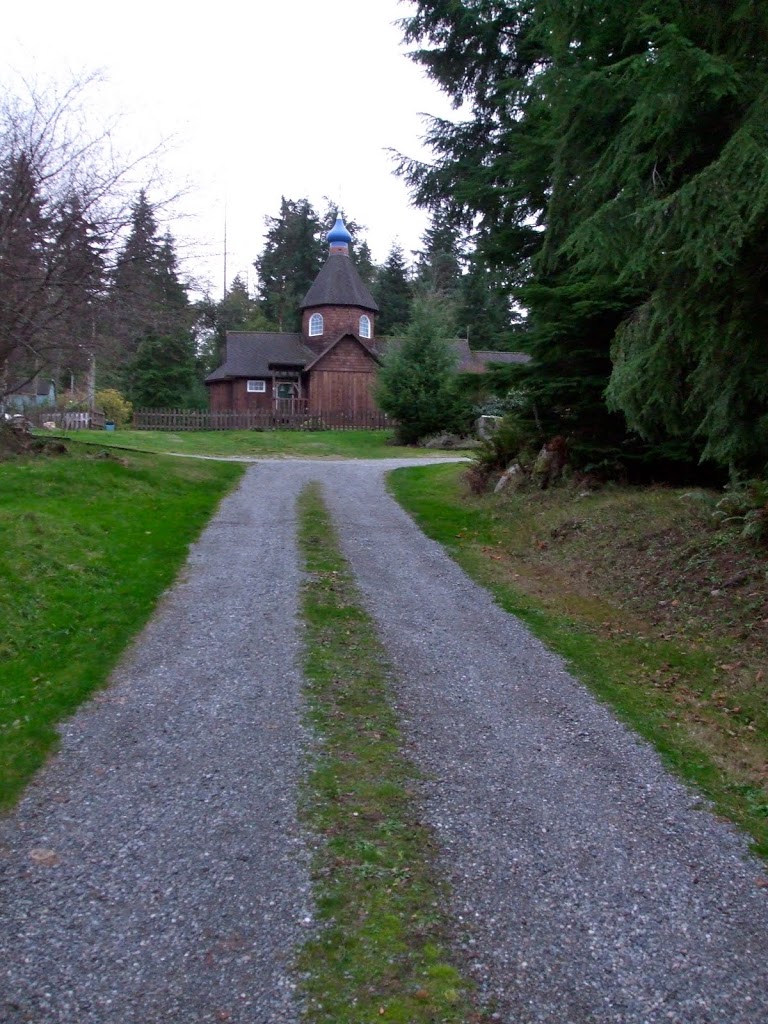 Glory to Jesus Christ! Glory to Him forever!
Saints of the Day
December 14 / 27. Martyrs Thyrsus, Leucius and Callinicus of Apollonia. Martyrs Apollonius, Philemon, Arianus and Theoctychusof Alexandria. (Greek Calendar: Four guards converted by St. Arianus and martyred.) Repose of Blessed Recluse John of Sezenovo Convent (1839).
Photo of the Day
Our monastery's temple, as you first see it. Quote of the Day
"When you go to bed with a contented mind, recall the blessings and generous providence of God; be filled with holy thoughts and great joy. Then, while your body sleeps, your soul will keep watch; the closing of your eyes will bring you a true vision of God; your silence will be pregnant with sanctity, and in your sleep you will continue to glorify the God of all with the full strength of your soul."
St. Antony the Great
Scripture Readings for the Day
Colossians 3:4-11
4 When Christ who is our life appears, then you also will appear with Him in glory.
5 Therefore put to death your members which are on the earth: fornication, uncleanness, passion, evil desire, and covetousness, which is idolatry. 6 Because of these things the wrath of God is coming upon the sons of disobedience, 7 in which you yourselves once walked when you lived in them.
8 But now you yourselves are to put off all these: anger, wrath, malice, blasphemy, filthy language out of your mouth. 9 Do not lie to one another, since you have put off the old man with his deeds, 10 and have put on the new man who is renewed in knowledge according to the image of Him who created him, 11 where there is neither Greek nor Jew, circumcised nor uncircumcised, barbarian, Scythian, slave nor free, but Christ is all and in all.
Luke 14:16-24
16 Then He said to him, "A certain man gave a great supper and invited many, 17 and sent his servant at supper time to say to those who were invited, 'Come, for all things are now ready.' 18 But they all with one accord began to make excuses. The first said to him, 'I have bought a piece of ground, and I must go and see it. I ask you to have me excused.' 19 And another said, 'I have bought five yoke of oxen, and I am going to test them. I ask you to have me excused.' 20 Still another said, 'I have married a wife, and therefore I cannot come.' 21 So that servant came and reported these things to his master. Then the master of the house, being angry, said to his servant, 'Go out quickly into the streets and lanes of the city, and bring in here the poor and the maimed and the lame and the blind.' 22 And the servant said, 'Master, it is done as you commanded, and still there is room.' 23 Then the master said to the servant, 'Go out into the highways and hedges, and compel them to come in, that my house may be filled. 24 For I say to you that none of those men who were invited shall taste my supper.'"