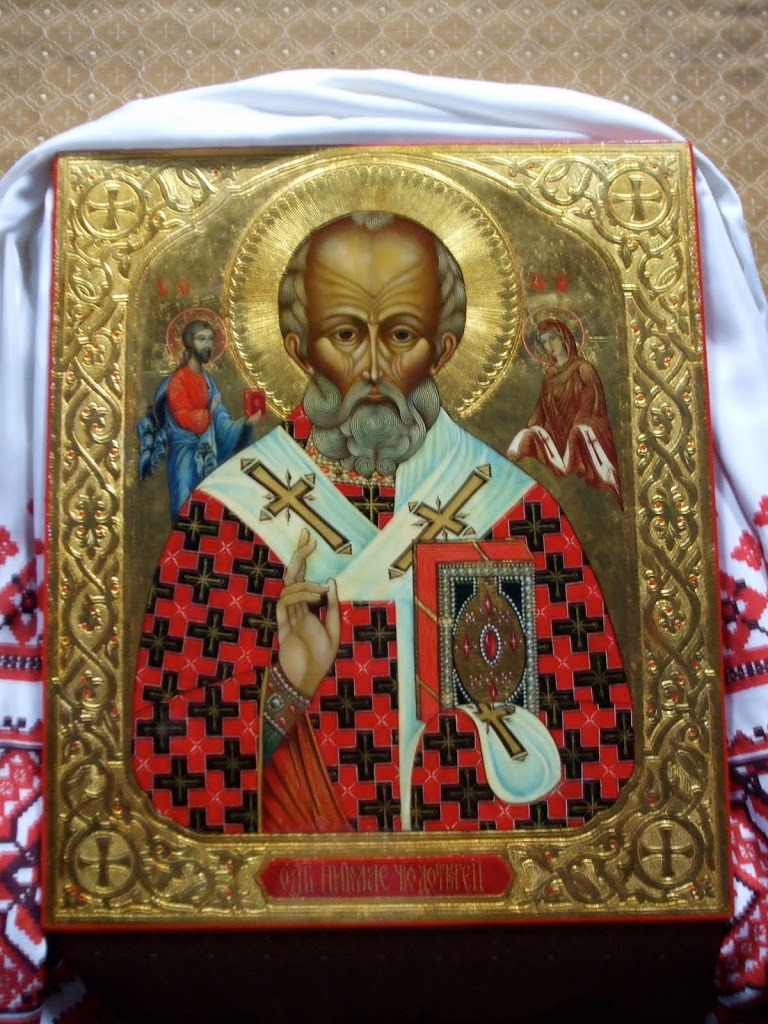 Glory to Jesus Christ! Glory to Him forever!
Feast of our Father Among the Saints, Nicholas the Wonderworker, Archbishop of Myra 
Saints of the Day
December 6 / 19. St. Nicholas the Wonderworker, Archbishop of Myra in Lycia [(1) Prov 10:7, 6; 3:13-16; 8:6, 32, 34, 4, 12, 14, 17,5-9; 1:23; (2) Prov 10:31-11:12; (3) Wis 4:7-15. Matins: Jn 10:9-16. Liturgy: Heb 13:17-21; Lk 6:17-23].Blessed Maximus,Metropolitan of Kiev. New-Martyr Nicholas of Karamania in Asia Minor. Namesday of Royal Martyr Tsar Nicholas II (1918).
Photo of the Day
 Our Father Among the Saints, Nicholas the Wonderworker, Archbishop of Myra(.)
Podcast of the Day:
http://ancientfaith.com/podcasts/features/archbishop_job_-memory_eternal
Scripture Readings for the Day:
Ephesians 1:16-23
16 do not cease to give thanks for you, making mention of you in my prayers: 17 that the God of our Lord Jesus Christ, the Father of glory, may give to you the spirit of wisdom and revelation in the knowledge of Him, 18 the eyes of your understanding being enlightened; that you may know what is the hope of His calling, what are the riches of the glory of His inheritance in the saints, 19 and what is the exceeding greatness of His power toward us who believe, according to the working of His mighty power 20 which He worked in Christ when He raised Him from the dead and seated Him at His right hand in the heavenly places, 21 far above all principality and power and might and dominion, and every name that is named, not only in this age but also in that which is to come.
22 And He put all things under His feet, and gave Him to be head over all things to the church, 23 which is His body, the fullness of Him who fills all in all.
Luke 12:32-40
32 "Do not fear, little flock, for it is your Father's good pleasure to give you the kingdom. 33 Sell what you have and give alms; provide yourselves money bags which do not grow old, a treasure in the heavens that does not fail, where no thief approaches nor moth destroys. 34 For where your treasure is, there your heart will be also.
The Faithful Servant and the Evil Servant
35 "Let your waist be girded and your lamps burning; 36 and you yourselves be like men who wait for their master, when he will return from the wedding, that when he comes and knocks they may open to him immediately. 37 Blessed are those servants whom the master, when he comes, will find watching. Assuredly, I say to you that he will gird himself and have them sit down to eat, and will come and serve them. 38 And if he should come in the second watch, or come in the third watch, and find them so, blessed are those servants. 39 But know this, that if the master of the house had known what hour the thief would come, he would have watched and not allowed his house to be broken into. 40 Therefore you also be ready, for the Son of Man is coming at an hour you do not expect."