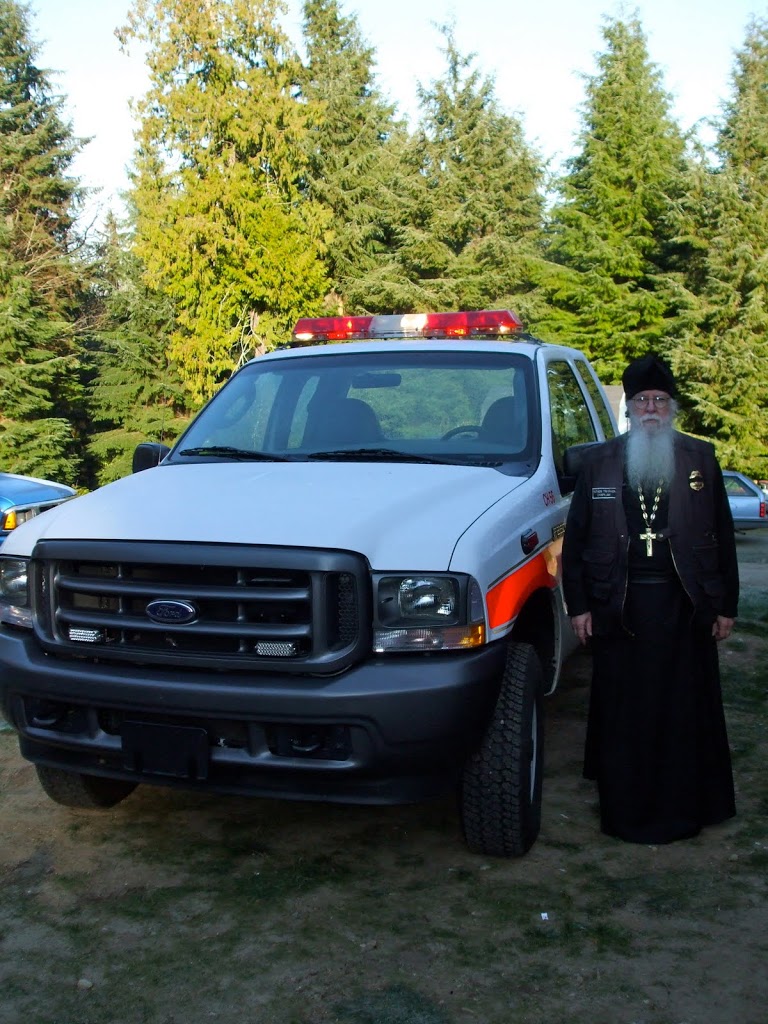 Glory to Jesus Christ! Glory to Him forever!
Saints of the Day
November 28 / December 11. Martyr Stephen the New. St. Auxentius. Martyrs Basil, Stephen, two Gregories, John, Andrew,Peter, Anna, and many others [II Tim 1:8-18; Matt 10:23-31]. Martyr Hierenarchus and Seven Women-Martyrs at Sebaste. MartyrsTimothy and Theodore, Bishops; Peter, John, Sergius, Theodore and Nicephorus, presbyters; Basil and Thomas, deacons; Hierotheus,Daniel, Chariton, Socrates, Comasius and Eusebius, monks; and Etymasius, at Tiberiopolis. Blessed Theodore, Archbishop of Rostov.
Photo of the Day
This is the vehicle I was honored to drive, in the 20 mile long funeral procession, for the four fallen police officers.
Quote of the Day
"I offer light to the Lord, in order that He may bestow the light of grace, spiritual light, upon me, that He may lead me from the darkness of sin into the light of knowledge of God and of virtue; I offer fire that the fire of the grace of the Holy Spirit may be kindled in my heart, and that it may quench the fire of the vices of that miserable heart. I bring a light that I myself may become a light, burning and shining to all that are in the church."
St. John of Kronstadt "My Life in Christ"
Scripture Readings for the Day
2 Timothy 1:1-2
Greeting
1 Paul, an apostle of Jesus Christ by the will of God, according to the promise of life which is in Christ Jesus,
2 To Timothy, a beloved son:
Grace, mercy, and peace from God the Father and Christ Jesus our Lord.
2 Timothy 1:8-18
Not Ashamed of the Gospel
8 Therefore do not be ashamed of the testimony of our Lord, nor of me His prisoner, but share with me in the sufferings for the gospel according to the power of God, 9 who has saved us and called us with a holy calling, not according to our works, but according to His own purpose and grace which was given to us in Christ Jesus before time began, 10 but has now been revealed by the appearing of our Savior Jesus Christ, who has abolished death and brought life and immortality to light through the gospel, 11 to which I was appointed a preacher, an apostle, and a teacher of the Gentiles. 12 For this reason I also suffer these things; nevertheless I am not ashamed, for I know whom I have believed and am persuaded that He is able to keep what I have committed to Him until that Day.
Be Loyal to the Faith
13 Hold fast the pattern of sound words which you have heard from me, in faith and love which are in Christ Jesus. 14 That good thing which was committed to you, keep by the Holy Spirit who dwells in us.
15 This you know, that all those in Asia have turned away from me, among whom are Phygellus and Hermogenes. 16 The Lord grant mercy to the household of Onesiphorus, for he often refreshed me, and was not ashamed of my chain; 17 but when he arrived in Rome, he sought me out very zealously and found me. 18 The Lord grant to him that he may find mercy from the Lord in that Day—and you know very well how many ways he ministered to me at Ephesus.
Luke 19:12-28
12 Therefore He said: "A certain nobleman went into a far country to receive for himself a kingdom and to return. 13 So he called ten of his servants, delivered to them ten minas, and said to them, 'Do business till I come.' 14 But his citizens hated him, and sent a delegation after him, saying, 'We will not have this man to reign over us.'
15 "And so it was that when he returned, having received the kingdom, he then commanded these servants, to whom he had given the money, to be called to him, that he might know how much every man had gained by trading. 16 Then came the first, saying, 'Master, your mina has earned ten minas.' 17 And he said to him, 'Well done, good servant; because you were faithful in a very little, have authority over ten cities.' 18 And the second came, saying, 'Master, your mina has earned five minas.' 19 Likewise he said to him, 'You also be over five cities.'
20 "Then another came, saying, 'Master, here is your mina, which I have kept put away in a handkerchief. 21 For I feared you, because you are an austere man. You collect what you did not deposit, and reap what you did not sow.' 22 And he said to him, 'Out of your own mouth I will judge you, you wicked servant. You knew that I was an austere man, collecting what I did not deposit and reaping what I did not sow. 23 Why then did you not put my money in the bank, that at my coming I might have collected it with interest?'
24 "And he said to those who stood by, 'Take the mina from him, and give it to him who has ten minas.' 25 (But they said to him, 'Master, he has ten minas.') 26 'For I say to you, that to everyone who has will be given; and from him who does not have, even what he has will be taken away from him. 27 But bring here those enemies of mine, who did not want me to reign over them, and slay them before me.'"
The Triumphal Entry
28 When He had said this, He went on ahead, going up to Jerusalem.