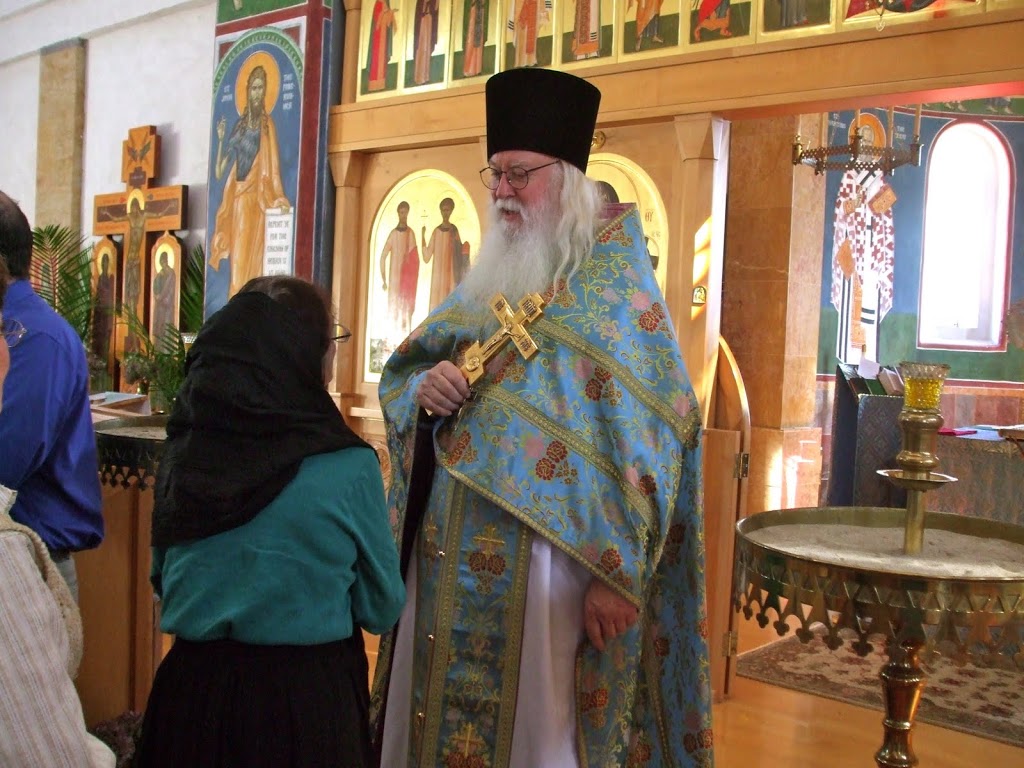 Glory to Jesus Christ! Glory to Him forever!
Saints of the Day
October22 / November 4. The Kazan Icon of the Most Holy Theotokos, commemorating the deliverance from the Poles in 1612 Holy Equal-to-the-Apostles Abercius, Bishop of and Wonderworker of Hierapolis. The Holy Seven Youths(Seven Sleepers) of Ephesus (see August 4). Martyrs Alexander the bishop, Heraclius, Anna, Elizabeth, Theodota and Glyceria,at Adrianopolis. St. Lot of Egypt. Saints Theodore and Paul, abbots of Rostov. St. James of Luga and Omutch, disciple of St Theophilus of Omutch. (Greek Calendar Martyr Zachariah. St. Rufus of the Paradise.) Repose of Righteous Monk Joseph the Silent of Kuban (1925)
Photo of the Day
Saint Seraphim of Sarov Church, Santa Rosa, California. (Click to enlarge.) Quote of the Day
"The Holy Spirit often visits us; but if He does not find rest how can He remain? He departs. Joy is in the hearts of those who are cleansed and who are able to maintain within themselves the grace of the Holy Spirit of the All-holy Trinity."
Elder Ieronymos of Aegina
Scripture Readings for the Day
Colossians 3:17-4:1
17 And whatever you do in word or deed, do all in the name of the Lord Jesus, giving thanks to God the Father through Him.
The Christian Home
18 Wives, submit to your own husbands, as is fitting in the Lord.
19 Husbands, love your wives and do not be bitter toward them.
20 Children, obey your parents in all things, for this is well pleasing to the Lord.
21 Fathers, do not provoke your children, lest they become discouraged.
22 Bondservants, obey in all things your masters according to the flesh, not with eyeservice, as men-pleasers, but in sincerity of heart, fearing God. 23 And whatever you do, do it heartily, as to the Lord and not to men, 24 knowing that from the Lord you will receive the reward of the inheritance; for[a] you serve the Lord Christ. 25 But he who does wrong will be repaid for what he has done, and there is no partiality.
Colossians 4
1 Masters, give your bondservants what is just and fair, knowing that you also have a Master in heaven.
Luke 9:44-50
44 "Let these words sink down into your ears, for the Son of Man is about to be betrayed into the hands of men." 45 But they did not understand this saying, and it was hidden from them so that they did not perceive it; and they were afraid to ask Him about this saying.
Who Is the Greatest?
46 Then a dispute arose among them as to which of them would be greatest. 47 And Jesus, perceiving the thought of their heart, took a little child and set him by Him, 48 and said to them, "Whoever receives this little child in My name receives Me; and whoever receives Me receives Him who sent Me. For he who is least among you all will be great."
Jesus Forbids Sectarianism
49 Now John answered and said, "Master, we saw someone casting out demons in Your name, and we forbade him because he does not follow with us."
50 But Jesus said to him, "Do not forbid him, for he who is not against us is on our side."