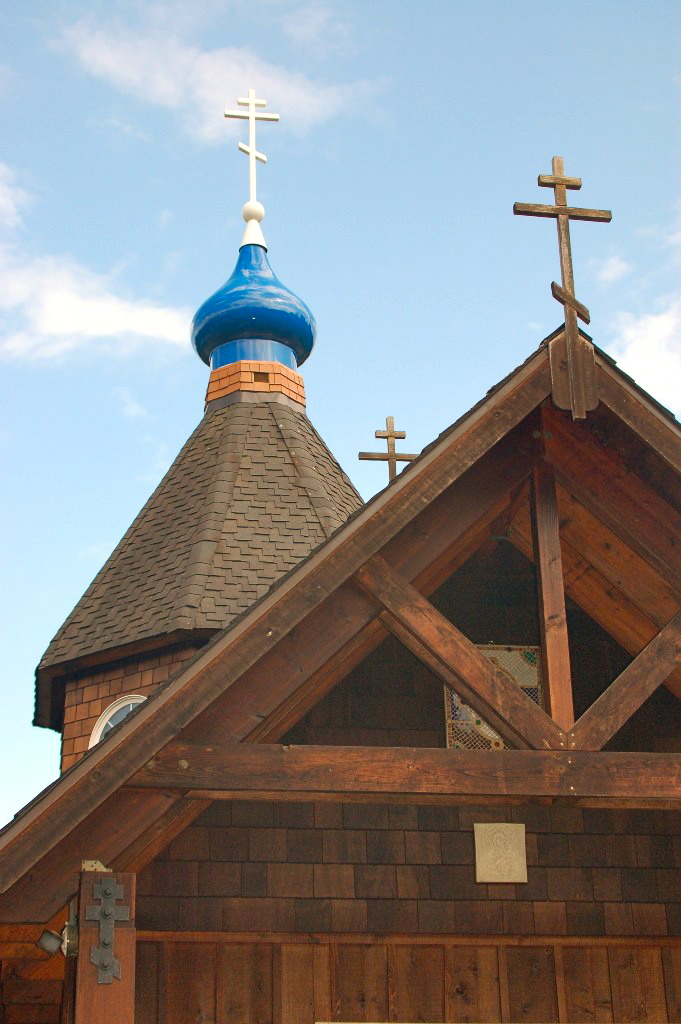 Glory to Jesus Christ! Glory to Him forever!
Saints of the Day
October29 / November 11. Martyr Anastasia the Roman. St. Abramius the Recluse and his niece St. Mary of Mesopotamia. St. Abramius, archimandrite of Rostov. St. Anna of Constantinople. Martyrs Claudius, Asterius, Neon and Theonilla of Aegae in Cilicia St. Abramius, recluse of the Kiev Caves. New-Martyr Athanasius of Sparta, at Muatanach. Martyr Timothy of Esphigmenou Monastery on Mt. Athos. (Greek Calendar Martyrs Cyril, Menas, and Menaeus. Martyr Melitene of Marcianopolis.)
Photo of the Day
Our monastic temple, The Church of the Holy Protection of the Most Holy Theotokos. (Click to enlarge.) Quote of the Day
"The signs that [a person] has [patience and humility] are tears, contrition of soul before God, flight into stillness and patient recourse to God, a diligent enquiry into the Scriptures and a desire, based on faith, to accomplish God's purpose. When, on the other hand, a person lacks patience and humility, the signs of this are doubt with regards to God's help, being ashamed to ask questions humbly, avoidance of stillness and the reading of Scripture, a love of distraction and of human company, with the idea – entirely misguided – that one will attain a state of repose in this way."
St. Peter of Damaskos
Scripture Readings for the Day
1 Thessalonians 2:1-8
Paul's Conduct
1 For you yourselves know, brethren, that our coming to you was not in vain. 2 But even after we had suffered before and were spitefully treated at Philippi, as you know, we were bold in our God to speak to you the gospel of God in much conflict. 3 For our exhortation did not come from error or uncleanness, nor was it in deceit.
4 But as we have been approved by God to be entrusted with the gospel, even so we speak, not as pleasing men, but God who tests our hearts. 5 For neither at any time did we use flattering words, as you know, nor a cloak for covetousness—God is witness. 6 Nor did we seek glory from men, either from you or from others, when we might have made demands as apostles of Christ. 7 But we were gentle among you, just as a nursing mother cherishes her own children. 8 So, affectionately longing for you, we were well pleased to impart to you not only the gospel of God, but also our own lives, because you had become dear to us.
Luke 11:9-13
Keep Asking, Seeking, Knocking
9 "So I say to you, ask, and it will be given to you; seek, and you will find; knock, and it will be opened to you. 10 For everyone who asks receives, and he who seeks finds, and to him who knocks it will be opened. 11 If a son asks for bread from any father among you, will he give him a stone? Or if he asks for a fish, will he give him a serpent instead of a fish? 12 Or if he asks for an egg, will he offer him a scorpion? 13 If you then, being evil, know how to give good gifts to your children, how much more will your heavenly Father give the Holy Spirit to those who ask Him!"