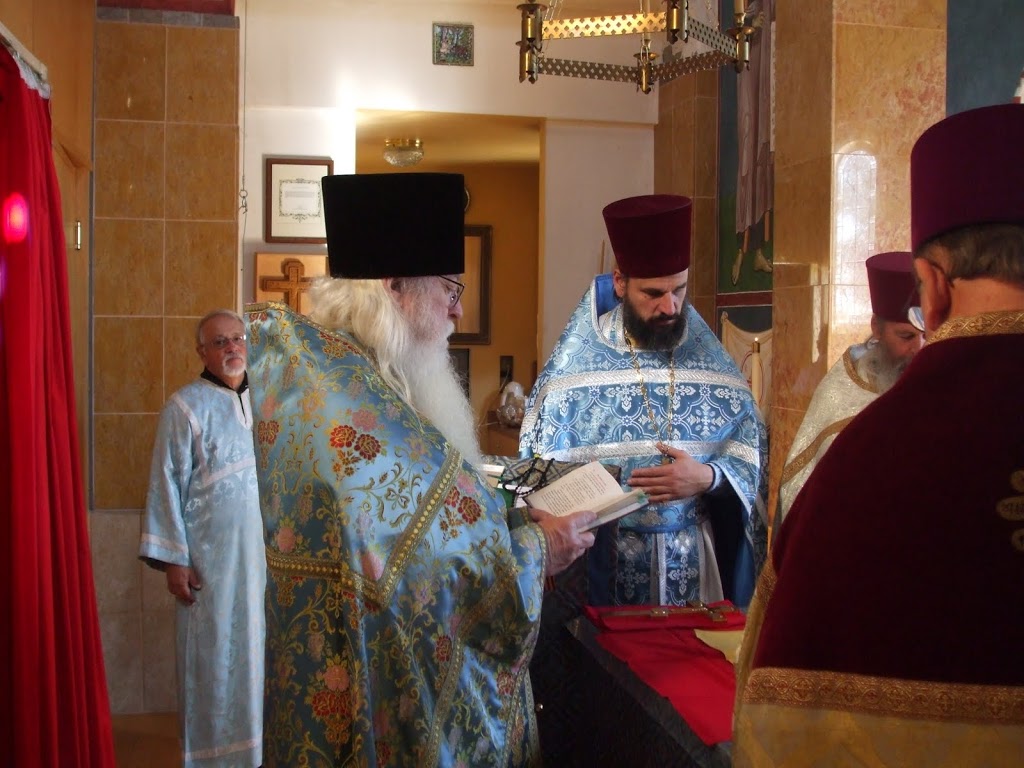 Glory to Jesus Christ! Glory to Him forever!
Saints of the Day
October 21 / November 3. St. Hilarion the Great. Repose of St. Hilarion, Bishop of Meglin in Bulgaria. Martyrs Dasius, Gaius, andZoticus at Nicomedia. Saints Theophilus and James, abbots of Omutch (Pskov). St. Hilarion, abbot of Pskov. St. Hilarion,Schemamonk of the Kiev Caves. St. Philotheus of Mt. Athos. New-Martyr John of the Peloponnesus. Saints Vissarion (Bessarion)Sarai, hieromonk, and Sophronie of Ciorara, monk, confessors, and St. Oprea of Salistie, martyred by the Latins in Rumania (Greek Calendar: Newly-revealed Martyrs Andrew, Stephen, Paul and Peter. Martyrs Theodota and Socrates the priest in Ancyra Monk-martyr Eucratus. St. Baruch, monk. Monk-martyr Zachariah. Martyr Azes. Translation of the Relics of St. Christodulus theWonderworker of Patmos.) Namesday of Elder Hilarion of Optina.
Photo of the Day
Concelebrating with my long time friend, Archpriest Lawrence, rector of Saint Seraphim of Sarov Church, Santa Rosa, California. (Click to enlarge.) Quote of the Day
"…humility alone is opposite to vainglory, and it is from this, I suppose, that it guards a man."
Dorotheos of Gaza
Scripture Readings for the Day
Colossians 2:20-3:3
20 Therefore, if you died with Christ from the basic principles of the world, why, as though living in the world, do you subject yourselves to regulations— 21 "Do not touch, do not taste, do not handle," 22 which all concern things which perish with the using—according to the commandments and doctrines of men? 23 These things indeed have an appearance of wisdom in self-imposed religion, false humility, and neglect of the body, but are of no value against the indulgence of the flesh.
Colossians 3
Not Carnality but Christ
1 If then you were raised with Christ, seek those things which are above, where Christ is, sitting at the right hand of God. 2 Set your mind on things above, not on things on the earth. 3 For you died, and your life is hidden with Christ in God.
Luke 9:23-27
Take Up the Cross and Follow Him
23 Then He said to them all, "If anyone desires to come after Me, let him deny himself, and take up his cross daily, and follow Me. 24 For whoever desires to save his life will lose it, but whoever loses his life for My sake will save it. 25 For what profit is it to a man if he gains the whole world, and is himself destroyed or lost? 26 For whoever is ashamed of Me and My words, of him the Son of Man will be ashamed when He comes in His own glory, and in His Father's, and of the holy angels.
Jesus Transfigured on the Mount
27 But I tell you truly, there are some standing here who shall not taste death till they see the kingdom of God."