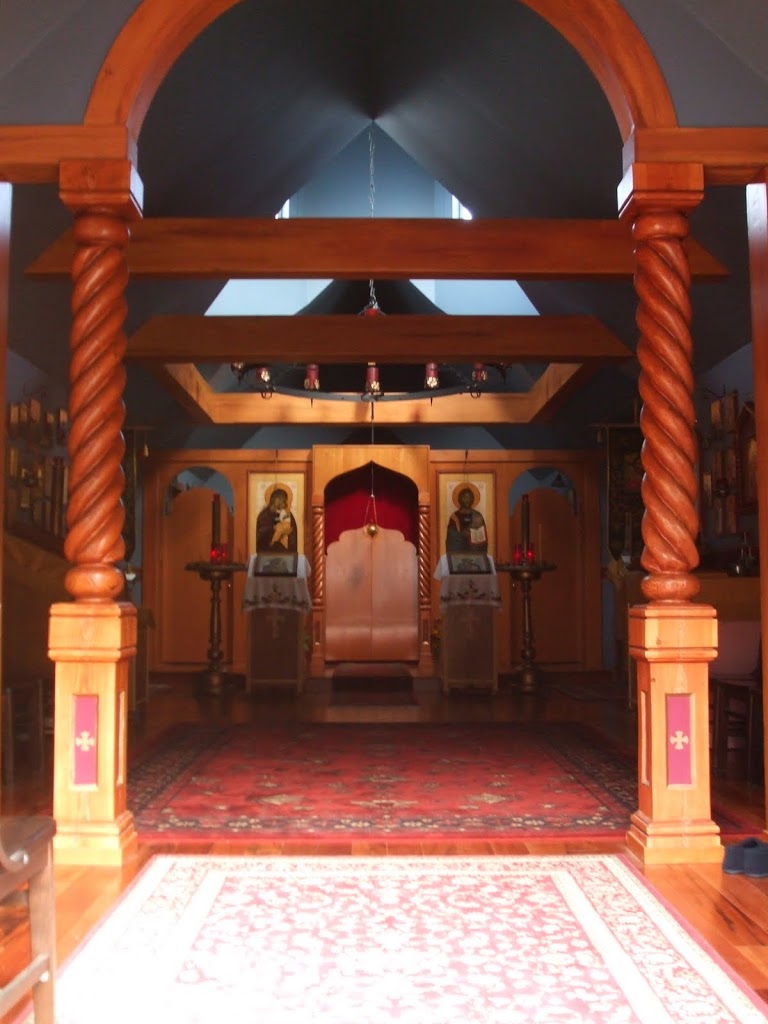 Glory to Jesus Christ! Glory to Him forever!
Saints of the Day
October 28 / November 10. Martyrs Terence and Neonilla and their children Sarbelus, Photus, Theodulus, Hierax, Nitus, Bele, and Eunice. St. Stephen of St. Sabbas' Monastery, hymnographer. Repose of St. Arsenius, Archbishop of Serbia. Great-Martyr Parasceva of Iconium. Martyrs Africanus, Terence, Maximus, Pompeius, and 37 others, of Carthage. St. John the Chozebite,monk. Hieromartyr Cyriacus, Patriarch of Jerusalem, and his mother Martyr Anna. St. Firmilian, Bishop of Caesarea in Cappadocia,and St. Malchion, presbyter. St. Febronia, daughter of Emperor Heraclius. St. Neophytus, Bishop of Urbinsk in Georgia. Repose of St. Job of Pochaev. St. Demetrius, Metropolitan of Rostov. St. Nestor (not the Chronicler) of the Kiev Caves. St. Athanasius I,Patriarch of Constantinople (Mt. Athos). Righteous Virgin Parasceva of Pirimin on the Pinega River (Archangelsk). New-MartyrPriest Michael Lektorsky (1921). (Greek Calendar: New-Martyrs Angelis, Manuel, George and Nicholas, of Crete.) Repose of Blessed Schema-hieromonk Theophilus, fool-for-Christ of the Kiev Caves (1852)
Photo of the Day
Interior of our monastic temple, The Church of the Holy Protection of the Most Holy Theotokos. (Click to enlarge.) Quote of the Day
"Why is it that only the narrow way and narrow gate lead to life? Who makes the way of the chosen narrow? The world oppresses the chosen, the flesh oppresses them, the devil oppresses them; it is these that make our way to the kingdom of heaven narrow."  
St. John of Kronstadt
"My Life in Christ"
Scripture Readings for the Day
1 Thessalonians 1:6-10
6 And you became followers of us and of the Lord, having received the word in much affliction, with joy of the Holy Spirit, 7 so that you became examples to all in Macedonia and Achaia who believe. 8 For from you the word of the Lord has sounded forth, not only in Macedonia and Achaia, but also in every place. Your faith toward God has gone out, so that we do not need to say anything. 9 For they themselves declare concerning us what manner of entry we had to you, and how you turned to God from idols to serve the living and true God, 10 and to wait for His Son from heaven, whom He raised from the dead, even Jesus who delivers us from the wrath to come.
Luke 11:1-10
The Model Prayer
1 Now it came to pass, as He was praying in a certain place, when He ceased, that one of His disciples said to Him, "Lord, teach us to pray, as John also taught his disciples."
2 So He said to them, "When you pray, say:
Our Father in heaven,
Hallowed be Your name.
Your kingdom come.
Your will be done
On earth as it is in heaven.
3 Give us day by day our daily bread.
4 And forgive us our sins,
For we also forgive everyone who is indebted to us.
And do not lead us into temptation,
But deliver us from the evil one." 
A Friend Comes at Midnight
5 And He said to them, "Which of you shall have a friend, and go to him at midnight and say to him, 'Friend, lend me three loaves; 6 for a friend of mine has come to me on his journey, and I have nothing to set before him'; 7 and he will answer from within and say, 'Do not trouble me; the door is now shut, and my children are with me in bed; I cannot rise and give to you'? 8 I say to you, though he will not rise and give to him because he is his friend, yet because of his persistence he will rise and give him as many as he needs.
Keep Asking, Seeking, Knocking
9 "So I say to you, ask, and it will be given to you; seek, and you will find; knock, and it will be opened to you. 10 For everyone who asks receives, and he who seeks finds, and to him who knocks it will be opened.