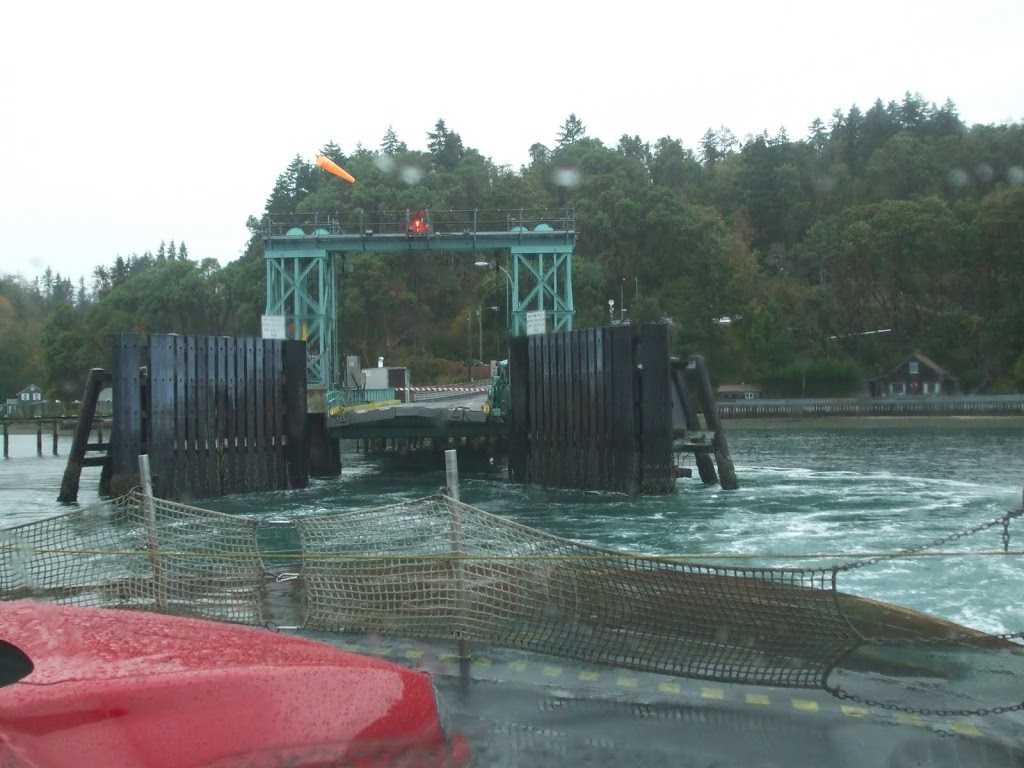 Glory to Jesus Christ! Glory to Him forever!
Saints of the Day
October30 / November 12. Hieromartyr Zenobius and his sister Zenobia of Aegae in Cilicia. Martyr Eutropia of Alexandria. MartyrAnastasia of Thessalonica (same as Anastasia the Roman). Apostles Tertius, Mark, Justus and Artemas of the Seventy Hieromartyr Marcian, Bishop of Syracuse. Martyrs Alexander, Cronion, Julian, Macarius and 13 companions at Alexandria. MartyrDometius of Phrygia. St. Stephen Miliutin, his brother St. Dragutin (Theoctistus in monasticism), and their mother St. Helen, of Serbia. (Greek Calendar Apostle Cleopas and Patriarch Joseph of Constantinople. Martyr Manuel.)
Photo of the Day
Approaching Vashon Island from the South. (Click to enlarge.) Quote of the Day
How then ought we to make an offering of our bodies as a living sacrifice to God? 'By no longer following our physical desires and our own ideas' (Eph., 2:3), but 'walking in the Spirit and not fulfilling the desires of the flesh' (Gal., 5:16). 'For this is to mortify our earthly members' (Col., 3:5).
Dorotheos of Gaza
Scripture Readings for the Day
1 Thessalonians 2:9-14
9 For you remember, brethren, our labor and toil; for laboring night and day, that we might not be a burden to any of you, we preached to you the gospel of God.
10 You are witnesses, and God also, how devoutly and justly and blamelessly we behaved ourselves among you who believe; 11 as you know how we exhorted, and comforted, and charged every one of you, as a father does his own children, 12 that you would walk worthy of God who calls you into His own kingdom and glory.
Their Conversion
13 For this reason we also thank God without ceasing, because when you received the word of God which you heard from us, you welcomed it not as the word of men, but as it is in truth, the word of God, which also effectively works in you who believe. 14 For you, brethren, became imitators of the churches of God which are in Judea in Christ Jesus. For you also suffered the same things from your own countrymen, just as they did from the Judeans,
Luke 11:14-23
A House Divided Cannot Stand
14 And He was casting out a demon, and it was mute. So it was, when the demon had gone out, that the mute spoke; and the multitudes marveled. 15 But some of them said, "He casts out demons by Beelzebub, the ruler of the demons."
16 Others, testing Him, sought from Him a sign from heaven. 17 But He, knowing their thoughts, said to them: "Every kingdom divided against itself is brought to desolation, and a house divided against a house falls. 18 If Satan also is divided against himself, how will his kingdom stand? Because you say I cast out demons by Beelzebub. 19 And if I cast out demons by Beelzebub, by whom do your sons cast them out? Therefore they will be your judges. 20 But if I cast out demons with the finger of God, surely the kingdom of God has come upon you. 21 When a strong man, fully armed, guards his own palace, his goods are in peace. 22 But when a stronger than he comes upon him and overcomes him, he takes from him all his armor in which he trusted, and divides his spoils. 23 He who is not with Me is against Me, and he who does not gather with Me scatters.