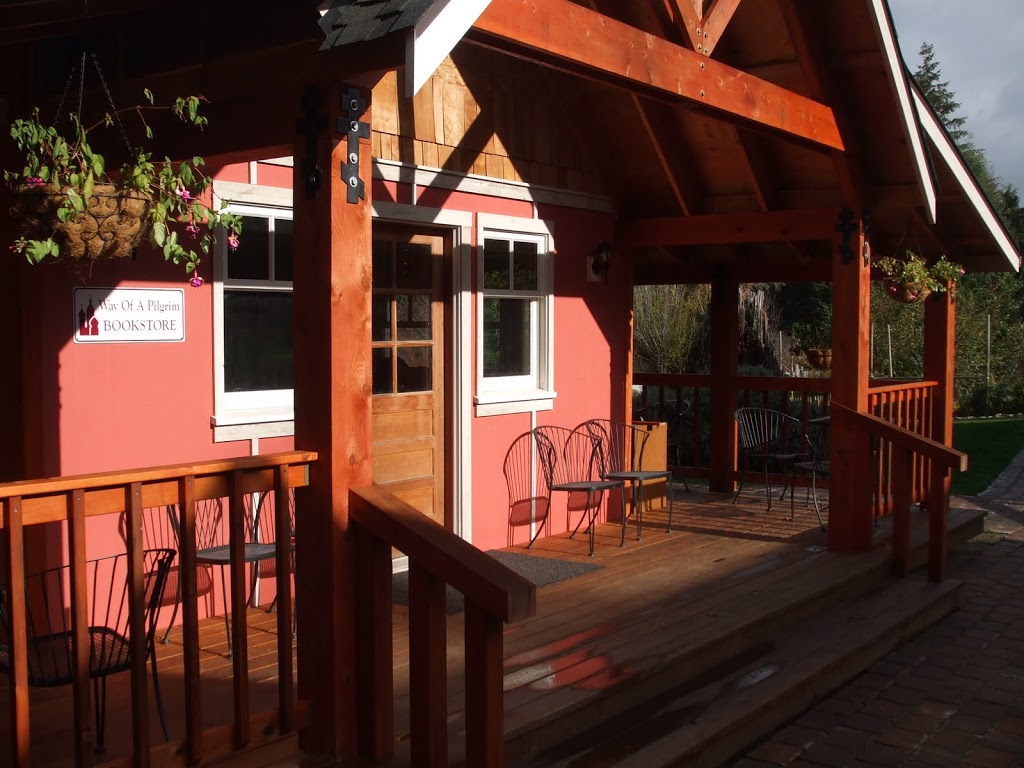 Glory to Jesus Christ! Glory to Him forever!
Saints of the Day
November 2 / 15. Martyrs Acindynus, Pegasius, Aphthonius, Elpidephorus and Anempodistus of Persia. St. Marcian of Cyprus. Blessed Cyprian of Storozhev, former outlaw (Olonetsk). New-Martyrs Bishop Victorin and Priest Basil Luzgin (1918). (Greek Calendar: Women-Martyrs Cyriaca, Domnina and Domna. Martyrs of senatorial rank beheaded under Marcus Aurelius.)
Photo of the Day
Way of a Pilgrim Bookstore and Gift Shop. (Click to enlarge.) Quote of the Day
"…natural things are not indictable; for they were created by God who is good, so that through them we can act in ways that are also good. Hence in themselves they do not indicate sickness of soul, but they become evidence of such sickness when we misuse them. When we coddle the flesh in order to foster its desires, then the passion becomes evil and self-indulgence gives rise to the carnal passions and renders the soul diseased."
St. Gregory Palamas
Scripture Readings for the Day
Ephesians 2:4-10
4But God, who is rich in mercy, for his great love wherewith he loved us,
5Even when we were dead in sins, hath quickened us together with Christ, (by grace ye are saved;)
6And hath raised us up together, and made us sit together in heavenly places in Christ Jesus:
7That in the ages to come he might shew the exceeding riches of his grace in his kindness toward us through Christ Jesus.
8For by grace are ye saved through faith; and that not of yourselves: it is the gift of God:
9Not of works, lest any man should boast.
10For we are his workmanship, created in Christ Jesus unto good works, which God hath before ordained that we should walk in them.
Luke 8:26-39
26And they arrived at the country of the Gadarenes, which is over against Galilee.
27And when he went forth to land, there met him out of the city a certain man, which had devils long time, and ware no clothes, neither abode in any house, but in the tombs.
28When he saw Jesus, he cried out, and fell down before him, and with a loud voice said, What have I to do with thee, Jesus, thou Son of God most high? I beseech thee, torment me not.
29(For he had commanded the unclean spirit to come out of the man. For oftentimes it had caught him: and he was kept bound with chains and in fetters; and he brake the bands, and was driven of the devil into the wilderness.)
30And Jesus asked him, saying, What is thy name? And he said, Legion: because many devils were entered into him.
31And they besought him that he would not command them to go out into the deep.
32And there was there an herd of many swine feeding on the mountain: and they besought him that he would suffer them to enter into them. And he suffered them.
33Then went the devils out of the man, and entered into the swine: and the herd ran violently down a steep place into the lake, and were choked.
34When they that fed them saw what was done, they fled, and went and told it in the city and in the country.
35Then they went out to see what was done; and came to Jesus, and found the man, out of whom the devils were departed, sitting at the feet of Jesus, clothed, and in his right mind: and they were afraid.
36They also which saw it told them by what means he that was possessed of the devils was healed.
37Then the whole multitude of the country of the Gadarenes round about besought him to depart from them; for they were taken with great fear: and he went up into the ship, and returned back again.
38Now the man out of whom the devils were departed besought him that he might be with him: but Jesus sent him away, saying,
39Return to thine own house, and shew how great things God hath done unto thee. And he went his way, and published throughout the whole city how great things Jesus had done unto him.